Apple Eases Back on In-App Subscriptions
SIPAlert Daily has been following the ongoing saga over Apple's decision a few months ago to keep 30% of the revenue from new subscriptions and media purchases made in an iPhone or iPad application through its App store. Last week I wrote about The Financial Times introducing a mobile Web application aimed at luring readers away from Apple's iTunes App Store. "We don't quite know what will happen," said Rob Grimshaw, managing director of FT.com.
Well, a lot apparently. The pressure from places such as FT and other large publishers—Knight Kiplinger wondered aloud at SIPA 2011 last week that his company has to decide "who we want to do business with"—seems to be having an effect. Quietly, at the end of last week, Apple changed its guidelines on pricing, as reported by the site MacRumors.
"There are no longer any requirements [from Apple] that a subscription be the 'same price or less than it is offered outside the app,'" MacRumors wrote. "There are no longer any guidelines about price at all. Apple also removed the requirement that external subscriptions must be also offered as an in-app purchase…Content providers may offer In-App subscriptions at whatever price they wish and they are not required to offer an in-app subscription simply because they sell a subscription outside the App Store as well."
The new policies still go into effect June 30. But now the guidelines have been softened. They now state: "Apps can read or play approved content (specifically magazines, newspapers, books, audio, music, and video) that is subscribed to or purchased outside of the app, as long as there is no button or external link in the app to purchase the approved content. Apple will not receive any portion of the revenues for approved content that is subscribed to or purchased outside of the app."
Here's what appears to be the most important change: "Content providers are now also free to charge whatever price they wish. For example, they could offer in-app subscriptions with a premium to cover Apple's 30% cut for In-App Subscription payments." As Jordan Golson of MacRumors wrote, "This is a significant reversal from Apple's position in February, and it will have a major impact on the strategy of content providers regarding the App Store."
Of course, some details remain vague. Said a Stuttgart, Germany-based site called Mac&i: "Although [this is] a significant change of direction in favor of Apple's content providers, the practical implications remain unclear until the company expresses the theme. Apple Germany did not want to comment on the change."
Comments on MacRumors were interesting. Did the FT move really push Apple to soften? Is Android becoming a big threat to them? Will content providers be able to, or want to, tell consumers that there is a 30% surcharge and where to go to avoid that? A couple people wrote that the 30% fee should not be considered a big deal given the upside that Apple is "charging developers for providing them with easy access to millions of impulsive customers."
We will continue to monitor the situation. It seems like there are changes each week, and June 30 is just a couple weeks away.
*********************************************
July is a great time to be in London, especially with…
SIPA's 17th Annual Conference and Exhibition
set for the Tower Hill section of London, July 13-14.
Learn about new—and very successful—ways
of doing things. A great schedule is in place
highlighted by their entertaining awards presentation
hosted by Jonathan Feroze, CEO, Business Monitor International.
Reserve your place today!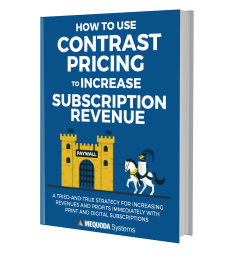 Learn how to choose the best subscription pricing & single-copy pricing strategy for your subscription websites & subscription apps when you download a FREE copy of How to Use Contrast Pricing to Increase Subscription Revenue.