EarlyToRise.com Pays Homage to Benjamin Franklin by Making its Owners Wealthy. Twenty-first Century Publishers Take Note: There is Wisdom in Adopting this Business Model
Financial independence has many rewards beyond the monetary. Or so I would like to believe. In the case of Michael Masterson, who prior to reaching age 40 sold a $135 million business and retired, one of the rewards is a bully pulpit on which to pontificate about anything and everything to anyone who will listen. Or more precisely, anyone who is willing to subscribe to his free email newsletter and read it.
Through the vehicle of Early to Rise, the editorial hub for Agora Publishing's Investment Conferences, Mr. Masterson repeats the winning formula of Bill Bonner, who writes The Daily Reckoning, an editorial hub for Agora Publishing's Financial Group.
Editor's note: For an in-depth look at Agora Publishing's amazing 500,000 circulation Mequoda editorial hub system and how it has made the Internet Agora's #1 direct marketing channel, don't miss The Daily Reckoning Media Network Case Study by Jane Zarem.
Early to Rise describes itself as a letter "for those of us who aspire to a better, more enriched life." It promises "Wealth Building Advice From Your Own 'Personal Success Coach'." In Early to Rise, it promises you'll find:
No-nonsense coaching to help you succeed and live well.
Powerful secrets for success.
Advice on fulfilling your ambitions and living your dreams.
Tips to improve your lifestyle and achieve your goals.
Sell the dream, indeed! Let's see how EarlytoRise.com measures up against the Mequoda System Website Design Guidelines.
The winning recipe appears to be this:
Start by making a lot of money, "retire" and move to an exotic location. If you're rich, people will pay attention because they want to be rich, too. And if you're an expatriate living abroad, people will assume you really know something important.

Write a daily missive about everything and anything that strikes your fancy. The more diverse and eccentric your topics, the better. Just be certain to sound like an expert. Wax eloquent on wine, women and fashion. Add pithy commentaries about health, wealth and politics. Don't be afraid to be controversial. Be certain to be entertaining.

Develop a following of loyal subscribers to your free newsletter. Sell the dream of financial independence through wise investing. Upsell many of your subscribers to other information products—paid newsletters, online instructional courses, investment conferences, etc. Upsell some of them to paid personal coaching on how to make money in real estate, investing, etc.

Offer career advice and courses on how to become a direct mail copywriter, a graphic designer, a travel writer or a crafter of resumes. Sell the dream of financial independence through self-employment as a writer or designer. Offer additional paid newsletters, instruction, conferences, etc.

Create even more information products and upsell, upsell, upsell.

Lather. Rinse. Repeat.
Does this formula succeed for Mr. Masterson and Mr. Bonner? Oh, yes!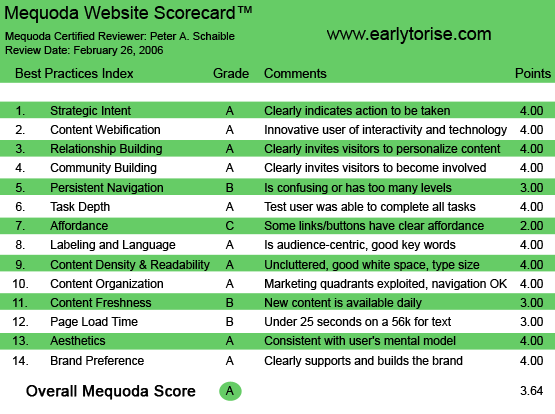 EarlyToRise.com's Mequoda Scorecard
1. Strategic Intent – A
The goals (strategic intentions) of most websites should be to first get a visitor's name and email address, and second make a sale.
Many visitors are not yet ready to buy when they first visit your site. Give them an incentive to provide you with their contact information so that you can keep in touch with them. The incentive can be a free downloadable report, an audio or video program, access to an online tool or application ("app on tap"), or the promise of a free email newsletter containing tips or other valuable information.
Mr. Masterson and EarlytoRise.com understand this as well, or better, than anyone in the business. They probably have been able to quantify this, but I'll bet the average Agora customer receives two or three months of email newsletters before spending a dime. Or visits the EarlytoRise.com homepage for months before eventually buying an information product.
Why visit after you've already signed up for the email newsletter? One reason might be your preference for a different modality. See #2. Content Webification below.
2. Content Webification – A
If you don't want to read the Early to Rise email newsletter, you can hear it. Through the magic of technology, a computer reads each issue and the resulting file is posted on the site, enabling the user to listen to it.
The first time the Early to Rise robot reads you a 17-minute version of the newsletter can be a bit unnerving. It's reminiscent of "HAL," the humanoid computer from the movie 2001: A Space Odyssey. But it's great use of technology, as many subscribers prefer to listen passively while multi-tasking.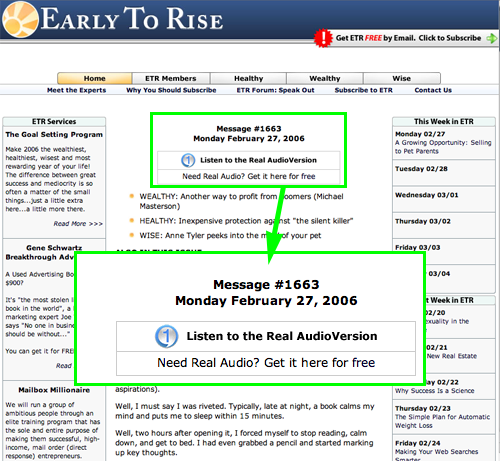 Through the magic of technology, a computer reads each issue and the resulting file is posted on the site, enabling the user to listen to it.
3. Relationship Building (Personalization) – A
My only quarrel with Early to Rise is that the email capture device is not on the homepage and requires the user to click to a separate subscribe page in order to sign up. Nevertheless, the button is large, clear, attractive and well placed, so I doubt many site visitors miss it.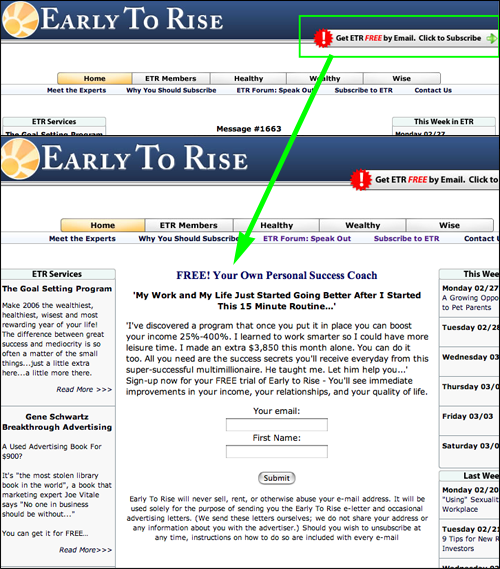 My only quarrel with Early to Rise is that the email capture device is not on the homepage and requires the user to click to a separate subscribe page in order to sign up.
4. Community Building – A
A separate, but linked Early to Rise – Speak Out Forum site enables the community to discuss editorial content.
As of February 24, 2006, a total of 2,130 registered users had posted 4,791 articles. Two of the forum topics are available only to members of the ETR Wealth Club and the Wealth Building Bootcamp.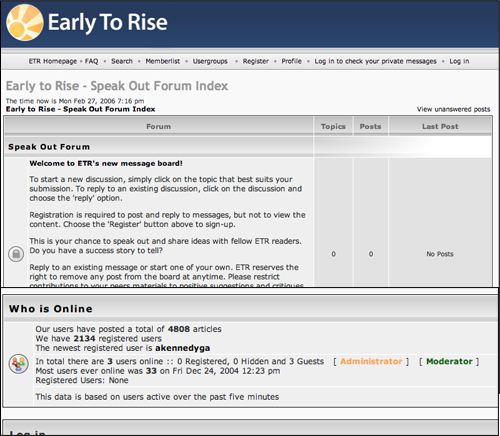 A separate, but linked Early to Rise – Speak Out Forum site enables the community to discuss editorial content.
5. Persistent Navigation – B
EarlytoRise.com is easy enough to navigate; it's clean and intuitive. But a lot of the hypertext links take the user off the homepage to other sites with no clear route to return except for the "back" button.
This probably doesn't worry Mr. Masterson the slightest bit. All the links go to sites selling other Agora information products and instructional programs in which he has an interest.
Copywriting students take note: Mr. Masterson and his associates are master copywriters. The sales letter landing pages for these products are very well crafted. There is much to be learned here. I've added every one of them to my "swipe" file for further perusal and inspiration.
6. User Task Depth – A
Read, subscribe, listen to the Real Audio version, speak out on the forum—it's all straightforward and easy at EarlytoRise.com.
I didn't notice a "printer-friendly" option, which would be a welcomed addition. Many visitors to a site that contains this much text will prefer to print it out and read it later. But then again, if they are receiving the daily Early to Rise email newsletter, they can print that version out and read the hard copy.
7. Affordance – C
EarlytoRise.com doesn't quite get it right. Some of the links are black when they would be more recognizable if blue. None of the links are underscored. Otherwise, they change to red when moused over and maroon when visited.
The hypertext-linked buttons at the top of the pages should look more like buttons and less like chapter box heads.
I found more than a couple of "bad" hypertext links that went to dead or removed pages—always unprofessional and largely unnecessary.
8. Labeling and Language – A
Again, this site is a masterpiece of copywriting excellence. It doesn't underestimate the reader's intelligence or over-estimate his knowledge.
Every word appears to be chosen carefully for its candor and informality. The site doesn't talk down to anyone, neither is it "high brow." Even the Word to the Wise section, which introduces a daily vocabulary word, isn't pedantic.
9. Readability (Content Density) – A
EarlytoRise.com is easy to read, with an adequate type size and use of white space. The designer has created an easy rhythm with her use of headlines, subheads, bylines, bullets, text, etc.
10. Organization (Marketing Quadrants) – A
EarlytoRise.com confines its important navigation links to the top of the page and uses the left and right nav panels to sell additional products (left) or route the user to recent back issues (right).
11. Content Freshness – B
It appears that EarlytoRise.com is updated at least four times a week (weekdays).
The discussion forum, which anyone can read without needing a password, appears to get regular (daily) posts from intelligent contributors.
12. Load Time – B
Download time for EarlytoRise.com was 17.38 seconds on a 56K, as measured by the webpage analyzer.
13. Aesthetics – A
This site makes a great case for "more is less."
EarlytoRise.com is almost entirely text with only a very few graphic images. The typography is very simple and adequately handled. It's consistent with a user's mental model for a purely informational website.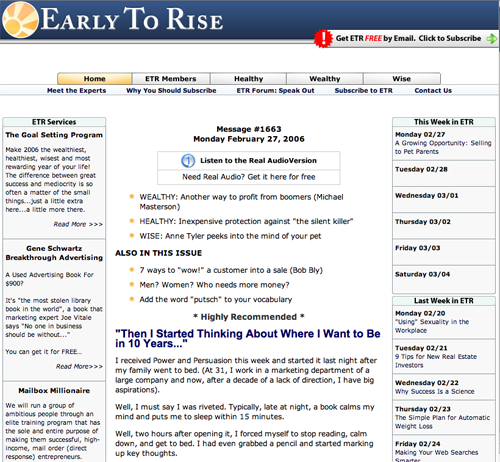 EarlytoRise.com is almost entirely text with only a very few graphic images.
14. Brand Preference – A
My guess is that this site has a very loyal following, although if you subscribe to the EarlytoRise.com email newsletter, you probably don't have a lot of reason to visit here regularly.
The site features articles by many guest writers, all of whom are selling some kind of information product. Many of the sales letters are inspiring; all are instructional.
Conclusion
EarlytoRise.com is immodest. But it's boastful without being vulgar.
Through his pithy observations in the Early to Rise email newsletter, Mr. Masterson claims to mentor more than 400,000 success-oriented individuals to achieve their financial goals.
"Sign-up now for your FREE trial of Early to Rise," the site exclaims. "You'll see immediate improvements in your income, your relationships and your quality of life."
This winning attitude seems to be working.
EarlytoRise.com is one of the hubs of Agora Publishing's online marketing efforts, whose success is enviable. Agora's companies publish more than 300 books and 40 newsletters, and have generated more than $200 million in online sales.
Pick your own appropriate Benjamin Franklin aphorism here:
"Early to bed and early to rise, makes a man healthy, wealthy, and wise."

"If a man empties his purse into his head, no man can take it away from him. An investment in knowledge always pays the best interest."

"Life's tragedy is that we get old too soon and wise too late."

"Well done is better than well said."

"Wise men don't need advice; fools don't take it."

"If you would not be forgotten
As soon as you are dead and rotten,
Either write things worthy reading,
Or do things worth the writing."