We have segmented the traffic drivers into two buckets—earned media and paid media. Let's start on the earned side and let's start with our probably favorite source ever, which is organic search. The case study that we're using here is the Program on Negotiation of Harvard Law School. They are a nonprofit who generates their revenue through executive education events, and they sought our help 12 or 13 years ago to build a digital presence that would help them to be find-able to help them spread their mission. And what you're looking at is what they call a blog or what we might also call a portal where they're giving away content for free to attract traffic, convert it and ultimately sell their executive education. And something we started doing way back then and still do today when we have the chance is that when you're building a site or re-architecting your site, it's important to keep SEO in mind when it comes to the category architecture.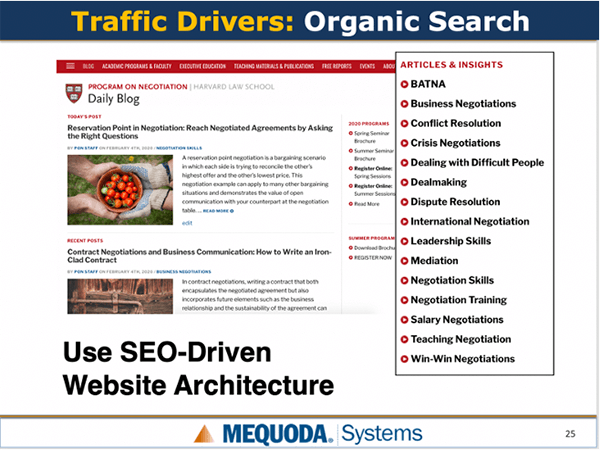 Kim Mateus:
What I'm showing here on the side are the 15 or so categories that this blog publishes content in. And every single one of these phrases is actually a keyword phrase in and of itself. What we find today is that there's still a lot of websites out there that use very generic labels for their categories. They aren't endemic or specific to the content that they're covering. And it's sort of just a waste. You might as well architect the site with SEO in mind because when somebody's searching for BATNA, for example, which is a phrase very endemic to this market, we've giving them multiple ways to find the site, including the category page in and of itself—very important to do that.
Kim Mateus:
Another component of organic search that we wanted to highlight here because it's such a big topic and again, another one where we've got a more detailed webinar planned but high level here. The next thing we want to talk about is the idea that you've got to SEO your content, right? Seems obvious, but every single new post that you write, as well as Blockbuster posts, which we're going to talk about in a second should be SEO. You've got to do the keyword research and you've got to use the keywords in the content and the articles and what we've created over the years and continue to modify is this SEO scorecard that we're looking at that is essentially a checklist with different weight values for each item that an online editor or whoever is responsible for publishing the free content on the web uses to make sure that they're hitting all of the pieces.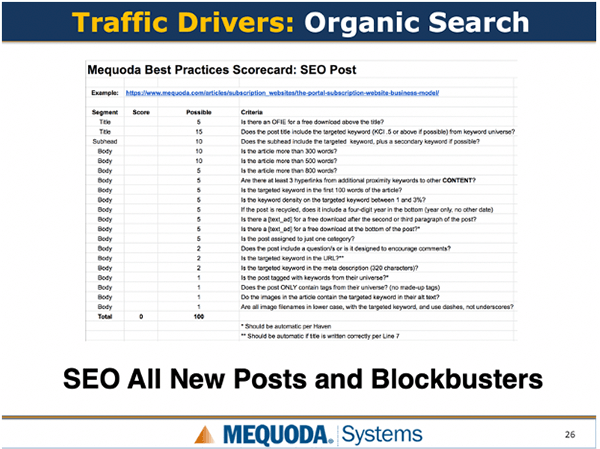 Kim Mateus:
And we often find that when this scorecard is not followed, we start losing rank on articles. And then we go in and re-update the posts to hit on all these pieces, they're able to get found again. It's very important to be disciplined about your SEO approach. And this is something we give away for free and are happy to share. And there's more content available on our website as well. But the third component we wanted to talk about, which is really important is this concept of Blockbuster post. Don, do you want to just give us sort of an overview on what a blockbuster post is and then we can talk specifically about how this has manifested on the PON website.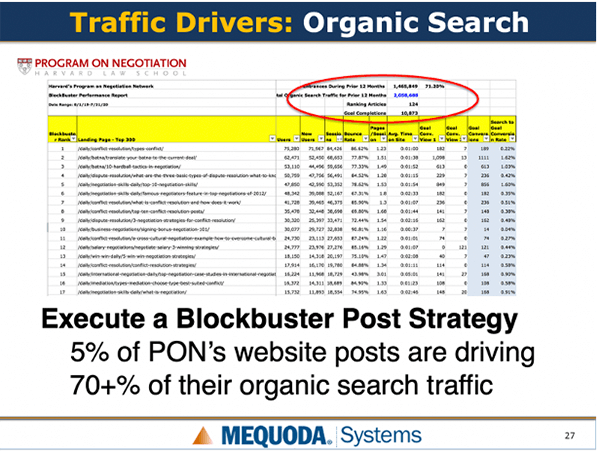 Don Nicholas:
Sure. Back in 2012 we were working with Stuart Hochwert of Prime Publishing, he's one of our better, more experienced publishers and running this kind of analytics suite. And what popped out of it was that a relatively small number of posts were consistently driving the bulk of the traffic. Fast forward a couple of years and we developed this entire strategy around optimizing posts that were driving a lot of traffic on a trailing basis, we decided 12 months was a good trailing number to look at. And we started to calendar this. We started to make sure that on either a 26-week schedule or a 17-week schedule or a 13-week schedule, that we'd make sure the Blockbuster posts got re-used, re-purposed, republished, re-dated, vetted, updated to make sure they were still current. And this was a huge breakthrough for us.
Don Nicholas:
We were able to routinely double and triple traffic over a couple of years on websites that we'd already been managing for three, five as much as 10 years when we implemented the strategy. And then the really amazing thing about this is it actually is less resource intense than the strategy of publishing all brand new content. Harvard at this point is so mature at a 12 year old website that they publish 18 posts a week, 17 are Blockbusters that are running through the Blockbuster calendar that are being updated and rerun and one of them is brand new and runs in the lead position. Since implementing this strategy about four or five years ago, we have consistently been able to increase traffic 30 to 50% year over year compared to if you said, pre Blockbuster post Blockbuster on a website that was already six or eight years old and doing really well, we've more than tripled the traffic.
Don Nicholas:
It just really an astonishing process and we've repeated this over and over and over. On most of our websites, 60, 70, 80, as much as 90% of the traffic is coming from what might be 150, 200 or 300 posts. And once again, the kind of recurring theme, most of the publishers we've talked to in the marketplace, don't do this strategy and it is incredibly powerful for increasing your website visibility and search engine traffic.
Kim Mateus:
Yeah, it truly is. It's mind blowing. In PON's case it's 5% of their posts, just 124 posts out of several couple thousand that are driving 70% of their organic traffic. It's really quite the phenomenon that we really recommend everybody follow. Even news-based organizations can find some evergreen content on their site that they could execute this strategy on.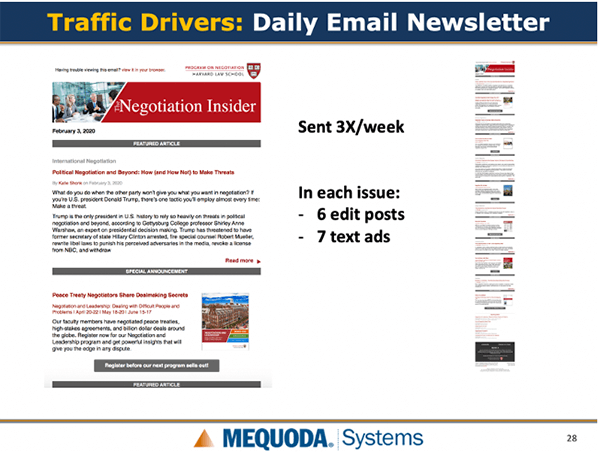 The next source we want to talk about is email newsletters and we're using PON again because it sort of relates. Don mentioned that Program on Negotiation publishes 18 articles a week. And they do that through this negotiation insider newsletter. They promote that content through this newsletter. This newsletter is sent three times a week. Six articles a day and on Tuesday, which is the first issue that goes out, only that first article is new, everything else is a rerun. It's just quite amazing how email can actually help boost your search engine traffic because you're helping to re-promote it.
Kim Mateus:
This is the reason why, the mechanism we use to keep all that content updated, it gets promoted via email and that helps boost social shares, which helps boost the SEO. It's all really an integrated system where you're marrying your SEO strategy with your email newsletter strategy. And what we're looking at here is a stack, which a lot of our clients are using where it's an editorial stack, where it goes, edit, ad, edit, ad, very common. And again while Program on Negotiation represents a pretty extreme version with just one out of 18 articles per week being new, I'd say with most of our publishers, at least half of their content that they're publishing every week is in the Blockbuster category maybe on average.
Don Nicholas:
If they're a year old or more, it's probably at least 30%. Two, three years old, it gets to the 50% point. And again, depending on the purpose of the website, if there's news to be covered or advertising, a lot of the publishers we have will top it out at 50% because they feel from an editorial standpoint, they need to be publishing more new content. But to your point, PON is the example that says on an extreme basis you have to publish a relatively small amount of new content for purposes of SEO and audience development.
Don Nicholas:
And if you're publishing anything in the 50/50 range and you've been at it for a while, you're doing it for some reason other than audience development. And again, Kim as you know we talk to publishers all the time where 100% of the content they publish every week is all brand new in terms of both their blog posts and their email newsletter and consequently their email or their SEO traffic is a fraction of what it could be if they were to modify their strategy and integrate the Blockbuster program into their portal blog calendar.
Kim Mateus:
And oftentimes the immediate reaction is, oh goodness, how can I just republish the same stuff over and over again in my newsletter? Aren't my readers going to pick up on that and isn't that going to negatively impact their perception of our brand and cause them to unsubscribe? Well, when you think about the fact that at best you're getting 20, 30, 35% open rate on any given newsletter, that's a large majority of folks that are never seeing it. It just doesn't manifest that way, and that initial gut reaction just doesn't play out in reality which is hard for people to acknowledge but as soon as you start trying, you would see the benefit because everybody's got them. Everybody has Blockbuster posts, it's just a matter of discovering them and massaging them and then putting them into this approach.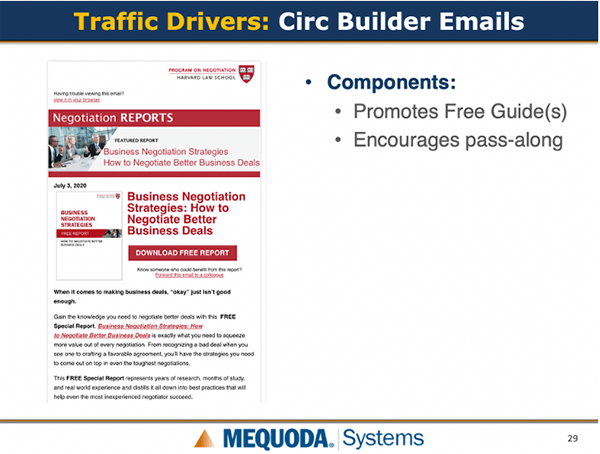 Kim Mateus:
Next source is also in email. This is a Circ Builder email. We talked earlier about the power of giving away free reports that are aligned with your categories and the content that you publish. And so we decided to take this to the next step and say, well, we're going through all this trouble to produce these free reports and to align them, why don't we start promoting these free reports to our existing lists? And oftentimes the reaction is, well, why would you do that? You already have this person's email address, why are you going to 'waste' ascend on giving them something that they already have access to? And there's a couple of reasons. One is that it just helps promote the idea that they've got a lot of free content that they have access to they've probably forgotten about. And it also encourages pass along. You'll see here relatively prominently we say, did you already read this or do you know somebody who would benefited from this report, please forward this email to a colleague.
Kim Mateus:
We get a lot of pass along. Out of all the email templates we send, this has by far the highest click through rates because it's free and who doesn't want free as long as it's high quality. And then if you were to keep scrolling at the bottom, you'd see an ad up for in their case, an upcoming event or in other cases the all access premium membership. A couple of things that can be done with this template, but very valuable in terms of driving traffic to the site and for encouraging pass along.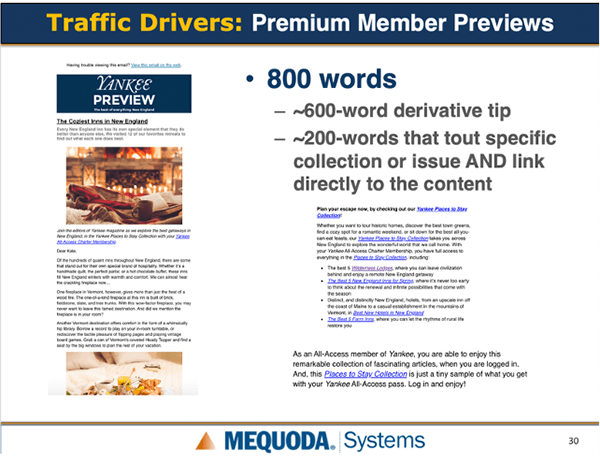 Next, we've got another email type called a premium member preview. For our publishers like Yankee, for example, has that portion of the website, which is the Yankee Travel Library that's premium and that where we're trying to encourage folks to pay and subscribe to access that content.
Kim Mateus:
Once somebody becomes a premium member, we send them three of these previews a week. And what a preview is, is just essentially an email type that previews the premium content. If you weren't a buyer, you'd be getting teased with this premium content, you'd be getting encouraged to upgrade to join. But if you already are a premium member, this template does a superb job of linking into the premium content. What you'd find in this particular example of coziest ends in New England, the intro kind of talks about these ends. And then as you get into the middle of the post, you see all these specific links that go into the individual articles that are part of that collection that we're touting via this preview. These tend to be really great traffic drivers for your premium members to engage with that content that they've paid for.
Kim Mateus:
They're great retention tools and tend to have astronomical engagement rates here for the premium members, I think 60, 70%. Rates we've never seen because again, we're highlighting our best content and encouraging them to click through and experience that content. This is another good template to consider if you already have premium content on your website.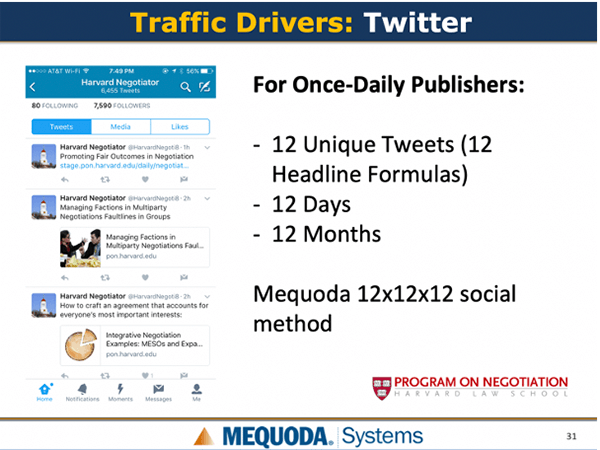 Next traffic driver I want to talk about is Twitter. We're back to the Program on Negotiation as the example here, but really this strategy that we're going to talk about here is good for anybody who publishes content once a day. In particular, the strategy works best with evergreen content.
Kim Mateus:
We call it the 12 by 12 by 12, our editor, Amanda MacArthur, coined this several years back. And what she does is basically for every individual posts that we publish on a given day that's evergreen, we prepare 12 unique tweets for it, these 12 different headline formulas. In one case you're tweeting the headline, in another case you're tweeting the subhead and you might be doing mentioning people that are referenced in the article. 12 different ways that you're pointing to the same article. You then schedule it out for the next 12 days, right? And then you schedule it out for the next 12 months. So if you search for 12 by 12 by 12 social on our website, you'll find more examples and articles about this, but it's a pretty easy, straightforward way to get the most out of Twitter. This is a good tip for that.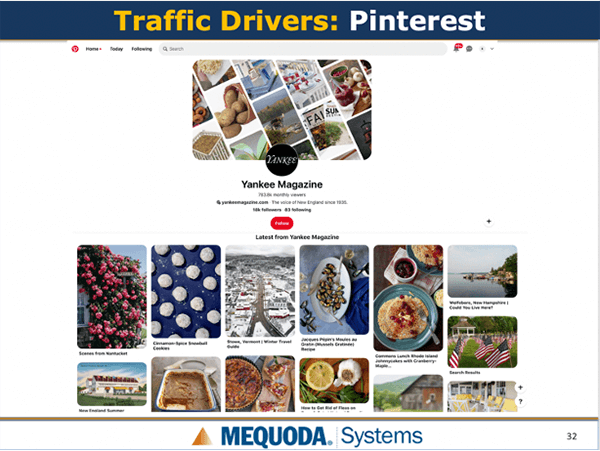 Kim Mateus:
Next, we've got Pinterest. So of all the social channels, this is one that relies very heavily on the visual nature of it. wW're using Yankee Magazine here which is a very visual brand. And this is the second highest social media traffic driver for Yankee behind Facebook. And it's really just best for any brand that's got good visual appeal. This content all links back to their website and they get a good amount of traffic from their Pinterest efforts—a good one to check out.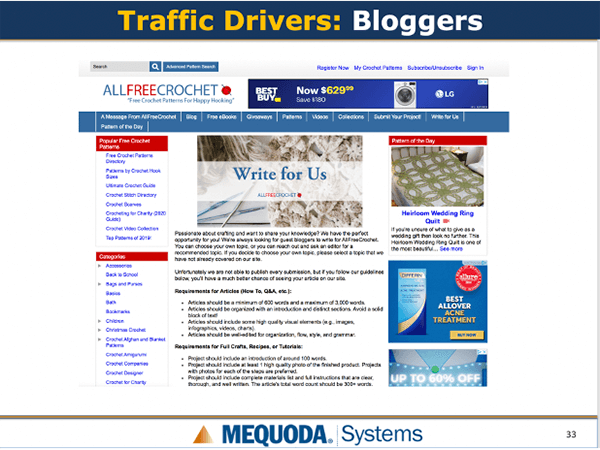 Next, we've got bloggers. This is where our friend Stuart Hochwert from Prime Publishing gets really creative with how to leverage the bloggers in his universe. He publishes really in two primary categories, he's got I think almost 40 websites total, roughly half are in the crafting space and the other half are in the food space.
Kim Mateus:
And so what he does to sort of leverage the bloggers that are in his universe is they might see something that's hot and trending on social that they're missing from their website. They would find a blogger who has this hot recipe or this hot craft project that they know their readers are going to like, they reach out to the blogger, they introduce themselves and they ask if they can write up a review of their recipe or craft project to publish on one of the Prime websites. Once they have permission from the blogger, they now have this relationship, they write something up, they post it on our website and they give the blogger the link so they can promote it. Then the blogger gets great exposure and traffic to their website from Prime's engine and then the blogger then turns around and promotes the idea that they've been reviewed by Prime and drive traffic back to Prime. It's really just this nice cyclical relationship that ends up happening over time, where it benefits both parties.
Kim Mateus:
They also have the self-service user submission center for every one of their websites that allows their bloggers to submit their own projects and recipes any time to be added to the site. And sometimes they are getting up to like 300 of these submissions every week. So it's a really nice new source of content for Prime and for their readers. And they're able to sort of share traffic and influence back and forth between the bloggers and themselves. So really just a nice creative way to leverage bloggers if that's something that your market is flushed with.