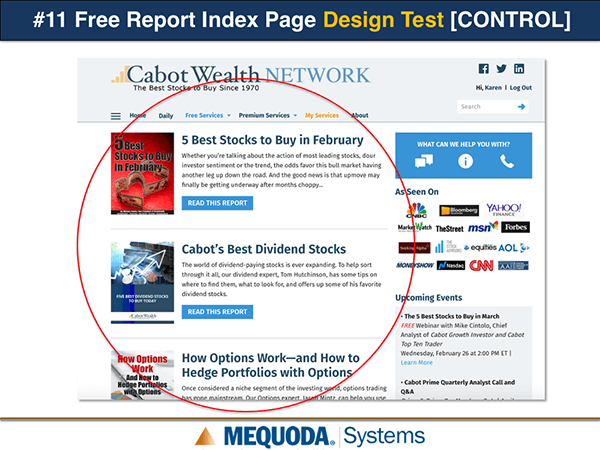 Kim Mateus:
The last two tests relate to this free report index page. So the first one was a design test where we went, Bill, from this, I guess you'd call it a list approach to the freebies on the left there.
Bill Dugan:
And this is an interesting test because the list approach is very basic, requires a lot of scrolling to see everything, but you get the opportunity to have copy, descriptive snippet copy for each report. And that is sort of how we launched the site originally. And so the idea was because this page contributes so much to email capture, we did a test where we reformatted the page design wise to look like this, in a tiled format.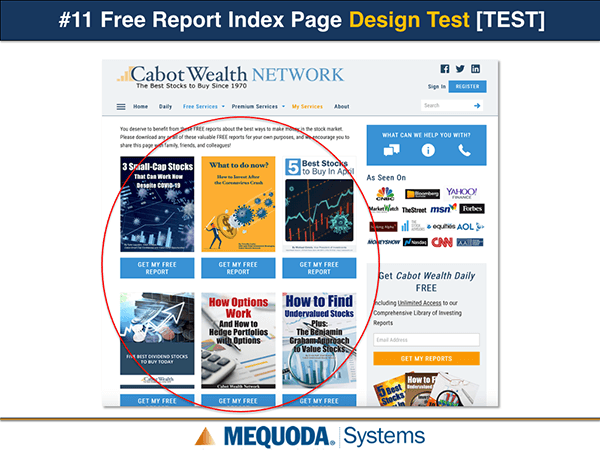 Bill Dugan:
You see more of the reports without having to scroll. You don't get all the descriptive copy. But if you click on any of them, you would go to the rapid conversion landing page that is more fully descriptive. And so of course the idea was, are we going to have more impact by presenting the reports this way?
Kim Mateus:
And was this another one Bill that started sort of an email, did we start with the tiled approach, an email and then translate it to the web or not necessarily?
Bill Dugan:
We did. I think this was something that had been done in email when we do our circulation builder promotions of all the free reports. In email, you were even more constrained about you can't have an endless page going on and on like on the web. And so that format was born out of email first and we tried it here.
Kim Mateus:
All right. And…
Bill Dugan:
And it was a winner, ding, ding, ding.