Kim Mateus:
The first of the free subscription offer types that we want to talk about is simply asking for your visitors to sign up for an email newsletter. We're using Bosacks as our example of this. He is a friend of mine and an industry luminary out there who says he's been publishing the longest running email newsletter on the planet. He launched this in 1993. And what he's doing is he's aggregating the best stories from around the web that relate to the magazine media industry. And you can see on his website, his ask is for, "Hey, sign up for the Bosacks email newsletter." And there's tremendous value here. So if you're not already a subscriber, we do recommend it.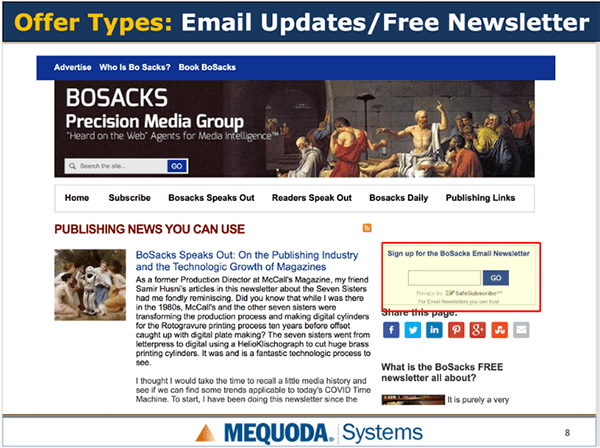 Kim Mateus:
And this is what we were doing for a while until, Don, I think it was in 05' or so you attended a live event where the folks from Daily Reckoning were speaking and they talked about the kind of lift that they were able to get when not only were they asking for people to just subscribe to the Daily Reckoning, they were offering a free incentive. Do you want to talk about the power of offering a free incentive, like a report and what the impact that can have on your conversion rate to free?
Don Nicholas:
Absolutely. And as you know, this was a big immediate breakthrough. The folks at Agora, Addison Wiggin was the guy that was the editorial director and really what we call a commercially minded editor, talked about the simple fact that they discovered that if they would offer a free incentive in the way of something that was packaged as a digital book that they would get on average a 65% lift on the overall email capture rate or put plainly they'd capture 65% more email addresses over the course of a given 11 months. They call this a free-on-free offer. We adopted it, we immediately started seeing that that lift was exactly something we could replicate and it was consistent. Sometimes the lift was 50%, sometimes it was 75. And then there's another span that Kim's going to show us that actually led us to another down the path of increasing those conversion rates.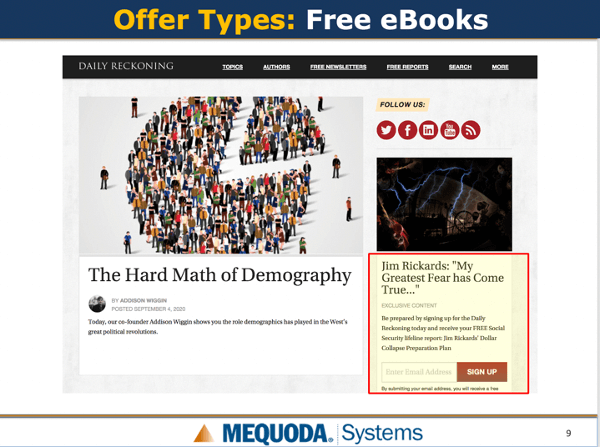 Kim Mateus:
We realized as we were helping publishers launch their websites that as publishers, we're sitting on a massive treasure trove of content that is in many cases evergreen and totally reusable, recyclable, re-purposable. So we took that Agora strategy of offering a free incentive and said, what would happen if we rolled it out across the entire website so that whatever categories a publisher publishes on, for example, Warfare History Network that we're looking at here, you can see in their navigation the main things that they write about are World War II, civil war, military history, etc. What would happen if we took this free report strategy down to a category level and would, for example, under World War II, Battle of the Bulge is a particular aspect of World War II that they have an entire category dedicated to it.
Kim Mateus:
What if we have a free eBook, that's also on the Battle of the Bulge, so that anytime somebody lands on any of these articles, the incentive that they're being offered is 100% aligned. Another example in the civil war category, Battle of Antietam, same idea. Somebody does a search in Google for something related to the Battle of Antietam, they find an article on Warfare History and they're shown email capture architecture that offers up this free guide. We've been able to leverage this across all of the websites that we've had an opportunity to build over the last couple of decades. And from here, there's a lot of testing that happens, but just sort of baseline thinking about your website architecture in this way and trying to have freebies that align with your most popular content is a really great way to increase those conversion rates into free email subscribers.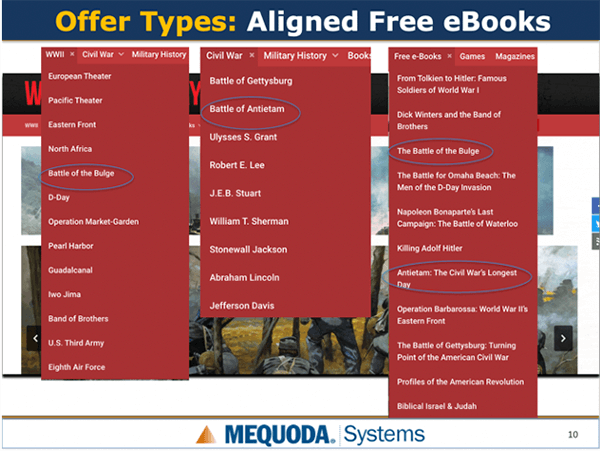 Kim Mateus:
Lastly, let's talk about free website registration. We're starting to see more and more of this out there on the web. And HBR is an example of a publisher that's been experimenting with this approach for a little while now. So if you were to go to their site today, you would notice that you can only get two articles a month for free. There's a meter here at the bottom, but if you register and give them your email address, that two suddenly goes to four. Now as a free registered member of the site, you get four articles a month. We've also seen other variations of this, where when you register for a free account, you can get unlimited access to the free content, but in HBR's case, they really further put a limit on and said only four, any thoughts on why a publisher like an HBR can get away with this approach, whereas this might not be appropriate for, let's say, probably the majority of magazine media brands out there?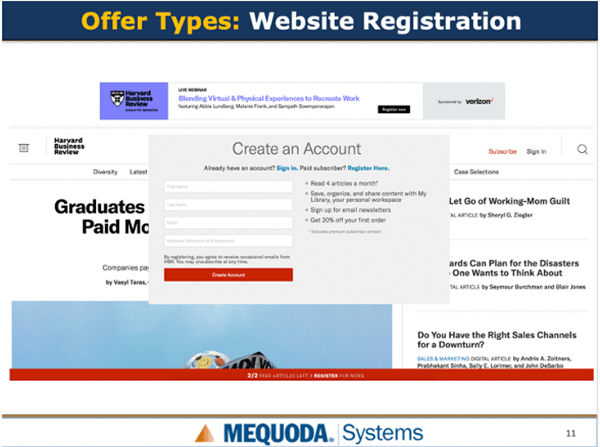 Don Nicholas:
It's a great question, Kim. And I think as you know, we've looked at several hundred websites and probably tested this approach where we were there back-testing against the freebie conversion architecture or where one of our publishers purchased a website that was already using this. And then we had an opportunity to test against the freebie conversion architecture, the aligned conversion architecture. And nine out of 10 times, the aligned architecture ends up generating a lot higher conversion rates. As you know, we recently ran a test on one of our big websites and the conversion rate with the aligned conversion architecture was double what it was with the registration wall strategy that we're seeing here on HBR. So the question we've tried to look at the handful of websites where this has worked and asked the question why. And it may be about brand and specificity that the few websites we've seen it work on where it's really been tested have either been really big brands like HBR and the brand, you don't get any bigger, right?
Don Nicholas:
This is the most prestigious academic brand on the planet being attached to Harvard University. And then another couple of cases where we've seen it work, it was something that was really specific, like clinical laboratory pathology or legal work around a particular niche where there was just a handful of people who would actually be showing up at the website and you could get away with this much tighter process. So again, it's something that we feel we need to address because we've seen it win a few times but it seems to be the edge case compared to the aligned conversion architecture. I'll also mention that in many cases it may win because it's being tested against a website conversion architecture where they're not using incentives. And if you were doing that, given that the incentive conversion architecture, the free pretty often doubles response, if you ran this strategy out against the website that was just going for, "Hey, sign up for the email newsletter," much more likely that this would win or at least tie. So it kind of depends on what you're going up against.
Kim Mateus:
Yes. And to be mindful of knowing what you're comparing, right? Because there's all sorts of things that can get buried or missed when you're not looking at it holistically. So that's good advice there to be cautious.