Kim Mateus:
And here we're looking at the order page. So Eileen, we call this one a HC3. You want to talk us through, hone into this page and what makes it a winning framework for them?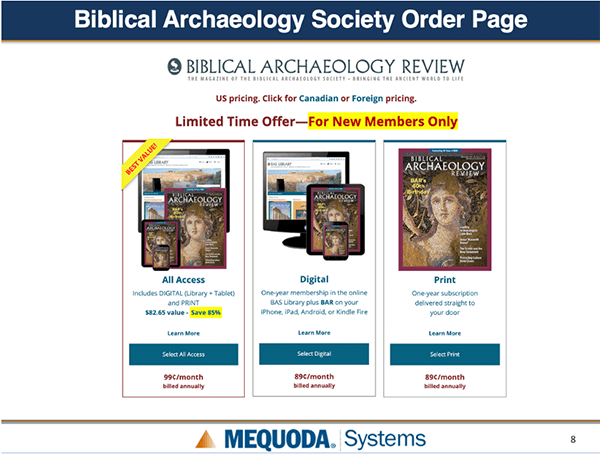 Eileen Shea:
Sure. All of our order pages have different acronyms. We call this the HC3 for our Horizontal Choice with three pillars. We offer the print, the digital and the all-access. So first, at the very top you'll see it says click for Canadian and foreign pricing. They at one point, they have a lot of interest in the Middle East. So there are a lot of website visitors, and they have some legacy subscribers from the Middle East. But they're no longer willing to sell print subscriptions in the Middle East. So if you were to click on that, you would get a digital only offer. And they are still selling in Canada, but postage is higher in Canada. So there's a different offer there.
Eileen Shea:
The next line is to make this very clear, it's for new members only. This is their introductory pricing. And when you go down to the three pillars, you'll see we're using contrast pricing. So print only is 89 cents a month, digital only is 89 cents a month, and for only 10 cents more, 99 cents a month, you can get both of them. You can see there's some learn more boxes, learn more lines and when you click on that, another box will pop up and show you everything that's included in an all-access or a digital only subscription. And then we also are presenting the price monthly, with a note that it's billed annually. And there's been a lot of testing on this. We test at $12 a year, and we test at $1 a month. We test a lot of different prices, and this was the one that was best for their market.
Kim Mateus:
That's fascinating because that may or may not be what you find in other places.
Eileen Shea:
Right. We tested everywhere, but it's one of the good things to test is your price presentation.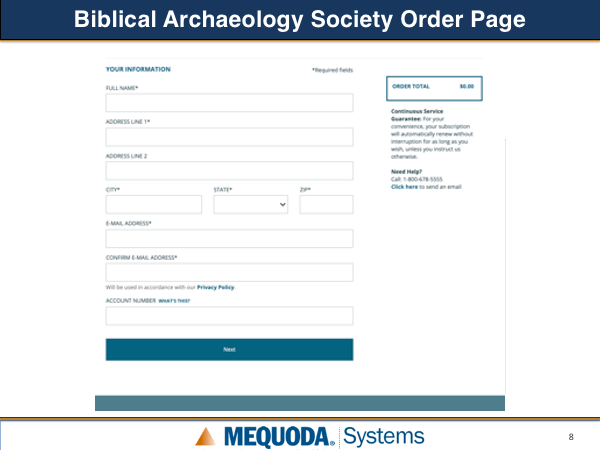 Kim Mateus:
Okay. And then this would be if you were on the page and just scrolled down, this is what you would find at the bottom of the page. So depending on what box you select, the order total would populate. We've got the continuous service language there. And another key piece which will manifest later in the presentation as well is we tend to ask for the email address on this first form, so that when they click next or sometimes it says register and continue. If they end up abandoning on the next page when we ask them for the credit card, we've captured that email. And it allows us to add them to our email list, send them abandoned recovery emails. So we try to replicate this technology across all our clients when possible.
Eileen Shea:
One thing on this Kim is the continuous service. All these order pages are continuous service only, there's not an option to not be continuous service. But they are able to go in and unsubscribe from continuous service after the order has been placed.
Kim Mateus:
Yeah, that's a good call. And that's another thing. I mean if you're sitting here and do not have continuous service in place for your digital orders, that would be an enormous recommendation. We would have to get started on that. It just compounds the success you'll ultimately have with digital subscription marketing, to have that continuous service.
Eileen Shea:
Yeah. And there are some states where you may not want to accept them, the state laws are changing all the time.
Kim Mateus:
Yeah, that's making it a little bit harder.
Eileen Shea:
It is, but it's definitely a boost if you can get it.
Kim Mateus:
Okay, great. All right. So that's BAS. We give a lot of credit to our work here in developing a lot of the stuff that we're going to talk about. But we're going to go through a couple more case studies and then get into to the specifics.