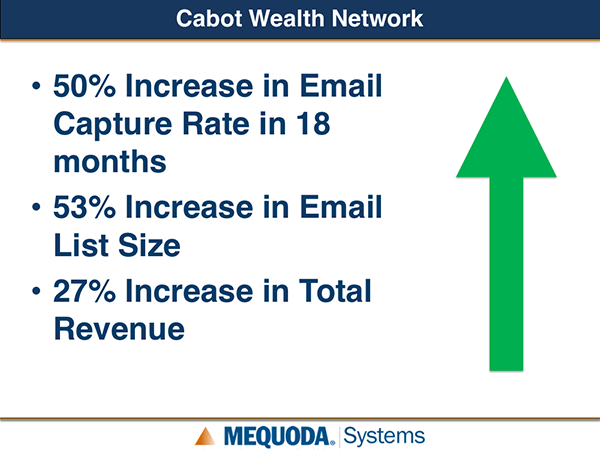 Kim Mateus:
Once you've got a testing program in place, of course, the big question you want to answer is what kind of revenue impact has this testing resulted in. Because while it's a ton of fun Bill, I know it's one of your favorite things to do, it's a lot of work.
Bill Dugan:
Yeah, it is.
Kim Mateus:
It's a lot of work, right?
Bill Dugan:
It's one of my specialties.
Kim Mateus:
Right.
Bill Dugan:
Email capture is one of my specialties and getting each of those elements to perform at its optimal point is my goals, to build that email list, I love doing it.
Kim Mateus:
And when we measured the impact that it had on Cabot, it was just astounding. So the first thing is that we've been at it for now more than 18 months. And it's something that we continue to prioritize with us helping Cabot, 50% increase in their email capture rate across the 18 months which is great in and of itself.
Kim Mateus:
But when you realize that that increase has led to a 53% increase in their email list size and a 27% increase in their total revenue, I think it just helps it all settle in like, "Wow, this is why we do this, this is why this is important." Because there's a direct linear correlation between capturing more emails and generating more revenue. So it can be a lot of fun and have a tremendous amount of impact on your business.
Kim Mateus:
And then the other thing we say with this, and pretty much every digital marketing initiative we execute on is the importance of this whole wash, rinse, repeat thing, right? It's got to be continuous. You do your planning, you execute, you analyze and you start it up all over again, right? This is a continuous ongoing thing. Like with any creative, if you stop the testing and it's going to exhaust itself and stop working, it'll start fatiguing.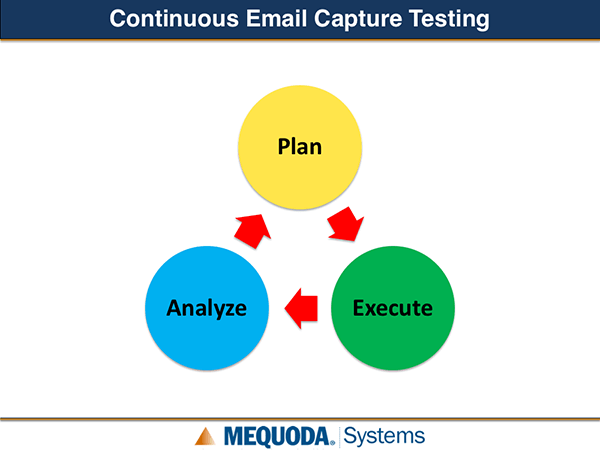 Kim Mateus:
And so if you've got the resources and can dedicate some time to it, it will definitely pay off for you. So I hope that this webinar has given you guys some ideas, some good groundwork. I feel like Bill, there's so much more that we could've covered about processes and inventorying, not just… because you mentioned earlier, every single one of these elements is its own little funnel.
Kim Mateus:
So taking a good look at what all the different pieces of that element might look like, right? Is important. Knowing how you then onboard free people into becoming free members of your site and the welcome series and the confirmation series and just all these other pieces, right? There's a whole big world that goes deeper than we were able to get to in this webinar.
Kim Mateus:
But hopefully this can jumpstart the testing that you're currently doing, get that email list, get the revenue up. And then you guys continue to explore all the other ways to optimize your traffic and your list building. So with that, we will conclude the webinar portion of today's event. I thank you all so very much. Bill, thank you so much for your time.
Bill Dugan:
Thank you, thank you so much.