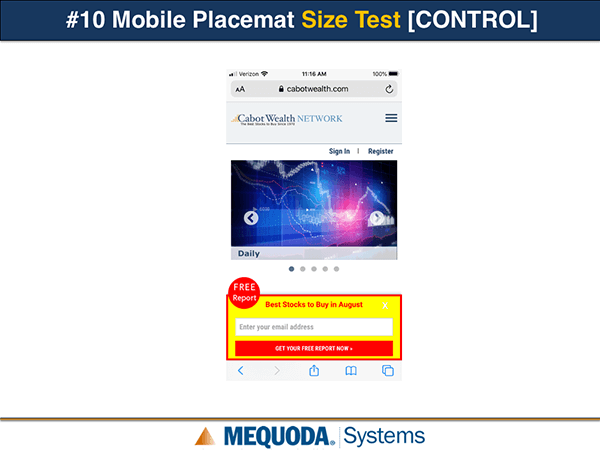 Kim Mateus:
Next element is also a mobile element, this one is the placemat, we call it that because it rests here at the bottom of the screen. So this is a size test. So what we're looking at is the control, which is sort of this shorter type of banner at the bottom of the page. And we got the idea to size test it with this taller element.
Bill Dugan:
This is using the McDonald's colors, which the control we had tested too, when we first developed this element, as Kim mentioned, it's persistent at the bottom of the page, it can be x-ed out although the white X is faint. When we first developed it, was the very beginning of Google's announcement regarding blocking mobile content.
Bill Dugan:
And there was a lot of confusion. And we went the conservative route, which was to do that shorter ad so that we were certain not to be covering too much content that might get us punished by Google in terms of search results. Well, I think that's two years ago now. So things have settled down and Google has reissued guidelines about such things.
Bill Dugan:
And this ad, this size test version is still within the limits, barely, of not being punished for blocking too much content on the screen for a mobile device. And so that's why we did it. We hadn't really revisited this element since it was first created in terms of its size. So that was the purpose of this test.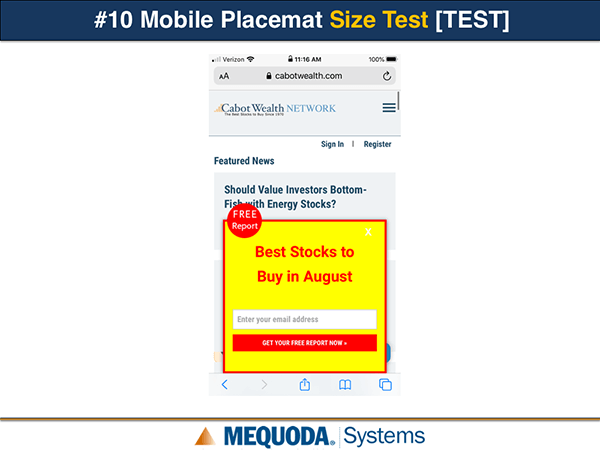 Kim Mateus:
Excellent. Especially since the taller one won.
Bill Dugan:
A winner.