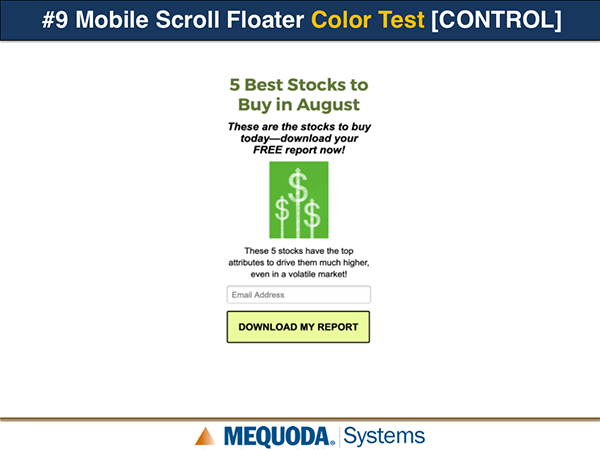 Kim Mateus:
Next test is also a mobile scroll floater, this time, a color test. So we took that control that we were just looking at and we did a color test where we added a yellow background, we changed the headline from the green to the red font and then we changed the button color from the green to the red. And of course I talk about being worried that your stuff is ugly. I remember when you guys first rolled this out, I go, "No, this can't be, this can't be."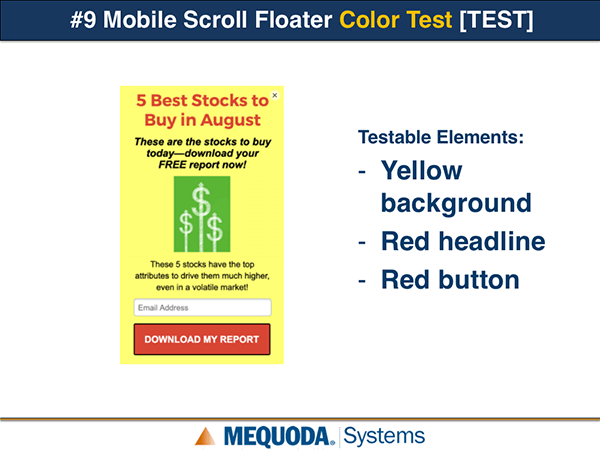 Bill Dugan:
We call this the McDonald's treatment where you get the fast food colors, the red and yellow, which all sorts of studies show that people which is why a lot of the fast food chains use those colors, it conveys comfort, it conveys quickness. and it's familiar to people. We were a little worried that mixing it with the green might look a little Christmasy, holidayish, but this is why we test.
Kim Mateus:
And this is when we learned that…
Bill Dugan:
It was the winner. And what you have to remember too, just another note. I had mentioned about how ugly sometimes works. A lot of these elements are sitting on top of content. And often graphic designers want to try to matchy match the colors and the treatment. And I believe that we've shown through successful testing that often is a bad strategy because then the ad can get…
Kim Mateus:
Sort of lost, right?
Bill Dugan:
Yeah. And that being stark and standing out is a way to improve performance on these kinds of ads.