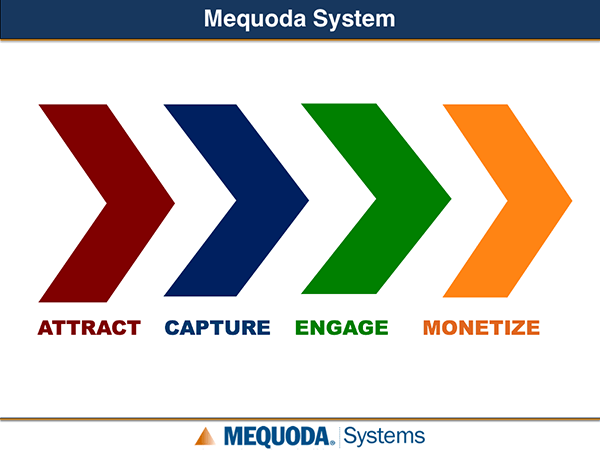 Kim Mateus:
So the webinar today is going to focus on one particular partner of ours and how we have helped them pretty significantly increase their email capture rates and how that's led to increased revenue. But first let's just talk very briefly about the Mequoda System and how that research and observation and documentation that we did in our early years has manifested into this system.
Kim Mateus:
We've always had a stronger focus, if you will, on the organic side of the marketing equation. So how to use your website, the free content that you give away to attract as much traffic as you possibly can from the search engines. We believe that most publishers out there should be giving away some portion of their content for free, that they SEO to attract the traffic from the search engines.
Kim Mateus:
And then once the traffic lands on your website, you'll notice across all our websites, across our fleet of clients that we are very aggressive about capturing that traffic and converting visitors into email subscribers. We like to call ourselves smartly aggressive. We have systems that recognize user states. We know when somebody's unknown or when somebody's logged in and we don't have to keep serving them with ads to join.
Kim Mateus:
We pay a lot of attention to the capture piece and that's what this entire webinar is about. Because that's key, right? We only say that traffic is only as good as its ability to convert. What good is attracting traffic from search engines that get there and bounce and aren't really interested in building that relationship with you.
Kim Mateus:
So that's the key because then once you've got them on your email lists, your job is to of course engage them with all of your high quality content, keep them interested, keep them subscribed to your newsletter so that you can then eventually monetize them. And the monetization of course can take a bunch of different angles. We work with publishers who are relying a hundred percent on subscription revenue, user revenue in the particular case study that we're going to walk you through today.
Kim Mateus:
In their case they pretty much a hundred percent reliant on user revenue, but we also work with publishers that are sponsor driven, and they're giving away all of their content for free and are monetizing through sponsorships. But no matter how you're monetizing your website and your business, we believe that attracting and then capturing and engaging are always a key part of that approach.