Mequoda Systems
Subscription Website Marketing for Publishers
Mequoda Systems publishes 19 special interest websites in partnership with 17 of America's top multiplatform content producers including magazine publishers, newsletter publishers and membership organizations. Each website is driven by a powerful customer experience management system that integrates content, email and subscription management with the goal of maximizing audience size and profitability.

The Mequoda Systems Content Network (MSCN) includes more than 60 special interest media websites, serving more than seven million daily email subscribers. Each month, our network welcomes more than 40 million website visitors. From cooking and crochet to health and investing, each website provides high quality content designed to make each member's life better. The network includes an abundance of free content optimized for search and social, and also includes more than 200 premium magazine, newsletter, membership and club products. Our methodology is designed to help consumers find accurate and free information online about topics of interest, and then lead them to premium membership products.

---
Double—or even Triple—Your Subscription Revenues with the "Mequoda Method"
Losing subscribers without gaining new ones is a universal fear for any subscription-based organization, and rightly so. When a decrease in active subscribers leads to an overall decline in revenue, publishers may find themselves facing uncertainty about the staying power of their product, or worse: the future of their business.
But what if we told you that you don't need to be crippled by a fear of decrease? That there is a method that can substantially increase your growth?
And what if we were there to guide you to success?
How we can help you power your subscription growth
While Six Sigma direct marketing has been around for a long time, the complexity of the discipline was simply too much for most independent publishers. Through years of testing and research, we've adapted the Six Sigma methodology to the process of online subscription marketing. After piloting several programs with clients in 2017 where subscription revenue increased from 70% to more than 100%, we're making the program available to other subscription publishers looking for an outsourced solution to grow their audience, revenue and profits.
Our method revolves around 3 components proven to drive subscription revenue:
Content horsepower: The Internet is a voracious content marketing platform. Our most effective six Sigma subscription marketing programs often include 16 unique email efforts deployed during a four-week testing cycle. Each new cycle is top graded to include the eight winners from the previous cycle and eight new creative efforts. Because our team includes multiple veteran copywriters and frameworks that have been used successfully for years, we can produce this level of output in a fraction of the time it'd take another organization. Without this, subscription marketing programs are constrained by reusing the same creative over and over, dramatically limiting order volume and revenue. 
Offer testing: Finding the right offers in the right prices for an Internet-based subscription marketing program can be elusive. The multiplicity of sources that should lead to your order flows can create an updating nightmare, preventing you from finding the "offer sweet spot." Our Six Sigma program brings the simplicity of a four-week testing cycle with the same offer across all online sources to create statistically valid results over a series of four-week test cycles. The program is both rigorous and methodical and relies heavily on the offer and price testing done across other client organizations and products using the principles of economic behaviorism, contrast pricing and the options available only to credit card continuous service offers.
Audience development: Every subscription marketing program is limited by the size of the database which drives it. Our organization has a long history of using organic and paid media programs to build online databases that are both responsive and vast. Our blockbuster content marketing strategy is the industry standard for harnessing search, social and referral traffic. Our  architecture and all its creative elements generate visitor conversion rates 10 to 20 times the industry average. Our Six Sigma testing programs keep conversion architecture fresh and relevant and our database specialists know how to harness your postal and expire files to mine relevant consumers ready to respond to your offers.
If you're ready to supercharge your subscription marketing efforts, let's start with a 30-minute discussion about your publishing business to discover how we can help you grow your audience, revenue and profits in 2018.
Three Successful Publishing Business Models, Supported by Mequoda's Haven CMS
No matter what your multiplatform publishing business looks like, we have a solution for you. Here are three websites that have successfully deployed our custom CMS development, Haven CMS—choose the one that's right for your business, and then let's talk about how we can help you:
Magazine Websites

Newsletter Websites

Membership Websites
Magazine Websites
Purpose: To generate paid subscriptions and revenue for a premium magazine business with a robust subscription website.
Our magazine websites are designed to take consumer magazine publishers boldly forward with a multiplatform 21st-century strategy. In addition to our unique and revolutionary HTML web-magazine edition and support for tablet-based magazine editions, these websites often connect to Haven's Directory, Calendar, and Classifieds modules that serve your audience and can also be revenue-generators. And Haven CMS features all the functionality of our signature website portal that can be leveraged for both premium-subscription development and third-party sponsorships using native, scarcity, exclusivity, and alignment sponsorship programs.
Haven CMS is also fully compatible with many state-of-the-art subscription fulfillment systems such as Strategic Fulfillment Group, CDS Global, and Palm Coast Data. Our cutting-edge, multiplatform contrast-pricing program, coupled with our Six Sigma direct-marketing program, allows you to dramatically increase your subscription unit sales and average price per subscriber, boosting overall revenue and profits. This Haven CMS deployment maintains the strong traditions of a dual-revenue strategy, powered by subscriptions and sponsorships and with new revenue streams that can include an online shop for stand-alone products, an event marketing system, and multi-product consumer clubs or memberships.
A prime example of Haven CMS in use is New England Network, built for Yankee Publishing to promote their venerable and popular regional magazine named Yankee. Like all of these types of websites, Yankee is built to attract, convert, engage, and monetize visitors that results in growing the list of paid magazine subscribers.
Newsletter Websites
Purpose: To generate paid subscriptions and revenue for a premium newsletter or advisory service with a robust subscription website.
If your legacy business is powered by premium newsletters or premium advisory services (as they are now so often called), our Haven CMS is ready to help you succeed. You'll have all the features of our typical websites to build a massive email database of free subscribers that can be up-sold and cross-sold to all of your premium products. Haven supports individual premium subscriptions and a revolutionary all-access pass that empowers you to sell a high-priced premium product or membership that bundles all of your products in a single offering. Mequoda clients routinely have used this strategy to increase revenues by 50-100% with virtually no additional time, cost, or effort to create new or additional editorial content.
A prime example of Haven CMS in use is Cabot Wealth Network. Cabot is one of the oldest and most respected independently-owned financial advisory services in the U.S. Cabot sells several premium advisory services, including specialized investment newsletters and memberships, and registrations for an annual Wealth Summit.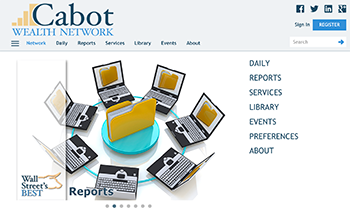 Membership Websites
Purpose:To generate and retain paid memberships for publishers offering a content archive.
If you're a membership organization or legacy publisher who wants to monetize your content archive, a Mequoda Membership Website is the right choice for you. Memberships offer users the chance to access content immediately which brings legacy print content alive in a very powerful way. A well curated archive of back issues provides users immediate access to topical content that addresses their immediate questions and needs. This added value allows you to dramatically increase revenue per order and increase introductory conversion rates by 100 to 200%. Membership websites can include articles, images, video, course materials and physical benefits like discounts at partner organizations and VIP access to live events. 
The international Ceramic Arts Network is a well executed example of a membership website that includes magazine content, video courses, a reference encyclopedia, member galleries and a myriad of discounts relevant for ceramic artists. In addition to being able to purchase individual memberships for the information products, a gold or silver membership offers users and all access experience that includes four membership libraries and a myriad of user benefits.