Let us turn you into a multiplatform publishing success story – like hundreds of media brands before you
It's not magic. It's Mequoda's sophisticated, multiplatform publishing science.
Dear Publishing Executive,
This is the story of many niche publishers, and the story of one publisher.
Mequoda has helped hundreds of media brands build vigorous, profitable, growing multiplatform publishing businesses. And we can help you. Even if you publish a single title and have revenues of just a million — if you're ready to achieve unimagined success, please read this story. You're about to find out how it all works.
How to plan, build and optimize a successful multiplatform publishing business – the Mequoda way
The Mequoda Method consists of a proven, fully integrated, low-cost, high-efficiency system that helps publishers launch incredibly successful online publishing and marketing operations. It's a system we built and first deployed in 1997 – on our way to helping the hundreds of brands mentioned above.
You may even be using parts of our system already. But while many of the techniques are simple, the execution is complex. We've seen far too many publishers try to go it alone, cherry-picking among our strategies and skills. These publishers are invariably surprised by their lack of success; the moving parts Mequoda has identified simply can't be separated from each other. And lacking the understanding of how they work together all but guarantees disappointment.
And, if you ever think about your exit strategy you probably already are very familiar with the reality of the marketplace.
Print publishers are selling for 1x or 2x EBITDA – if they can find a buyer at all. 
Growing multiplatform publishers are getting 8x, 10x, 12x EBITDA, or more! 
If you'd like to get in on that, read on.
This pyramid illustrates the Mequoda way to multiplatform publishing success. If any part of it is unfamiliar to you, please read on and we'll explain the Mequoda Method to you.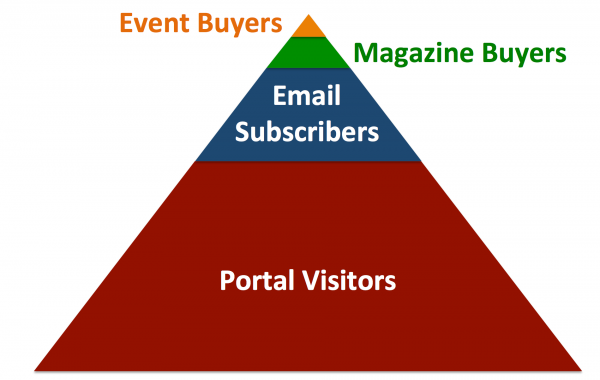 Still with me? Let's talk about that single niche publisher I mentioned earlier: There once was a moderately successful publisher named Rose Harper. She's a bright, ambitious gardening expert with one platform — a legacy print magazine – and she recognized early on that she wanted to go digital and expand her platforms and her products. She came to Mequoda for help.
What did we do for Rose? We …
Increased the number of publishing platforms from one – her single print magazine product – to five, including web, app and print editions of her legacy magazine, a web portal, a free email newsletter, free reports, and even gardening tours
Increased her revenues from $13M to $37M in 5 years
Created a multiplatform gardening publishing empire that has made Rose's company the dominant publisher in its niche
Can we do the same for you? Yes.
Best of all, we do all the heavy lifting of planning, building and optimizing your new multiplatform publishing business, so you simply do what you do best – create amazing content for a loyal, growing audience.
Before I go on, let me explain a bit about Rose Harper and her company, Green Gardens Network. They're composites of many successful publishers – our clients – whose actual data we can't share. Her story is the result of our decades of experience in planning, business modeling, and website building – experience and data that not only makes us more successful than most consultants, but also allows us to leverage economies of scale in replicating the success of our clients for you.
You don't have to re-invent the wheel. We already know what works, and all we have to do is fine-tune the process for your specific needs. And when we've done that for you, you'll find you've doubled – even tripled – your revenues, quadrupled the number of platforms you operate on, and built a powerful, profitable multiplatform publishing business.
So who does Rose represent in our composite case study of success? Here's just a partial list of the highly successful publishers on which Green Gardens Network is based and for whom Rose is the embodiment:
Active Interest Media
Agora Publishing
American Ceramic Society
America's Test Kitchen
Aspire Media
Biblical Archaeological Society
Business & Legal Resources
Capitol Information Group
Farm Progress Companies
Ogden Publishing
Prime Publishing
The Motley Fool
Vida y Salud Media Group
As you can see, the Mequoda Method works across all niches, B2B and B2C, and even non-profit organizations. It works for more than 60,000 publishers, editors, content producers and website designers around the world.
The only publishers it consistently fails for … are the publishers who haven't tried it.
Please allow me to introduce myself:
I'm Don Nicholas, CEO and Lead Consultant for Mequoda Systems. I created the Mequoda Method, and I want to become your new Chief Strategy Officer, so together we can plan and implement a successful, profitable Mequoda multiplatform publishing business for you.
That's right: Mequoda Systems clients like Rose Harper instantly add a highly experienced team to their company – often without hiring a single new employee – and all for what you would pay for just one C-level executive. (Find out more about the diverse and experienced Mequoda team here.)
But let's step back a bit and start with the three-step process our successful clients undergo…
1. Learn the methods, techniques, and tools that will enable you to become a multiplatform publishing success, by attending one of our training events. We encourage all potential clients to attend to help them grasp the method and get on board. It's a valuable kickstart to your journey toward multiplatform publishing success!
At our events, you'll learn the 7 secret strategies to successful multiplatform publishing that Mequoda has identified and documented, leveraging them to build ever-growing businesses for our clients.
First, the introduction we give our attendees into the basics of the Mequoda Method:
Attract: Mequoda will show you how you can attract more visitors to your online presence than you imagined possible. The myth that if you build it, subscribers will come, only works in the movies.  This is the beginning of your sales funnel.  The more interested people you attract, the more money you'll make.
Convert: Here's the unpleasant secret of modern digital publishing: It's almost impossible to become a millionaire selling premium products to random website visitors. Instead, Mequoda has developed a foolproof method for turning random visitors into eager consumers of your content – your free content – by converting them into your email subscribers.
Engage: Talk to your new best friends every day. Engage them with your brand through your daily contact, through your expertise, and through your amazing content. Mequoda has learned that the more you engage these people, the more likely they are to buy your paid products.
Monetize: Now you're ready to sell premium products – in multitudes. Your engaged audience is primed to buy, over and over again.
Scale: Your success in doing all of the above leads to a successful subscription website and ever-growing traffic. If you get this right, every part of  your business will grow accordingly – including profits.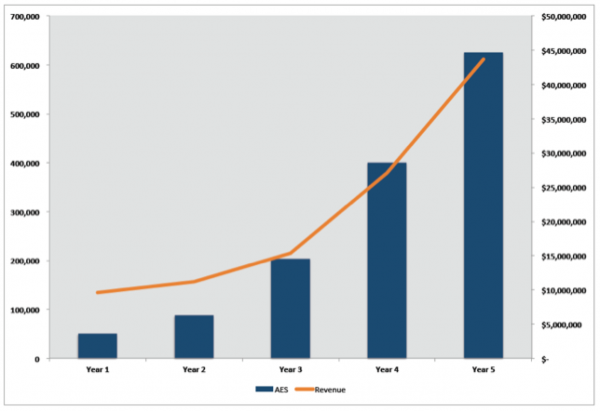 | | | | | | |
| --- | --- | --- | --- | --- | --- |
| | Year 1 | Year 2 | Year 3 | Year 4 | Year 5 |
| RPS | 192.05 | 126.66 | 75.42 | 67.66 | 69.86 |
2. Plan where you're going with a detailed, bulletproof five-year business plan, from our experienced planning team, that takes into account your content, your organization, your goals and even your exit strategy. Because we base your plan on the data and benchmarks we've been gathering since 1997, there is no guessing, and no need to start from scratch.
Now, about those 7 secret strategies! These are the strategies you'll learn about at a Mequoda event, which we'll then use to build your successful multiplatform publishing business, just as we did for Rose Harper and Green Gardens Network. They are –
Content Strategy
Audience Strategy
Revenue Strategy
Organizational Strategy
Technology Strategy
Measurement Strategy
Exit Strategy
The experts on the Mequoda team – who become your experts when you're a Mequoda Gold Member client – will develop each of these strategies for you as part of the process of building a detailed business plan and 5-year financial model that leaves you in no doubt about your future. We will …
Review your existing content:
Understanding what new content you need to create and what can be repurposed is crucially important for creating an efficient and profitable multiplatform publishing business. So we create an in-depth master content schedule. We show you how existing content is repurposed and reflowed for all your new platforms, from website to free email newsletters to mobile editions of your magazine. BONUS: Mequoda knows how you can do all of this and more – without hiring a massive new staff!
Research your audience:
You must ensure that all your products and platforms are focused on the right people. So we develop an audience profile, including demographics and search data, upon which we build your audience development plan. Our decades of experience modeling businesses for multiplatform publishers, helping hundreds of brands and documenting thousands of benchmarks allows us to predict your future with uncanny accuracy. No crystal ball required!
Forecast your revenue mix:
There's no guesswork when you're a Mequoda Gold Member client. We'll identify profitable new products, based on our benchmark data, explain how native advertising and content marketing can make millions, help you price your products – using a proven successful strategy that too few publishers understand – and identify your costs, risks and opportunities so you know what you need to invest and can take advantage of the investor funds flowing back into the publishing industry again if that's what you need.
Redefine your organization:
You don't have to hire an army of new employees, but you do have to know how to organize the ones you have to effectively execute a Mequoda multiplatform publishing plan. Many publishers have organized their operations into silos that make a multiplatform publishing strategy hard, and more expensive, to execute – but we have a leaner, integrated, more cost-efficient model that we'll fine-tune for your needs.
Best of all, our model can be customized based on the size of the market and the opportunity. It can be a full-scale C-level team, such as this one, scaled for a $10M to $50M business, or it can be any size on down – perfectly designed for your needs.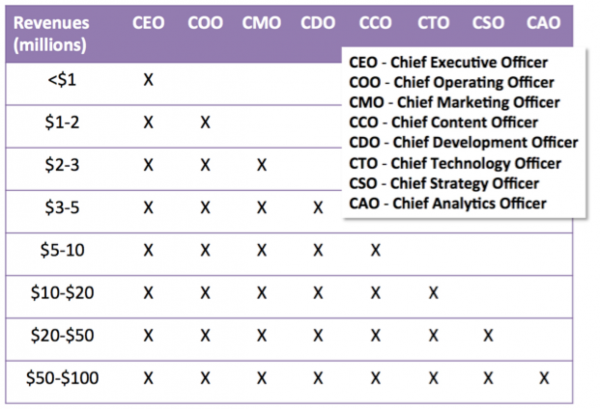 Select the technology to support your needs
Mequoda will build an incredibly robust, customized digital publishing and marketing system for far less money and in far less time than other developers because we leverage existing software which has been built specifically for the needs of today's multiplatform publishers – our custom Haven CXMS. Haven is a software-as-a-service (SaaS) tool built on an open source core, is compatible with WordPress plug-ins, and integrates with most major third-party solutions and services.
The system we build will be tailored to your needs and business goals. Not only is our system less expensive, it's also more effective. Unlike retrofitted websites with disparate systems that make customer service and reporting more difficult, Haven  gives you a complete, central database that informs your marketing decisions and helps you maximize the lifetime value of each subscriber. We manage all the infrastructure, so you never have to look under the hood.
We've even identified the best partners so you don't have to research software, email, hosting, and other functions on your own, or take stabs in the dark. When you put your system management into the hands of the publishing industry's only strategy-centric provider, your organization reaps the benefits of stress-free technology, content-focused implementation and ongoing profitability.
More details on the Haven CXMS are here.
Identify the important measurements to operate your business
Believe it or not, many publishers don't understand which metrics and data are actually the most important to their business. With the constant flood of data they receive it's no wonder.  Fortunately, Mequoda's experience has allowed us to document exactly the right metrics that help multiplatform publishers succeed, and we'll help you understand how to measure them and what to do with the data once you have it.
Forecast your profitable exit strategy:
Without continually-growing earnings, pure-print legacy publishers will find few or no willing buyers for their businesses when they decide to exit. By becoming a growing, multiplatform publishing powerhouse, you can follow in the footsteps of your fellow Mequoda clients, who sell their companies for eight times their earnings – sometimes 10 or even 20 times – instead of simply shutting down your company at a loss, or giving it away in a fire sale, as we see all too often these days.
3. Execute  your new multiplatform publishing business plan with the guidance of our industry-leading team of architects, system developers and content consultants. We don't simply build websites – we build multiplatform publishing businesses. And we do it by using Best Practices that have been in development since 1997 and have been executed by hundreds of clients. This helps us to continually fine-tune these Best Practices, as clients give us feedback on their success.
That's how you know the Mequoda model is sound and your success practically assured.
At this stage, your new chief technology officer and lead architect (again, more C-level staff from Mequoda's team you don't have to add to your payroll) steps in to …
Leverage our custom technology for you
We oversee the complete implementation of your new technology, from website colors and fonts to Mequoda's information architecture best practices — everything you need to create an effective, usable website portal.
At the same time, your Mequoda system director leads the Mequoda team to help you put your new content plan into practice and train your team members in operating the Mequoda system. We support your team with training, data, and coaching on an ongoing basis to ensure your continued success.
Optimize your system by measuring your data
We continuously measure and analyze your data to keep you on track. Your Mequoda analytics team, including your Mequoda chief strategy officer, meet with you regularly to make sure your system is operating at peak performance, develop action items based on hard data, and continue fine-tuning your operation to make sure you reach your financial goals.
We offer two complete analytics suites produced by our experienced Chief Analytics Officer and analytics team to help you understand how the moving parts in your system are performing. No other consultant offers this kind of in-depth, ironclad data organized to precisely highlight your successes, identify problems and opportunities, and develop action items.
Here's what Mequoda regularly monitors for its Gold Member clients.  (How much of this are you tracking?)
Audience Development Analytics Suite (ADAS)
The ADAS report, featuring five separate reports, leverages analytics to build organic website traffic beyond your wildest dreams. Our clients have improved their traffic by as much as 715%. No, that's not a typo. Of course not every one of our clients achieves that … but rates of 90%, 110%, or 150% are quite common. If you're like most publishers, I suspect you'd be happy to see those "modest" rates of growth for your site.
The ADAS includes …
Google Visibility Report
Keyword Performance Report
Content Performance Report
Traffic Source Report
Inbound Link Report
More details on the 5 reports in the Audience Development Analytics Suite are here.
E-Commerce Analytics Suite (ECAS)
The eCommerce Analytics Suite is composed of five distinct reports, which deliver actionable insight into all your e-commerce systems and allow you to maximize lifetime subscriber value. Like the Audience Development Analytics Suite, it's updated regularly and used to direct resources most effectively, keeping your profits flowing.
The ECAS includes …
Registered User Lifetime Value
Broad-match Sales Report
Revenue by OSID
Revenue by ASID
Revenue by Product
More details on the 5 reports in the E-Commerce Analytics Suite are here.
None of this data and analysis is unproven theory. Every statistic has meaning in the overall success of your publishing business, and we deliver it all to you so you can execute your Mequoda plan flawlessly and profitably.
I'll say it again: These services don't have to be your specialties, because they are definitely ours. When you become a Mequoda Gold Member client, you can focus on your market and content, instead of software, web design or organizational strategy.
It's time for you to become the next Rose Harper …
While we can's show you our clients' data, let me remind you of that composite case study I mentioned earlier:
Increased the number of platforms from a single print magazine product to five
Increased revenues from $13M to $37M in 5 years
Created a multiplatform publishing empire that has made Rose's company the dominant publisher in its niche
And allow me to remind you how we did it. We …
Helped Rose understand the Mequoda method and its moving parts
Created a complete business plan after carefully auditing her existing content, audience, revenue and organization
Built a website portal based on our proven, profitable model drawing on our years of experience in the industry and our customized Haven software
Continually monitored and analyzed the performance of every facet of her business to ensure optimal performance
Prepared her company for a profitable exit in an industry where failure to maximize value is too often the norm
And we did it all for a fraction of what most publishers spend struggling through the process on their own
This is not theory. This is not re-inventing the wheel. This is not guesswork. We know what works and, most importantly, we can replicate the success of our dozens of happy clients for you.
Schedule a call with us today, before you review one more disappointing quarterly report, or call one more meeting to fix problems you thought you already solved, or answer one more midnight call about a website disaster.
We want you to succeed, so we make it incredibly easy to get started. One email, form submission, or a phone call to Julie Ottomano at 508-686-6018 is all it takes to get an eye-opening, no-obligation conversation with me, Don Nicholas, CEO and Lead Consultant.
You can easily find consultants who'll help you build your audience, or develop a website, or create an email newsletter. But why not work with one who helps you create a comprehensive multiplatform publishing plan, has the ability and experience to effectively execute that plan with you – and has the track record of success to show for it?
Contact us today. I'm eager to start building your multiplatform publishing success story.
Wishing you future publishing success,

Don Nicholas
Founder & Chairman
Strategy Group Leader
Mequoda Systems
PS: Remember that 715% increase in traffic I cited? Would you like to know which client it was? That information is public … and if you want to know who it is, give us a call.
PSS: Remember, it all starts with a FREE, no-obligation phone conversation with me. You have nothing to lose, and millions in revenue to gain. Why not call or email now?