Mequoda Systems
Subscription Marketing Services for Publishers
Mequoda Systems helps publishers and subscription marketers grow audience, revenue, profits, and influence. Mequoda plans, builds, and operates online subscription marketing and publishing systems that integrate web, email, social media, and fulfillment systems into powerful customer experience management systems for fueling client growth, efficiency, and profitability.
Double—or even Triple—Your Profits with the "Mequoda Method"
Using the "Mequoda Method" marketing and analytics strategy, our clients dominate their niche markets with deployment of our Haven CXMS software. But working with Mequoda isn't just about buying a software package; it's a way of doing business—you'll be equipped with proven "Mequoda Method" strategies for audience-driven, continuous-improvement media and brand management and all the necessary tools to ensure that you succeed and thrive with multiplatform publishing. Join our clients who have doubled, even tripled, their profits in five years or less!
---
Who We Are
What Makes Mequoda Different and Unique?
Mequoda and our Haven CXMS are unique in the publishing marketplace—there are other available software platforms, but our proprietary system is the only online multiplatform publishing software developed by publishers, for publishers, and regularly maintained and updated by a cooperative of publishers. No need to explain marketing or publishing concepts to staff at Mequoda Systems—we're publishing and marketing veterans with a team of trained and publishing-oriented software developers who deliver expert solutions for multiplatform publishing systems. With our methodology and system, you'll stay on top of the latest online publishing and marketing trends and best practices—and our system evolves and improves in real time! No other product offers this level of value and service.
What's in a Name—Why Mequoda?
Mequoda is a term coined by Internet entrepreneur, website developer, and company founder Don Nicholas, to describe a method for designing and managing successful websites and website networks. Short for "media quote daily," Mequoda is an approach to building website networks, based on four core principles—ACEM in Mequoda-talk:
Attract: Getting visitors to your website is Step One in building a successful online business. Mequoda's clients deploy methods that use Search Engine Optimization (SEO) as a key strategy for driving organic traffic, based on a thoroughly researched keyword-phrase universe and perfectly aligned content. Repurposing and optimizing existing print content is also a successful tactic for making your website SEO friendly!

Capture: Once new visitors arrive at your site, capturing their email addresses is the next challenge. And no better way to entice site visitors to hand over email addresses than offering a free report or guide that is aligned with visitors' topic interests. Maximizing email-capture rates is best achieved with appropriate conversion architecture on your site's pages, and Mequoda clients are guaranteed this architecture with our Haven CXMS.

Engage: Once you've attracted site visitors and captured email addresses, keeping them engaged with your content is the next challenge. Mequoda clients achieve maximum customer engagement and retention rates with regular and powerful email communications—email is the linchpin of any successful Mequoda Haven CXMS.

Monetize: Now you have a relationship with email customers, and you're poised to sell, sell, sell! Every email communication is a chance to feature a product or service or advertiser…and to offer your customers a chance to buy whatever you have—subscriptions, memberships, books, videos, reports, events, and more!
Mequoda clients use our methodology and system to transform their businesses into niche media brands that dominate their markets.
Get Custom CMS Development, Built Specially for Publishers
If you think you need custom CMS development for your subscription business, think again! We've already done it for you—and for dozens of other multiplatform publishers. And forget about hiring an agency to start from scratch—we'll save you 80% of what you'd otherwise spend for a custom solution, because we already have custom CMS development that's specifically designed for subscription website publishers and that can be specialized for your needs, your products, and your brand.
Seven Successful Publishing Business Models, Supported by Mequoda's Haven CXMS
No matter what your multiplatform publishing business looks like, we have a solution for you. Here are three marketing systems that have successfully deployed our custom CMS development, Haven CXMS—choose the one that's right for your business, and then let's talk about how we can help you:
Magazine Marketing System
Newsletter Marketing System
Membership Marketing System
Magazine Marketing System
Purpose: To generate paid subscriptions and revenue for a premium magazine business with a robust subscription website.
Our most popular magazine marketing system is designed to take consumer magazine publishers boldly forward with a multiplatform 21st-century strategy. In addition to our unique and revolutionary HTML web-magazine edition and support for tablet-based magazine editions, these systems often include Haven's Directory, Calendar, and Classifieds modules that serve your audience and can also be revenue-generators. And Haven CXMS features all the functionality of our signature website portal that can be leveraged for both premium-subscription development and third-party sponsorships using native, scarcity, exclusivity, and alignment sponsorship programs.
Haven CXMS is also fully compatible with many state-of-the-art subscription fulfillment systems such as Strategic Fulfillment Group, CDS Global, and Palm Coast Data. Our cutting-edge, multiplatform contrast-pricing program, coupled with our Six Sigma direct-marketing program, allows you to dramatically increase your subscription unit sales and average price per subscriber, boosting overall revenue and profits. This Haven CXMS deployment maintains the strong traditions of a dual-revenue strategy, powered by subscriptions and sponsorships and with new revenue streams that can include an online shop for stand-alone products, an event marketing system, and multi-product consumer clubs or memberships.
A prime example of Haven CXMS in use is New England Network, built for Yankee Publishing to promote their venerable and popular regional magazine named Yankee. Like all of these types of systems, Yankee's website is built to attract, convert, engage, and monetize visitors that results in growing the list of paid magazine subscribers.
Newsletter Marketing System
Purpose: To generate subscriptions and revenue for a newsletter or advisory service with a robust subscription website.
If your legacy business is powered by premium newsletters or premium advisory services (as they are now so often called), our Haven CXMS is ready to help you succeed. You'll have all the features of our typical systems to build a massive email database of free subscribers that can be up-sold and cross-sold to all of your premium products. Our system supports individual premium subscriptions and a revolutionary all-access pass that empowers you to sell a high-priced premium product or membership that bundles all of your products in a single offering. Mequoda clients routinely have used this strategy to increase revenues by 50-100% with virtually no additional time, cost, or effort to create new or additional editorial content.
A prime example of Haven CXMS in use is Cabot Wealth Network. Cabot is one of the oldest and most respected independently-owned financial advisory services in the U.S. Cabot sells several premium advisory services, including specialized investment newsletters and memberships, and registrations for an annual Wealth Summit.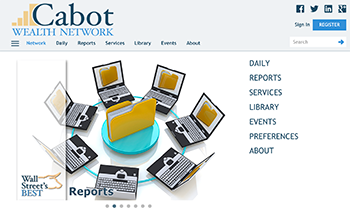 Membership Marketing System
Purpose: To generate and retain paid memberships for publishers offering a content archive.
If you're a membership organization or legacy publisher who wants to monetize your content archive, a Mequoda Membership Marketing System is the right choice for you. Memberships offer users the chance to access content immediately which brings legacy print content alive in a very powerful way. A well curated archive of back issues provides users immediate access to topical content that addresses their immediate questions and needs. This added value allows you to dramatically increase revenue per order and increase introductory conversion rates by 100 to 200%. Membership Marketing Systems can include articles, images, video, course materials and physical benefits like discounts at partner organizations and VIP access to live events. 
The international Ceramic Arts Network is a well executed example of a membership system that includes magazine content, video courses, a reference encyclopedia, member galleries and a myriad of discounts relevant for ceramic artists. In addition to being able to purchase individual memberships for the information products, a gold or silver membership offers users and all access experience that includes four membership libraries and a myriad of user benefits.