Become the Steve Jobs of publishing.
The Digital Publishing & Marketing Intensive is your first step.
Dear Publishing Executive,
I'm going to make you a promise: You could become the Steve Jobs of your niche in the next few years.
Yes. You could be as wildly successful in your field as Jobs was in his.
Too hard to believe? Consider these publishers who have turned themselves into superstars, and their companies into niche publishing empires, in just a few years, all using the revolutionary multiplatform publishing system that some people call the Mequoda Method:
Clay Hall, Aspire Media
Chris Kimball, America's Test Kitchen
Stuart Hochwert, Prime Publishing
Phil Ash, Capitol Information Group
Bill Uhler, Ogden Publishing
Charlie Spahr, American Ceramic Society
Bill Bonner, Agora Publishing
Bob Brady, Business & Legal Resources
They're just like you. They don't have unlimited resources, or household names as their brands, or a direct line to a higher power. Instead, they all leveraged their niche expertise and the method we teach in the Mequoda Digital Publishing & Marketing Intensive to become the publishing rock stars they are today.
They mastered the 7 components of a multiplatform business plan:
Content
Audience
Revenue
Organization
Technology
Measurement
Economics
They learned the core concepts of the Mequoda Method:
Attract > Capture > Engage > Monetize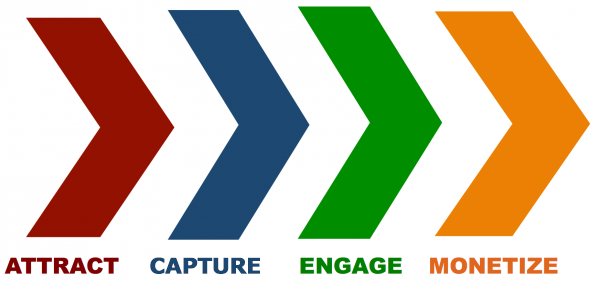 What's the Mequoda Method? It's composed of four discreet strategies that are all completely interlocked, and getting your team focused on ACEM metrics is the path to success.
Attract: We see SEO (great content + great keywords) as a primary driver of traffic. We believe that most publishers can build a steady stream of traffic through organic search by writing great editorial content and repurposing legacy content for the web in the form of keyword-optimized website portal posts. Some publishers opt to pay for traffic through PPC, but we believe that most publishers can achieve the same goals with an intelligent and systematic campaign of search-friendly content.
Capture: Now that you've drawn traffic to your portal, you can turn your visitors into email subscribers by giving away free reports or other freebies. To convert visitors into subscribers, the publisher only needs to implement appropriate conversion architecture on every page of their website. By using a valuable free report to acquire a visitors email address, you are getting their permission to build a relationship and to contact them regularly with more valuable and engaging free content.
Engage: All of your work attracting website visitors and converting website visitors into email subscribers is for nothing if you can't keep your readers delighted and engaged with your content. Great content, delivered frequently and without expectations, allows you to earn your subscribers' trust so don't skimp on your content. It's the only thing between you and our fourth principle.
Monetize: Following the principles above you've increased visits to your web site, developed a list of email subscribers, and earned their trust with great content. Now, you can monetize that audience – any number of ways. Our media clients use the Mequoda method to sell subscriptions, sponsorship ad packages, lead generation opportunities, e-learning memberships, events, tours and everything in between! Without the first three principles, you only have one opportunity to sell, and those are the few moments from when they arrive on your site until they leave. By adding attraction, conversion and engagement to your online strategy, you have hundreds of chances to get their attention.
Wondering about our credentials?
If you're curious to how we developed our expertise, consider this. We've:
Spent thousands of hours researching and documenting the most successful strategies and processes for multiplatform publishing, from subscription websites to digital magazines and, of course, audience development
Built, managed and optimized successful media networks in markets as diverse as investing, crafting, executive education, religion, travel, health and lifestyle
Added to our research the extra value of having actually helped hundreds magazine brands
Published free books, reports and posts that were downloaded more than 1,000,000 times last year
Developed one of the leading daily newsletters on the topic of digital publishing strategy and multiplatform publishing
Refined our digital publishing strategies, expanded the platforms and fine- tuned the reporting tools
"The team I worked with at Interweave successfully transitioned a leading print enthusiast media business into the digital age. The folks at Mequoda were an important part of this team and the company's most valued strategic advisor. We could not have done it without them." 
Clay Hall
Former CEO
Interweave
As you may have gathered, Mequoda doesn't do anything by the seat of our pants. We've researched, documented and organized what we've learned over the last two decades, so we can teach it all to you in a clear, straightforward manner. There's no confusion, no random hot trends, and no questions unanswered.
The strategies we teach
Here are a few takeaways you'll learn from us, among many others:
The 12 content business models publishers are using to build audience and generate revenue
How to leverage organic media as the core of your marketing program, while using paid media to expand your reach
How to use multiplatform offers and contrast pricing to maximize revenue
The mistakes companies make in organizing their teams and learn what's worked, resulting in maximum creativity, innovation and efficiency
Why the only way to maximize revenue in a multiplatform environment is to have a fully integrated technology solution
Which metrics and numbers truly drive system performance and profitability
How to build an enterprise that'll be coveted by your shareholders, team members, customers and community
These are the strategies that have created the digital publishing superstars mentioned above. Our clients often are legacy publishers wrestling with declining subscription numbers, newsstand sales and ad revenues. But the Mequoda Method has halted that decline, turned it around, and even created new revenue channels to stabilize our clients' legacy brands beyond any of their expectations.
For example, there's the American Ceramic Society, which had two struggling magazines and some 20 products when it hired us in 2006. Today, their web portal, Ceramic Arts Daily, boasts more than 100 products, revenues of more than $3.5 million, and dominates their niche. Feel free to Google ceramics terms, say, "kiln firing techniques," and you'll see what I mean.
Then again, some of our clients started with no legacy publication at all, but were ambitious enough to leap into multiplatform publishing anyway – and they became successful, too. That's the story of Prime Publishing, which launched in 2009 from scratch, and is today an industry leader in its niche.
The first step on your path to the profitability and success these superstars have achieved is to attend the Intensive, just like they did.
"We've used the Mequoda Method to sell thousands of books, videos, and subscriptions." 
Sherman Hall
Managing Director
American Ceramic Society
A closer look at the Intensive
Yes, we actually teach the skills you need to become a niche publishing superstar in just two days… that's why we call it the Intensive, of course! Here are the sessions you'll attend, complete with plenty of time for Q&A, and all while interacting with your instructors and your peers in an intimate, learning-enhanced atmosphere:
Day 1
Multiplatform Publishing Strategy
How to double or triple your revenues in 5 years or less.
In this opening session, you will discover the four skills you need to master every facet of a multiplatform publishing business. We'll introduce you to CAROTME, Mequoda's comprehensive framework for managing a highly profitable multiplatform niche media organization. CAROTME represents the seven key components of a multiplatform business plan road map: Content, Audience, Revenue, Organization, Technology, Measurement and Economics.
At the Intensive, you'll learn how to build your own road map using a composite case study representing a legacy magazine publisher who has transformed into a 21st century multiplatform success story. You'll also get real-life examples of publishers who have doubled or tripled their revenues in 5 years or less using the Mequoda Method.
Content Development Strategy
Use high quality content to attract, capture, engage and monetize your target audience in the most efficient manner possible.
A significant challenge publishers face when transitioning from legacy to multiplatform is the number of content models they must now pursue and master. Because of this, publishers are tempted to manage and staff these content models individually, but this is cost prohibitive and often inefficient. Making the cross platform production of content work together in a seamless way is what the Mequoda Method is all about. We have identified 12 content models and have developed a comprehensive set of standards for each model to allow these platforms to be managed optimally and at the lowest possible cost. The 12 content models include affinity models, where the content is used to build an audience, as well as premium models, where the content is used to monetize an audience.
At the Intensive, you will learn a process for making the production of this content work cohesively to maximize each platform at the lowest possible cost.
Audience Development Strategy
Leverage search engines and other organic media as the core of your audience development program and expand your reach when possible with paid media.
One of your primary jobs is to make sure you are allocating resources in a way that maximizes profit. In a multiplatform world that seems to offer endless ways to reach your customer, this can often appear more complicated than it needs to be. The key to high profitability in multiplatform marketing is to resource and prioritize the channels from most efficient to least efficient.
At the Intensive, you will learn the 7 niche media marketing channels we have identified to be the most effective for multiplatform brands and we will discuss their characteristics, their economics and show you how to leverage them as a group. You will learn how to create a backend environment that's efficient, supports your business goals and helps you to prioritize resource allocation to maximize your bottom line.
Revenue Generation Strategy
Use multiplatform offers and contrast pricing to maximize revenue and profitability.
Whether you're selling sponsorships, subscriptions, memberships or single purchases, it's absolutely crucial that you use pricing and packaging to maximize revenue and minimize the cost of sales. In a multiplatform environment where many of your products have virtually no marginal cost of delivery, understanding how to build packages and bundles that appeal to consumers and sponsors is essential to overall profitability and success.
At the Intensive you will get real test data for building a multiplatform magazine product that drives more orders and yields a higher price per order. You will learn how to sell multiplatform sponsorship packages that leverage your market position not only as a multiplatform distribution channel for your sponsors, but also as an expert content producer who can help your sponsors generate messaging that resonates with your shared audience.
"We've used Mequoda Method principles, analytics and advice to more than double our revenues over the past three years."   
Stuart Hochwert
Founder & CEO
Prime Publishing
Day 2
Revenue Generation Strategy
Sell multiplatform sponsorships to maximize profits.
Our research and testing on dozens of brands proves that readers don't want to choose one platform – they want it all. And with our tried and true contrast pricing strategy, you can make it simple for your customers to get it by choosing the all-in-one option, generating more orders, higher customer satisfaction and increased revenues. The single biggest revenue opportunity available to publishers switching from print-only to a multi-edition magazine system for print, tablet and web editions lies in upselling your legacy subscribers into a multi-edition (or as we call it at Mequoda, multiplatform) package.
Technology Management Strategy
Leverage best of breed software, hardware and services to create a fully integrated multiplatform publishing and marketing system.
Building a robust and customized digital publishing and marketing system must be a priority for niche media publishers, because the only way to maximize revenue per team member is to give them a fully integrated solution that lets them focus on the things they do best and not worry about managing the technology, integration and uptime.
At the Intensive you will learn how best of breed software can be leveraged to create a fully integrated multiplatform publishing and marketing system and we'll also walk you through the process of properly comparing the cost differentials between working with an integrated solutions provider versus building your own integrated solution.
Business Measurement Strategy
Identify and model the key metrics to operate your business and drive all resource allocation decisions.
One of the most important discoveries we've made in 18 years of building and managing multiplatform publishing and marketing systems is that there are 4 critical metrics that underlie your total success.
At the Intensive you will learn what those metrics are, along with all the downstream metrics that feed them and power them. In a world where numbers and metrics seem endless and abundantly overwhelming, we will teach you which numbers to use to drive system performance and profitability.
Economic Value Strategy
Make investment decisions that support your economic goals.
In the 21st century, single-platform legacy media companies are widely out of favor with investors of all stripes. Given the economic leverage that a fully integrated multiplatform publishing operation brings to any media space, it should be no wonder that those are the only kinds of companies that are drawing buyers, investors and key talent.
At the Intensive we will discuss how to position your company to all your various stakeholders, including potential investors, buyers and high octane talent and how to communicate your business road map in a way that makes them want to invest their time in your media organization. In an increasingly competitive landscape, top line investors and the most sought after talent only want to work for companies that have a plan for the future. This final component of CAROTME will show you how to create a brief but powerful business plan deck that allows you to communicate your vision to the stakeholders that your success so greatly depends on.
"With more than 3.2 million monthly unique visitors, Mother Earth News has increased its revenues 39X over the past 10 years using strategies adapted from the Mequoda Method."  
Bill Uhler
Publisher
Ogden Publications
Join the best of the best
As you can see, we take you step by step through a complete multiplatform publishing system, just like the one used by past Intensive attendees such as …
Farm Progress
EatingWell Media Group
Harvard Law School Program on Negotiation
Business and Legal Resources
Active Interest Media
Investing Daily
Vida y Salud
Mr. Food
Biblical Archaeology Society
Metro Parent 
And unlike big publishing and marketing conferences, the Intensive is an intimate event, with a limited number of seats in order to allow maximum interaction with instructors and peers, and ensure all questions are answered.
"If you want to make more money online — listen to Mequoda." 
Chuck McCullagh
Former Senior Vice President
Magazine Publishers of America
Don't wait. Read through the agenda and get a feel for the Method. Read the testimonials from your fellow publishers. Check your calendar. When you're through, I'm confident you'll be ready to register, and to start learning this efficient, profitable method for becoming a multiplatform publishing success story.
I'm looking forward to talking with you. Let's chat more about your publishing business over one of the networking breakfasts, lunches or the reception that's included with the price of your seat.
See you soon,

Don Nicholas
Founder & Chairman
Strategy Group Leader
Mequoda Systems
P.S: Because transformational change is hard, we offer group pricing that encourages you to bring your team with you to the Mequoda Intensive. If you do, you'll all attend at a discounted rate. See current pricing here.