Discover how our proven Multiplatform Publishing Strategy can double or even triple your revenue in five years or less 
In just two days, you'll learn a step-by-step process for transforming a legacy media brand into a multiplatform media brand. Join the ranks of our past graduates who have doubled or tripled their revenue in five years or less using our methodology.
Dear Niche Media Executive,
The Internet is the most powerful and disruptive technology to hit the publishing industry since the invention of movable type. The opportunities available to niche publishers today are massive and nearly 20 years after the very first magazine websites went live, there is finally a proven method for transforming niche media brands into 21st-century multiplatform powerhouses.
In just two days, my team and I will teach you the Mequoda Method, a step-by-step strategic process for making that transformation a reality for your business. We will teach you how to use your high quality content to attract, capture, engage and monetize your target audience in the most efficient manner possible. Plus, we will give you the complete blueprint our graduates have used to double and triple their revenues.
As a seasoned media executive, I bet you are suspicious that such an aggressive claim is too good to be true. Your skepticism is warranted, and if you'll continue reading I'm confident I can supply the data required to backup my bold claim.
Still with me?
Let me begin by quickly sharing how the Internet dramatically changed my career in the publishing industry, and how I am passing forward what I have learned to transform the careers of thousands of other media professionals.
My name is Don Nicholas and I founded Mequoda Systems back in 2004. I began my career in media as a print and broadcast journalist, and by 1982, I was the general manager for a 10 million dollar regional media company producing magazines, books, television programs and live events.
In 1983, I created the Lighthouse Publishing Model and founded Lighthouse Publishing Services which leveraged personal computers to redefine the process of magazine business plan development and optimization.
In 1993, I founded Blue Dolphin Direct which became the magazine publishing industry's largest direct marketing agency with a client list that included Consumer Reports, IDG, Time Inc, Rodale, Meredith and hundreds of niche media publishers.
In 1994, we began exploring ways to harness the Internet, and in 1997, launched our first Mequoda System, which was sold three years later for $85 million.
Over the past 18 years, we've used The Mequoda Method to transform hundreds of legacy media brands into multiplatform media brands. Along the way, our clients have used their Mequoda Systems to generate billions in revenue and change the course of niche media publishing forever.
How the Mequoda Method Works
The Mequoda Method is built on these four principles:
Attract
Capture
Engage
Monetize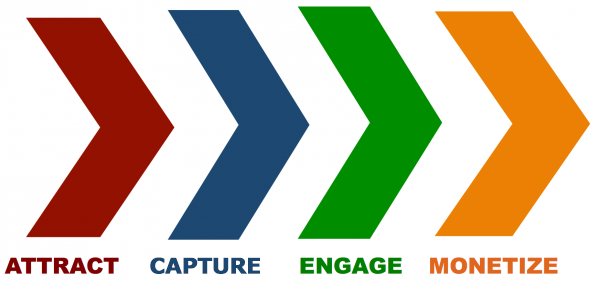 We see all four as discreet strategies that are all completely interlocked, and getting your team focused on ACEM metrics is the path to success. During Mequoda Institute's Multiplatform Publishing Strategy Program, we'll teach you the Mequoda Method. We will teach you how to fish in your pond using the Mequoda Method. We supply the boat, tackle and maps – your team supplies the bait, brainpower and labor to do the fishing.
Attract: We see SEO (great content + great keywords) as a primary driver of traffic. We believe that most publishers can build a steady stream of traffic through organic search by writing great editorial content and repurposing legacy content for the web in the form of keyword-optimized website portal posts. Some publishers opt to pay for traffic through PPC, but we believe that most publishers can achieve the same goals with an intelligent and systematic campaign of search-friendly content.
Capture: Now that you've drawn traffic to your portal, you can turn your visitors into email subscribers by giving away free reports or other freebies. To convert visitors into subscribers, the publisher only needs to implement appropriate conversion architecture on every page of their website. By using a valuable free report to acquire a visitors email address, you are getting their permission to build a relationship and to contact them regularly with more valuable and engaging free content.
Engage: All of your work attracting website visitors and converting website visitors into email subscribers is for nothing if you can't keep your readers delighted and engaged with your content. Great content, delivered frequently and without expectations, allows you to earn your subscribers' trust so don't skimp on your content. It's the only thing between you and our fourth principle.
Monetize: Following the principles above you've increased visits to your web site, developed a list of email subscribers, and earned their trust with great content. Now, you can monetize that audience – any number of ways. Our media clients use the Mequoda method to sell subscriptions, sponsorship ad packages, lead generation opportunities, e-learning memberships, events, tours and everything in between! Without the first three principles, you only have one opportunity to sell, and those are the few moments from when they arrive on your site until they leave. By adding attraction, conversion and engagement to your online strategy, you have hundreds of chances to get their attention.
The Seven Habits of Highly Successful Niche Media Publishers
While the ACEM principles form the backbone of the Mequoda Method, the execution of the Method is built around what we refer to as CAROTME, or Mequoda's Strategic Management System. This is a comprehensive framework for managing a highly profitable multiplatform niche media organization.
CAROTME represents the seven key components of a multiplatform business plan road map, and defines the seven habits of highly successful niche media publishers. At the Mequoda Institute, we will teach you how to build your own road map, using a composite case study representing a legacy magazine publisher who has transformed into a 21st century multiplatform digital publishing and marketing success story. The 7 components of CAROTME are:
Content Strategy
Audience Strategy
Revenue Strategy
Organizational Strategy
Technology Strategy
Measurement Strategy
Economics Strategy
These habits and business planning components have been built on our 18 years of experience, plus the ongoing, invaluable data and best practices we derive from our clients. Here's a summary of each component:
Your Content Strategy
Use high quality content to attract, capture, engage and monetize your target audience in the most efficient manner possible.
A significant challenge publishers face when transitioning from legacy to multiplatform is the number of content models they must now pursue and master. Because of this, publishers are tempted to manage and staff these content models individually, but this is cost prohibitive and often inefficient. Making the cross platform production of content work together in a seamless way is what the Mequoda Method is all about. We have identified 9 content models and have developed a comprehensive set of standards for each model to allow these platforms to be managed optimally and at the lowest possible cost. The 9 content models include affinity models, where the content is used to build an audience, as well as premium models, where the content is used to monetize an audience. At the Institute, you will learn a process for making the production of this content work cohesively to maximize each platform at the lowest possible cost.
Your Audience Strategy
Leverage search engines and other organic media as the core of your audience development program and expand your reach when possible with paid media.
One of your primary jobs is to make sure you are allocating resources in a way that maximizes profit. In a multiplatform world that seems to offer endless ways to reach your customer, this can often appear more complicated than it needs to be. The key to high profitability in multiplatform marketing is to resource and prioritize the channels from most efficient to least efficient. At the Institute, you will learn the 11 niche media marketing channels we have identified to be the most effective for multiplatform brands and we will discuss their characteristics, their economics and show you how to leverage them as a group. You will learn how to create a backend environment that's efficient, supports your business goals and helps you to prioritize resource allocation to maximize your bottom line.
Your Revenue Strategy
Use multiplatform offers and contrast pricing to maximize revenue and profitability.
Whether you're selling sponsorships, subscriptions, memberships or single purchases, it's absolutely crucial that you use pricing and packaging to maximize revenue and minimize the cost of sales. In a multiplatform environment where many of your products have virtually no marginal cost of delivery, understanding how to build packages and bundles that appeal to consumers and sponsors is essential to overall profitability and success. At the Institute you will get real test data for building a multiplatform magazine product that drives more orders and yields a higher price per order. You will learn how to sell multiplatform sponsorship packages that leverage your market position not only as a multiplatform distribution channel for your sponsors, but also as an expert content producer who can help your sponsors generate messaging that resonates with your shared audience.
Your Organizational Strategy
Organize your people into six multiplatform teams and empower them to be creative, innovative and disciplined.
When legacy media companies go multiplatform, there is often a great temptation to organize their teams by platform, which results in high inefficiency. At the Institute you will learn how to organize your business into a lean mean publishing machine by creating distinct multiplatform teams who are empowered to work together to maximize efficiency and profits. We will show you how to hire the right team leaders, give you a blue print for the job descriptions for each of the key positions, and show you how to leverage outsourcing to supercharge your leadership team and acquire talent that would normally be outside of your reach economically.
Your Technology Strategy
Leverage best of breed software, hardware and services to create a fully integrated multiplatform publishing and marketing system.
Building a robust and customized digital publishing and marketing system must be a priority for niche media publishers, because the only way to maximize revenue per team member is to give them a fully integrated solution that lets them focus on the things they do best and not worry about managing the technology, integration and uptime. At the Institute you will learn how best of breed software can be leveraged to create a fully integrated multiplatform publishing and marketing system and we'll also walk you through the process of properly comparing the cost differentials between working with an integrated solutions provider versus building your own integrated solution.
Your Measurement Strategy
Identify and model the key metrics to operate your business and drive all resource allocation decisions.
One of the most important discoveries we've made in 18 years of building and managing multiplatform publishing and marketing systems is that there are 4 critical metrics that underlie your total success. At the Institute you will learn what those metrics are, along with all the downstream metrics that feed them and power them. In a world where numbers and metrics seem endless and abundantly overwhelming, we will teach you which numbers to use to drive system performance and profitability.
Your Economics Strategy
Make investment decisions that support your economic goals.
In the 21st century, single-platform legacy media companies are widely out of favor with investors of all stripes. Given the economic leverage that a fully integrated multiplatform publishing operation brings to any media space, it should be no wonder that those are the only kinds of companies that are drawing buyers, investors and key talent. At the Institute we will discuss how to position your company to all your various stakeholders, including potential investors, buyers and high octane talent and how to communicate your business road map in a way that makes them want to invest their time in your media organization. In an increasingly competitive landscape, top line investors and the most sought after talent only want to work for companies that have a plan for the future. This final component of CAROTME will show you how to create a brief but powerful business plan deck that allows you to communicate your vision to the stakeholders that your success so greatly depends on.
5 Reasons to Register Today
You get all of this by registering for the Mequoda Institute:
An integrated multiplatform media strategy using the secrets used by superstar publishers that you can leverage to build your own booming business.
Exposure to dozens of media brands which have been transformed using our method, and the opportunity to learn from the industry experts who guide these superstars, so you fully understand every detail of the Mequoda Method.
One-on-one access to six of our team leaders in an intimate small group setting and networking opportunities that allow you to connect with other forward-thinking publishing leaders.
Thousands of dollars worth of white papers and tools to help you implement what you've learned, including our comprehensive strategic planning toolbox which includes:


The Mequoda Strategic Planning Framework
The Mequoda Google Visibility Report
The Mequoda Online Market Audit
The Mequoda Multiplatform Content Marketing Matrix
The Mequoda Multiplatform Strategy Model

Your satisfaction is guaranteed by me.
Don't wait. Read through the agenda and get a feel for the Method. Read the testimonials from your fellow publishers. Check your calendar. When you're through, I'm confident you'll be ready to register, and to start learning this efficient, profitable method for becoming a multiplatform publishing success story.
I'm looking forward to talking with you. Let's chat more about your publishing business over one of the networking breakfasts, lunches or the reception that's included with the price of your seat.
See you soon,

Don Nicholas
Founder & Chairman
Strategy Group Leader
Mequoda Group
P.S. We limit the number of Mequoda Institute attendees to 25 in order to provide an intimate, friendly environment that allows everyone to ask questions and network with their peers during breaks. We even host a networking reception the first night, where everyone relaxes and shares war stories. You won't get that kind of value-added proposition at a mega-conference!
P.S.S: Because transformational change is hard, we offer group pricing that encourages you to bring your executive leadership team with you to the Mequoda Institute. If you do, you'll all attend at a discounted rate. See current pricing here.