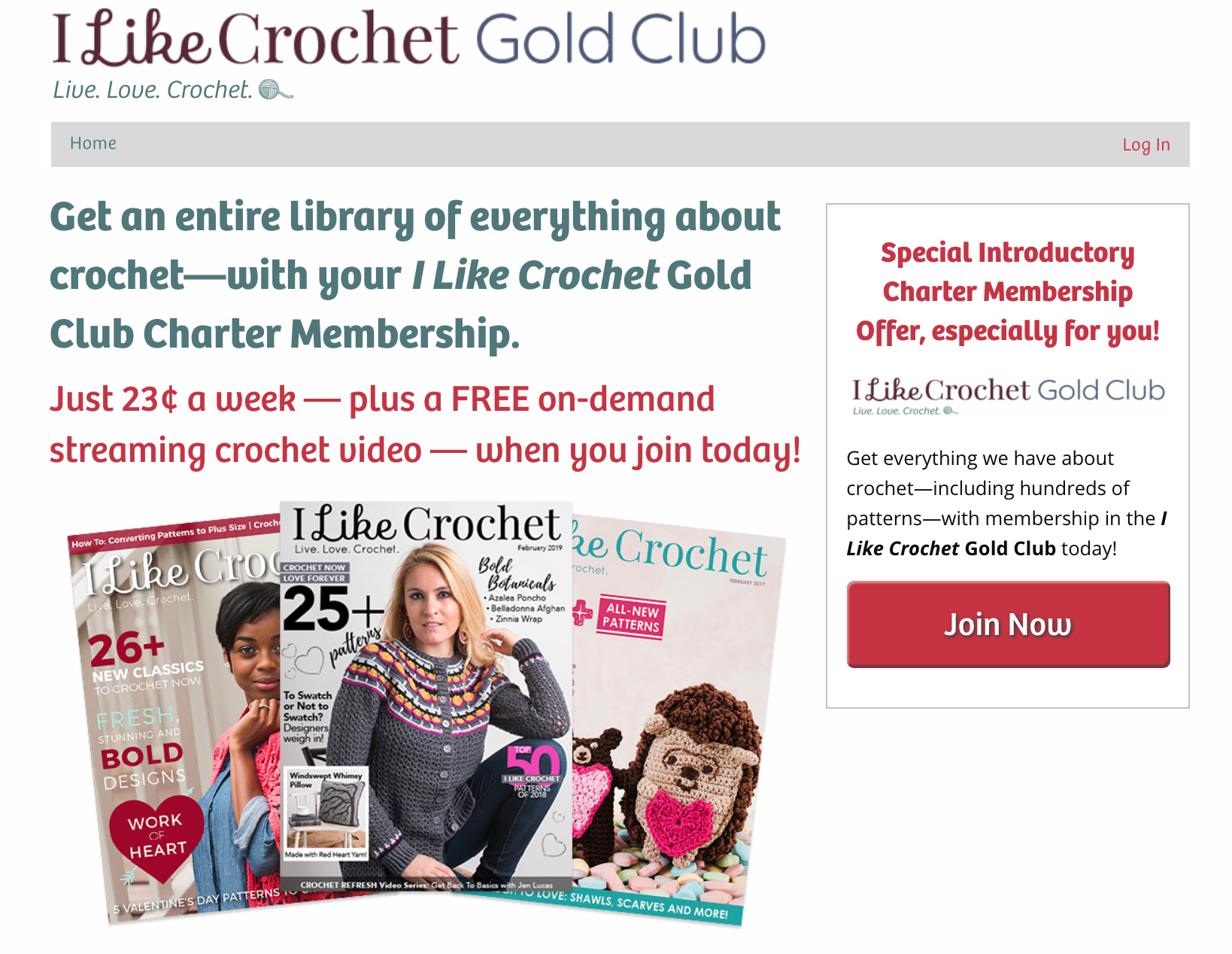 In the summer of 2014, our longtime publishing partner Prime Publishing launched a revolutionary website magazine, I Like Crochet. 
Upon launch, I Like Crochet magazine was delivered digitally, both as a website edition, complete with page-by-page navigation and a linear, magazine reading experience, and as an Apple app edition. I Like Crochet was Prime Publishing's first foray into premium content, aimed at readers looking for a higher level of access to unique and exclusive patterns and advice. The web magazine provided this access through fully responsive page-by-page navigation and a searchable library.
Fast-forward to 2020, and I Like Crochet has gone through a number of upgrades. In March of 2018, they made some updates to their best-practice web magazine, which included updating payment processing systems, taking advantage of SFG's "FlexPage" system, and enabling single copy-pricing. You can see how and why we made these updates in America's First Web Magazine Gets a "Face Lift". The single-copy pricing was discontinued later.
But the most significant changes were yet to come. Later in 2018, we launched special collections, an all-access Gold Club, and library previews that promote the Gold Club. We wrote about that in 3 Best Practice Updates for America's First Web Magazine.
We're happy to announce that I Like Crochet just hit a major digital milestone—15,000 all-access paid Gold Members.
How did they reach this digital milestone for members?
"All-access" is a powerful product to offer. An all-access Gold Club product gives you a major upsell to anything you have in your inventory. In the case of I Like Crochet, the upgrade to an archive of 700+ crochet patterns and articles, with more every month, is worth the inexpensive monthly fee to an avid crocheter. Single patterns on a creative marketplace like Etsy average around $5 each, so $3.97 per month (or less depending on the promotion) is recognized as a deal to those who crochet often and spend money on individual patterns.
If someone wants to subscribe to I Like Crochet, there are five levels of membership:
Basic Bronze Member (free) – After downloading a "freebie" pattern, users become members of ILC's email subscriber list where they get access to freebies, and receive ILC's newsletter.
The Magazine Club – Includes web access to the next year of bi-monthly digital magazines; with 25+ exclusive patterns, expert tips & step-by-step techniques in every issue. Plus, access to the library with 700+ patterns & articles for free.
The Collections Club – Includes access to carefully curated collections of stunning crochet patterns for scarves, blankets, and more. These collections include 50+ gorgeous designer patterns.
The Gold Club – Their all-access capstone product which includes full access to everything— Magazine Club web & tablet editions for a year; plus the library of 700+ patterns & articles, on-demand streaming crochet videos, and all the special collections in the Collections Club!
The Gold Club stands at the top of their pyramid as their capstone product, and 89% of people choose to become a member of this product. 
Why? Because offering all products through one membership price is overwhelming value creation, a phenomenon from economic behaviorism, that dramatically increases consumer adoption and response rates.
Our partnership with Prime has been very successful, and we are so happy for them to hit this digital milestone. It demonstrates that an organization with great content and a massive database of email subscribers that have never generated membership revenue can partner with us to create an entirely new premium membership brand and revenue stream.
I Like Crochet is published by Prime Publishing, LLC in partnership with Mequoda Systems, LLC using the Haven WordPress CXMS. For more information about I Like Crochet, Mequoda Systems, and the Haven Content Management System, contact Kim Mateus.