When you get a prospect all the way to the landing page, you're almost there. Almost. Clinch the deal with offers too compelling to resist. In direct marketing with subscription and membership offers, 3 choices is usually the limit in one offer. By using compelling and persuasive tactics on your landing page, you can upsell your prospects while still offering them choices. But you're going to make that upsell choice so compelling, that it should be the leader in your orders at the end of the day. When executed properly—it works to boost orders, revenue, and profits!
With this Template Tutorial, we'll review an HC3Big Landing Page that uses a hard offer to pitch new subscriptions. But first, what is an HC3Big Landing Page? HC3Big is our acronym for "Horizontal Choice-3 choices with a bigger first pillar compared to pillars two and three," which means the page is visually presented in horizontal-across-the-page, pillar-like fashion with 3 ordering options. And we're featuring an HC3Big Landing Page from the Cabot Wealth Network's Cabot Retirement Club (CRC)—a page that offers two different retirement advisories, and a specially priced combination offer that includes both advisories for a reduced rate.
The Cabot Wealth Network has been advising investors on the best stocks to buy since 1970. The Cabot site has a wealth of product offerings, ranging from free daily emails & reports, a free weekly video, to premium services, including subscriptions to specialty newsletters and capstone memberships that include all the advisories Cabot has to offer, plus additional special benefits for the top-of-the-line membership. And, of course, there's the Cabot Retirement Club.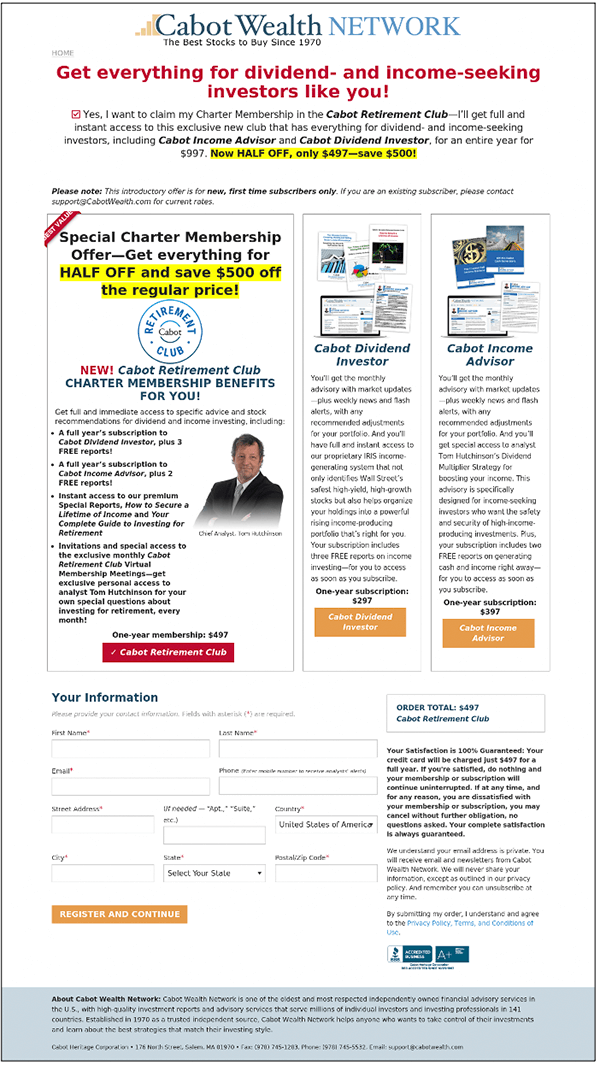 The Cabot Retirement Club is a relatively new bundled product offering at the Cabot Wealth Network, providing subscribers a deep well of resources for planning and implementing their retirement strategy. It's not a cheap subscription, but CRC sweetens the hard offer by bundling two of its advisories—the Cabot Dividend Investor and the Cabot Income Advisor. Subscribers can choose just one advisory subscription, but the bundled price makes a compelling argument to choose a membership in the retirement club to get both products at a great rate.
Cabot executed this HC3Big Landing Page when it launched the CRC with the value of the bundled advisories clearly highlighted; so far, results have been positive, with more prospects choosing the CRC than one of the individual subscriptions. With proper testing protocols, you can also test an HC3Big Landing Page and watch your results soar.
Now, let's take a look at CRC's HC3Big Landing Page, and we'll rank it based on our checklist of core components that can help connect with prospects and make the sale!
Nameplate Header

If you're like Cabot Wealth Network and most other publishers, prospects for your premium offers can come to your order landing page in a multitude of ways including email, site navigation, organic search, affiliate-partner promotions, paid-media efforts, direct mail, and more. One thing you want all order landing page visitors to immediately know is who you are—and the best way to convey your identity is to use a page header that displays your nameplate logo with your tagline, a succinct and effective way to present your brand. And when you're driving page visitors from email messages that include your nameplate logo, displaying the same logo on your order landing page is a confirming credibility-builder. Because the Cabot Retirement Club is part of the Cabot Wealth Network, the best practice is to use the main publisher nameplate; it conveys credibility.
CRC offers credit where credit is due with this component of the HC3Big Landing Page!
Testing Ideas
While opportunities to "test" your brand's main logo and tagline may seem limited, by focusing on this element, you might brainstorm new ways to position your brand (with a new, more powerful tagline, for example). Or you might have reason to test sprucing up your nameplate with call-out elements, such as a starburst, that highlights momentous events. Cabot's tagline underscores the company's longevity. They added a 50th anniversary flourish to their nameplate and reports during their golden anniversary year. Another testing idea for this HC3Big Landing Page could incorporate the Cabot Retirement Club seal with the nameplate for these offers.
Headline

After your nameplate header that identifies your business, you need a prominent headline to connect with your page visitors—and let them know the general nature of your offer. Headlines should be short, pithy, explanatory, and aspirational. Here, CRC connects with the visitor by offering just what an investor wants. The headline is in red—which, as you know, is a key action color. The headline shoots for a personal connection—"…investors like you!"
CRC earns points for their direct and aspirational headline!
Testing Ideas
After the nameplate header, your headline is where your prospect's eye will fall next—so they can immediately get the gist of the offer. Headline testing can help you find winning or better-performing messages, and you should try testing things such as offer, premium, or urgency specificity in your headline. Examples:
"Save $500 when you join today!"
"This special charter membership offer is for serious investors!"
"Get the insights you need for retirement—and save 50%!"
Yes Copy & Offer

Everything in this landing page is affirmative and aspirational. In a direct mail package, the order form would already have the Yes box checked off. CRC has done that here—it reinforces the value of the offer and urges the visitor to action. The Yes copy provides a succinct summary of the membership, underscores its exclusivity (for dividend- and income-seeking investors), and pumps up the value by highlighting the half-off discount.
Now, you'll also notice some fine print under the Yes copy. If the offer is for first-time members only—and this one is—you need to disclose that on the landing page. CRC wisely puts its disclaimer in a prominent spot and provides information for current subscribers. This one line of copy can save you—and your customer service department—a world of aggravation. Don't skip this little line. If the offer's not for everyone, state that clearly.
The offer here is clear: you get the price and a clear description of the savings. Who doesn't like to save 50%? When it's worded this way, it feels like a deal too good to pass up. When you have a prospect (in the case of email, from a well-chosen list) who's likely willing to spend $297 or $397 on a product, making the leap to $497 isn't that big a jump. The lined-out regular price is a best practices standard to give the prospect a quick way to make a visual comparison of the pricing. It makes the offer that much more appealing.
The offer provides that feeling of being part of something special and new—Charter Membership, exclusive new club—and reinforces the immediate gratification the subscriber gets when they join—full and instant access. This is a content- and feature-rich offer, and the offer copy makes that clear.
Cabot Retirement Club checks off all the boxes for powerful, aspirational Yes copy with a solid, enticing offer.
"Yes checkmark" testing & Offer/price testing
Get enthusiastic! Add an exclamation point to your Yes.
It's a little more coding work, but you can let the prospect activate the checkmark. Leave the box blank; when they hover over it, they'll see the checkmark. Then they can click it themselves.
As with any subscription or membership offer, testing introductory pricing is a great way to gauge the marketplace's willingness to order your products or services at various price points and various terms. Successful introductory offers that we've seen working include "30 days for $1"; "14 days FREE"; and "12 weeks for $12"—or test including a premium incentive for new subscription orders. Try swapping out HALF OFF for 50% OFF. Digital downloads of curated popular content are a great way to make your offer more appealing to new subscribers.
With this CRC offer, offer testing copy could include:
Yes! Enroll me as a Charter Member in the Cabot Retirement Club. I'm entitled to full and instant access to this exclusive new club that has everything for dividend- and income-seeking investors—including Cabot Income Advisor and Cabot Dividend Investor, for an entire year for just $497—that's 50% OFF the regular price of $997. I save $500!
Other offer testing:
Put SAVE $500! or 50% off for New Charter Members! in a burst with the offer copy.
Test your price point.
Reminder: Whenever you're doing testing, test one element at a time.
Pillar #1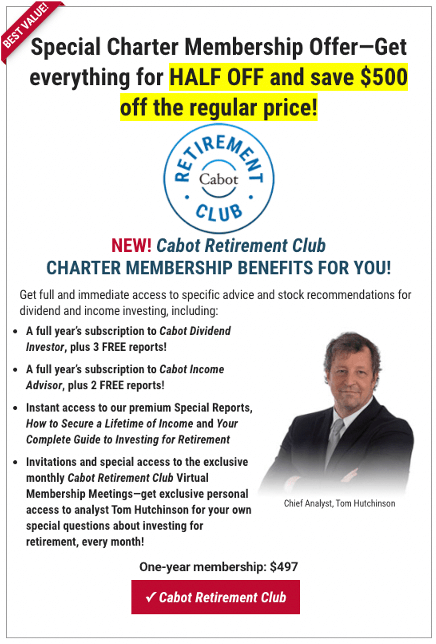 Presenting the order landing page in horizontal fashion with pillars that highlight key components of your offer follows the logical way that humans read, left to right. And Pillar #1 is all-important, so that's why it contains the Cabot Retirement Club offer—the option in an HC3Big Landing Page that you want all prospects to take, your highest-price option. Here are some key best-practice elements of this pillar:
Call out this option as the "best value" deal—CRC includes a red corner banner with bold type that accomplishes this.
Reiterate the offer to reinforce the value of the bundled products over subscribing to them separately. The HALF OFF and $500 savings are impossible to miss at the top of this pillar—highlighted and in bold.
The Cabot Retirement Club has its own emblem. It's used to good effect here, right under the Charter Membership Offer.
NEW! is sometimes underestimated. But people like new things. This isn't some old, dusty product, it's new—and that makes it appealing. The NEW! is in bold, in caps, in red—can't miss it.
Highlight the exclusivity of the CRC. The header introduces charter membership benefits available with this new retirement club. Yes, it's in all caps. Yes, it has an exclamation point at the end. Is it shouting? Sort of. But it's doing so tastefully, with the dark blue of Cabot's product color palette.
The subhead here reinforces what we heard in the offer copy: full and immediate access to information.
Then the detailed, bulleted list of everything that comes with CRC, including personal access to CRC's Chief Analyst, Tom Hutchison. And, of course, if you don't know Tom, CRC has provided his professional portrait here—with eye contact, of course. Tom's picture exudes confidence and competence, which is what subscribers will expect.
At the bottom of the pillar is the choice button—preselected. You can tell because it's red and it has the checkmark. The price is listed just above the button.
You'll notice as subscribers choose different options, the button will change to red, and the 'Order Total Box' will change to match. All that's left for subscribers to do is complete the order form.
Now, you may be wondering why there are no product pictures here—after all, CRC is a bundle of two products. Yes, we highly recommend you show product pictures in Pillar #1 to drive home the value of the product. But in this case, Tom Hutchison is the bonus "product" in CRC, so it's excellent strategy to feature him there—the CRC now has a face to go with it. Also, Pillars #2 & #3 show the products, so prospects aren't missing out on any information.
Cabot's Big Pillar #1 does the job!
Testing Ideas
Since Pillar #1 is so important, it's worthy of testing! CRC is already a bit ahead of the game by using the HC3-Big Landing Page format—it's proven to boost response with some products and offers—a common deployment is to make Pillar #1 40% of the page width, with Pillar #2 and Pillar #3 each 30% of the page width.
With the full and immediate access to all Charter Membership Benefits option included in Pillar #1, you're already making your point about the value of CRC. You could test the wording of the offer in the Pillar header:

Join the Cabot Retirement Club for HALF OFF the regular price and save $500! Special Charter Membership is available for a limited time.

Test the color of the corner banner: try yellow.
Skip the photo and use the product pictures alongside the bullet points.
Pillar #2

Pillar #2 does its job of clearly presenting what comes with the Cabot Dividend Investor subscription—both visually and verbally on this HC3Big Landing Page. Best-practice elements of this pillar include:
Display imagery that depicts items subscribers get with this offer option—Cabot includes a computer screen of its proprietary system, an image of the monthly advisory, and images of the three free reports that come with the subscription.
State the offer components in clear and concise language—Cabot briefly describes what you get with the subscription, and emphasizes the three FREE reports available as soon as they subscribe.
Feature a clearly visible call-to-action button—Cabot's order button spans most of the width of the pillar. The call-to-action button is somewhat understated in that it doesn't say Select or Order or Choose—it simply has the name of the report subscription. That button changes to red when the prospect chooses this product.
Restate the offer option in the clearest manner possible—Cabot includes "One-year subscription: $297."
Cabot gets the job done with Pillar #2!
Testing Ideas
Rework the text and present it as bullet points.
Add Select or Order or Choose to the order button.
Pillar #3


Pillar #3 presents the other product available to the prospect should they decide to subscribe to just one (and miss out on the great savings of getting both at a reduced rate).
Best-practice elements of this pillar include:
Display imagery that depicts what subscribers get with this offer option—Cabot shows the online access to the report channel, an image of the monthly report, plus images of the two free reports.
State the offer component in clear and concise language—Cabot clearly enumerates all the features of this subscription, and underscores the two FREE reports that are available immediately upon subscribing.
Feature a clearly visible call-to-action button—just like the Cabot Dividend Investor, the Cabot Income Advisor order button spans most of the width of the pillar. The call-to-action button is likewise understated in that it doesn't say Select or Order or Choose—it simply has the name of the report subscription. That button changes to red when the prospect chooses this product.
Restate the offer option in the clearest manner possible—Cabot includes "One-year subscription: $397."
Cabot scores with Pillar #3!
Testing Ideas
One easy test is to switch around the order of the pillars. You could simply switch pillar #2 and pillar #3, to gauge whether the sequencing of order options is important to your prospect audience.
Another easy test is to move the Big pillar to the far right: Let the prospect see good, good, best. And since we read left to right (and we're sometimes impatient and want to get to the end as soon as possible), the reader's gaze is likely to stop at the red button when it's on the right.
And, as with Pillar #2, you could try some text and image tweaks:
Rework the text and present it as bullet points.
Add Select or Order or Choose to the order button.
Order Total Box

The Order Total Box is an essential component of an HC3Big Landing Page, to summarize for ordering customers exactly what is being ordered and how much it costs. Unlike multi-page shopping-cart order flows, this single HC3Big Landing Page for subscription or membership offers allows you to accomplish "order summary" on one page—when one of the 3 pillar's ordering options is selected, the Order Total Box is automatically populated. This lets the customer see the exact dollar amount of the imminent credit-card charge.
Cabot scores again with a clear-and-concise Order Total Box!
Continuous-Service Language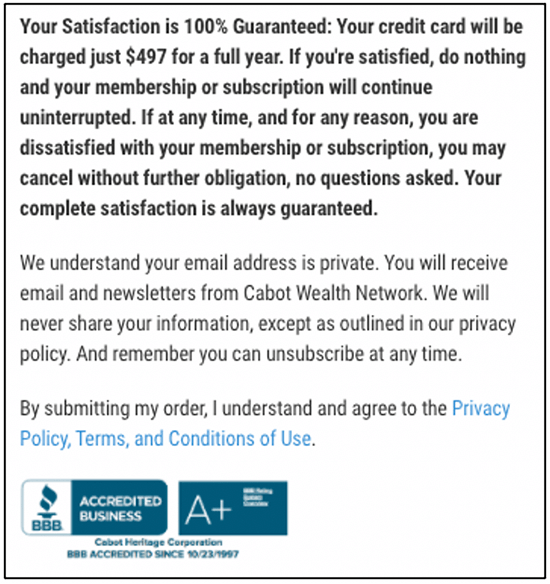 Thanks to the burgeoning membership economy, the now-very-common practice of consumers signing up for products and services with auto-renewing continuous service makes subscription and membership retention for marketers and publishers an easier goal to reach.
With an annual term for CRC's subscription offer, the conversion pricing doesn't need to be disclosed here—30+ days before the auto renewal in a year, customers will be notified of the upcoming renewal and the cost. Resist the temptation to complicate this HC3Big Landing Page by disclosing conversion pricing when you're offering an annual service—not only can it suppress initial orders, it could lock you in on a pricing promise and prohibit your ability to change or increase pricing later.
CRC also includes a privacy statement underneath the continuous service paragraph. Below that are links to Cabot's Privacy Policy, Terms, and Conditions of Use. Those links open in a separate window so you don't lose your order.
As a bonus for Cabot, the Better Business Bureau emblems are proudly displayed; this lends an additional level of credibility to the product.
Note: Some states have passed laws governing how businesses must handle and display continuous-service terms for their products and services—this is an area of the law that is frequently changing, so please consult your legal counsel to ensure you're compliant with current laws. Hopefully, to make requirements universal, the federal government will act to preempt all the state initiatives—stay tuned on that!
Cabot follows best practices with their Continuous-Service Language!
Summary
Splendid! Cabot has followed the Mequoda HC3Big Landing Page Checklist—one strategy for gaining new subscribers.
Here's a checklist that you can use to test your own HC3Big Landing Page!
Mequoda's HC3Big Order Page Checklist
| Element | Criteria | Done? |
| --- | --- | --- |
| Nameplate Header | Reinforce brand recognition. | |
| Head/Subhead | Hype primary offer in headline. | |
| | No mention of conversion pricing or conversion term. | |
| Yes! Statement | Include a Yes Statement written in affirmatory first person. | |
| Pillars | Pillar #1 (main pillar) should be 40% of screen width; 2 and 3, 30% each. | |
| | State the product in the headline. | |
| | Describe features with copy and images. | |
| | No mention of conversion pricing or term. | |
| | Include Call to Action button. | |
| Order Total Box | Restate the initial offer and product ordered. | |
| | No mention of conversion pricing or term. | |
| Continuous Service Language | Provide continuous service message. Notify subscribers of conversion rate at renewal time—30+ days before auto-renewal. | |
| Email Privacy Statement | State overview of policy and provide link to privacy statement. | |
| | Make sure the privacy statement opens in a new window so you don't lose your order. | |
| Test, test, test! | One element at a time! | |
Bottom Line: If you want to boost new-subscription orders—take a page out of their playbook and test your own version of this HC3Big Landing Page today! You'll clinch more sales on-the-spot and minimize order landing page abandons when you follow these best practices.