"Out of sight, out of mind." That's the kiss of death for online marketers. No matter how great your content is—even on the free side—if the folks on your email list don't hear from you often, they may just move on to other interests. Sure, there will be some diehards who make it to your site on their own; but you can't count on that. All those "free" subscribers are prospects that you want to turn into paying subscribers. The best way you can do that is to keep them engaged with a steady stream of engaging, worthwhile content—and that's just what a daily email newsletter can do.

With this Template Tutorial, we'll dig into the Daily Email Newsletter Framework that uses a special technique designed to grab prospects' attention and lead them to click on one or more of the free article links to read in full back at the website, and to compel them to click a text ad and become a premium member.
Here, we're featuring Food Gardening Network's version of the Daily Email Newsletter Framework—an email marketing framework that has three main goals: driving organic search and social traffic, building brand awareness, and converting free members into premium members.
The primary goal of a Daily email newsletter, which may seem surprising at first, is to drive search and social traffic. The snippet-based format of a daily email newsletter is designed to get users back to the website where they can add comments, and share the post through their various social media channels. This process not only creates immediate social traffic, but it adds to the gravitas and authority of the post, giving it a much better chance of ranking high on a search engine results page in Google.
Another sometimes surprising fact about the free content being featured in daily newsletters is that for most of our partners, only about one third of the posts being generated in a given week are brand new. The other posts featured in these daily email newsletter stacks are being recycled and re-run on existing URLs with the goal of boosting their search engine performance over time. For more on this "blockbuster post" strategy, view our Training Program on Search Engine Optimization.
The secondary goal is building brand awareness, preference and engagement with both the premium and free members of the brand by giving away some great content on a regular basis. From a bigger picture standpoint, the daily content is meant to be easy to digest, quick to read and to give the reader a daily connection with the brand.
The tertiary goal for the daily newsletter is to convert free members into premium members, using "preview-style" text ads that lead back to magazine issues, collections, and other premium content elements depending on the publisher.
Finally, there is a bonus tertiary goal around the freebies that are being promoted toward the bottom of the email newsletter stack. Freebies are incentives used to encourage interested parties to surrender their email addresses in order to access the freebies. By advertising these freebies on the bottom of the email newsletters, publishers can more effectively get the attention of pass-along readers, which will bring them back to the website to capture their free subscription to the daily newsletter and free membership in the organization, which is the start of their journey to premium membership.
Food Gardening Network is a Mequoda digital magazine publishing system designed with the home food gardener in mind. It's a one-stop resource for home gardeners—whether they have a lot of land or just a collection of planters on their windowsills. There's good gardening advice for everyone. There's a free signup, complete with freebies, video previews, and limited access to premium content behind the paywall—just enough to whet readers' appetites and convert them to paying subscribers.
While some Food Gardening Network subscribers will stick to the free content only, those who really love food gardening—or aspire to be food gardeners—will be sufficiently enticed to cross the paywall and become premium subscribers.
Let's take a look at Food Gardening Network's version of the Daily Email Newsletter Framework, and we'll rank it based on our checklist of core components that can help you drive organic search and social traffic, build brand awareness, and convert free members into premium members!
Email "From" Address

Let's face it: we get a lot of email.
I hate spam. It wastes my time, takes up space in my inbox, and just generally annoys me. Of course, it's nothing new; spam was just a new spin on junk mail when we made the move to the internet. But you can be sure I have a flotilla of filters in place to weed out the worst offenders. If I don't know who you are, you're history.
Food Gardening Network meets expectations here by clearly identifying their brand in the display name and including the full address with the Food Gardening Network name.
Testing Ideas
Want to make your email feel even more personal? Put a real name to the Daily Email Newsletter Framework. Make this part of your testing efforts. Including a real person in the "from" section of your email gives the email an added personal dimension; your prospect will feel like this is a one-to-one communication—and that can help enhance engagement and get that email opened. Example: "Amanda MacArthur, Food Gardening Network."
Email Subject Line

The Email Subject Line has one job: get the recipient to open that email. You'd think that developing a compelling subject line would be easy; but a quick review of your inbox might indicate otherwise. Writing a subject line that gets the reader's attention long enough and strong enough to get them to open the email is as much art as science. So, of course, the Email Subject Line does have a secondary job: don't get the email deleted unopened—or worse, pegged as SPAM and sent straight to oblivion in the recipient's junk folder. Or the death knell for an email—getting blocked by an Internet Service Provider (ISP).
Normally, this would be the part of the tutorial where we'd outline the best practices for crafting a compelling subject line to get the recipient to open it. However, since this is a daily email newsletter template that exists to provide valuable free content, the goal of the subject line is more to arouse interest. They like gardening, so if the gardening topic is of interest to them, they'll open it; if not, maybe tomorrow's email will interest them.
That being said, you still want a subject line that's dynamic, powerful, and that conveys value. This subject line—while it's way too long for any email program to display completely—is right on the money, and the subject line will read out in its totality when the recipient opens it:
Big numbers: Debunking 20 gardening myths? I'm all in.
Veggies that don't play well together? I have to know about that.
Garden tools on a budget? Show me.
An email newsletter subject line is all about creatively previewing the content inside to compel the recipient to open the email and get reading.
✓ Food Gardening Network's subject line hits all the right marks for its target audience.
Testing Ideas
Even though this email is (on its surface) more content than marketing, you can still test your subject line—just know that in most cases, the whole subject line is not likely to show up until/unless the recipient opens it. So, mix up the order of the content, or lead with the categories:
Vegetable Gardening: 7 Veggies that Should Not be Planted Together, 20 Gardening Myths Busted. Garden Tools: Build a Garden Tool Kit on a Budget
Vegetable Gardening & Garden Tool Tips: Myths, Veggies, Budget Tools
Email Pre-Header Text

So, what's Email Pre-Header Text and why should you care? Email Pre-Header Text is that short copy that shows up in your email box after the subject line. It's like a little preview, explanation, or confirmation of what's inside the email. Many marketers overlook or ignore this essential component of marketing emails. Email Pre-Header Text gives your recipient a sneak peek at what's inside the email—another enticement to open the email, on top of your compelling subject line.
Just like the Email Subject Line, the Email Preheader Text has one job: get readers to open that email. That means the copy has to connect to the subject line, continuing to encourage the recipient to open the email.
The Email Pre-Header Text in Food Gardening Network's version of this Daily Email Newsletter Framework states the mission of the email and makes a personal connection with "gardeners like you." It taps into the recipient's aspiration to be the best home food gardener they can be, and it makes them feel like part of the club already. That brings them one tip, one article, one recipe closer to coming over the paywall.
Twitter used to limit us to 140 characters; short and sweet applies here, too. We like to keep our Email Pre-Header Text to less than 140 characters—including spaces. That's because email clients may cut off longer copy, and your message along with it. Stick to 140 characters or less, and you'll be laser-focused in your Email Pre-Header Text copy. Food Gardening Network's Email Pre-Header Text in this effort is just 92 total characters—well under the limit!
✓ Food Gardening Network should reap the rewards of an opened email with their Email Pre-header Text!
Testing Ideas
You have a little more space for copy with the Email Pre-Header Text than you do with the subject line, so there are more testing opportunities. Examples (all are fewer than 140 characters, with spaces):
Be the best home food gardener you can be with solid gardening tips and tricks
Share the joy of growing your own food with like-minded gardeners
Gardening done right, with solid advice, tips, and tricks
Nameplate Plus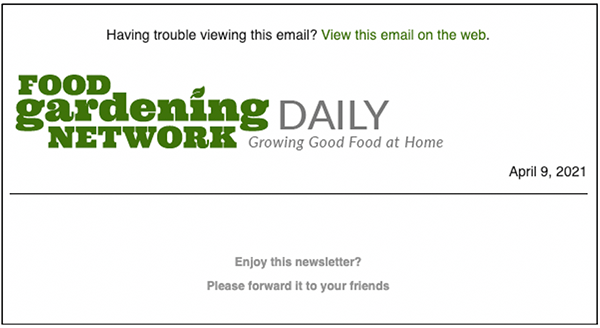 Another important component of an effective marketing email is the Nameplate that appears at the top of your email. Like a masthead, it reinforces your brand and gives the recipient a visual cue of the importance of the message in the email.
We recommend you identify the segment or type of email in the nameplate; this makes it easier for users to manage their email preferences back at the website with a corresponding segment that is clearly named. The Daily banner immediately identifies the category of the email, saving you the pain of global opt-outs. Users like choices.
Tailor your Daily banner to your product; make it readily identifiable and keep it consistent. This is not really a time for subtle artwork: make your statement so the recipient knows what they're getting—just like Food Gardening Network has done.
Who's this from? Food Gardening Network.
What is it? The Daily.
Why do I care? Growing Good Food at Home
Make sure your Nameplate graphic speaks clearly and to the point. And don't bother testing this element. In this case, consistency is the best policy.
There are a couple of other elements that should be part of your email format:
Include a link for the recipient to read the email on the web. Some people prefer it, and they expect that link to be there. Don't disappoint them. Alternatively, the link to read the email on the web could be placed toward the footer of the email.
Encourage sharing. Keep the ask short and sweet, as is done here. It's visible, but not intrusive. And you might get a pass-along that could turn into a new subscriber. You'll never know if you don't try it.
✓ Food Gardening Network has a clear, direct Nameplate, with a web-reading option and a pass-along ask!
Editorial Snippets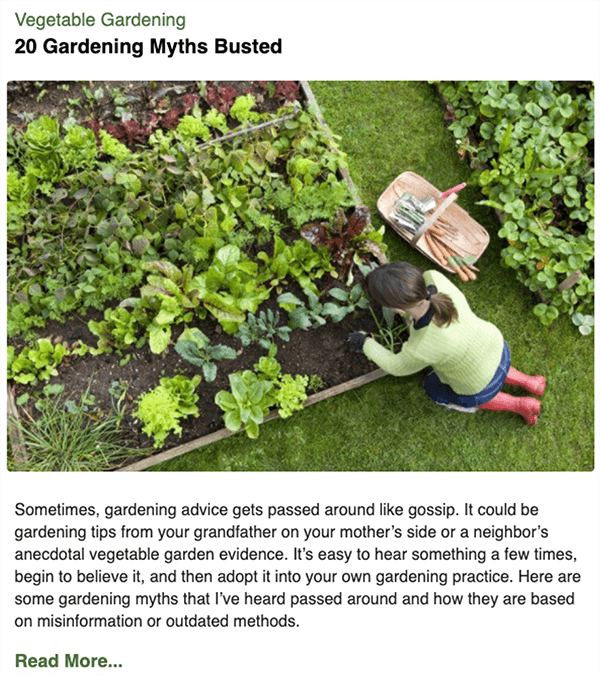 Now we get to the core of the email: the content. In Food Gardening Network's version of this Daily Email Newsletter Framework, the content comes as part of what we call a Stack: each daily email newsletter consists of three free articles, one stacked atop the next (with a little premium content enticement in the form of a text ad sandwiched in between). The stack is an excerpt of an article that lives in-full on the Food Gardening Network website. Note the category label, the article headline, an aspirational picture (Be the best gardener you can be!), and an introduction to the article.
This content stack provides just enough information to convey the value of the article, and encourages the reader to click Read More. There's no obligation to buy anything.
✓ Food Gardening Network's Content Stack provides the promised information—and by guiding readers to the website to read the article in its entirety, it encourages readers to comment on the post, share the post in their own social channels, and provides an easy path to perusing related content of interest.
Testing Ideas
There's not a lot of testing to be done here; the Email Daily Newsletter is designed to provide free content to free members with intermingled offers to become a premium member. You could periodically change the FREEBIE that you offer, with something seasonal or specifically related to the article.
Text Ads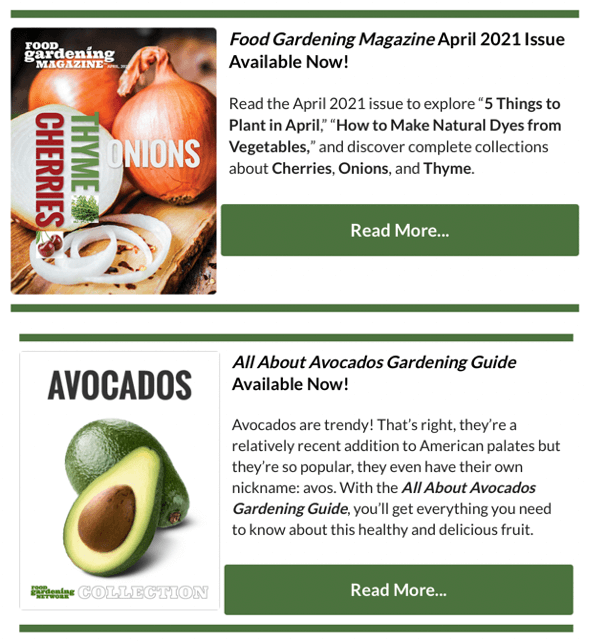 In Food Gardening Network's Daily Email Newsletter Framework, you'll find text ads interspersed among the stack: article/ad/article/ad/article/ad. These text ads actually include a picture of the promoted product—the most recent issue of Food Gardening Magazine or the most recent food collection, which is a full-length, information packed writeup of everything you ever wanted to know about—in this instance—growing avocados. Click on Read More on one of those text ads, and you'll find yourself at the indicated link.
These text ads drive the user to premium content—and a metered paywall. However, users get access to 3 premium articles gratis—which is frequently enough to convert free subscribers to premium members. Once they've gotten a good taste of what's available on the site, the premium conversion architecture in place helps close the deal.
✓ Food Gardening Network's Text Ads provide an ideal appetizer to the bounty of information on the site!
Testing Ideas
Depending on how deep your content runs, you might insert text ads that feature something seasonal regarding your product or service. Or put your best-selling product or service in the first ad position. The more timely and/or relevant the ad, the more likely users will be to click through to learn more.
Freebies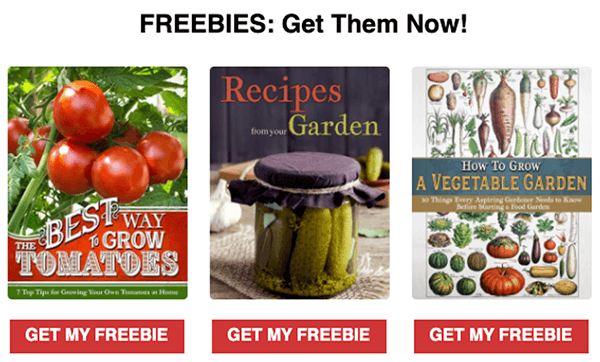 Who doesn't like something for free? On the off chance that the recipient of the Daily Email Newsletter didn't click through to any of the three articles in the email, they get another shot at getting something for nothing. And these FREEBIES are all designed to appeal to the home gardener.
They're really free, in exchange for the user's name and email. Remember, the original recipient of the Daily Email Newsletter may have forwarded it to a friend, so this represents an opportunity to gain a new subscriber. If it's the original recipient clicking through to access a freebie, then you're building value, credibility, and good will with a loyal reader—one who may take that next step past the paywall and become a premium subscriber. Could you offer just one FREEBIE? Sure. But you'll impress your readers if you offer three instead—and you'll keep them engaged longer.
✓ Food Gardening Network's FREEBIE promotion at the end of this Daily Email Newsletter Framework is a solid way to connect with current readers and hopefully, gain new ones.
Testing Ideas
In the area of FREEBIES, you could test which items you offer for free, or try a cover test. Remember that the goal of offering a FREEBIE like this is to bring in a new user to start building a new relationship, or to engage your current free subscriber to build on that relationship.
Summary
The goal of the Daily Email Newsletter Framework is to maintain a positive relationship with your free members, to continue to provide consistent value, and to build on that relationship with the goal of ultimately converting them to premium members. By offering easy to digest, high quality articles for free in the Daily, readers are able to build a relationship with the brand, making the publisher more likely to convert free members into premium subscribers, since they will have seen for themselves the value and quality of the content being offered.
Here's a performance checklist for you to use when you try the Daily Email Newsletter Framework:
Mequoda's "Daily" Email Newsletter Checklist
| Element | Criteria | Done? |
| --- | --- | --- |
| Email From: Address | Connect with your readers! | |
| Email Subject Line | Make the case to open the email. | |
| Email Pre-Header Text | Convey the purpose and benefit of the newsletter. | |
| Nameplate Plus | Good brand reinforcement. Identify the segment. Use a strong tagline. | |
| | Provide a link to view email on the web (above nameplate) | |
| | Forward request: encourage email pass-along. | |
| Editorial Snippets | Snippets of posts that link back to the website to read more. Include image. | |
| Text Ads | Short, text-based ads accompanied by a compelling product image for most recent, or most relevant, premium product or service. Intersperse between Editorial Snippets. | |
| Freebies | Offer free, registration-gated content at end of newsletter. 3 is better than 1. | |

© 2021 Mequoda Systems, LLC
Bottom Line: If you want to increase organic search and social traffic, build brand awareness, and help convert free members into premium members—follow the tried-and-true best practices of the Daily Email Newsletter Framework today!