Buyers love to have choices. But when it comes to a multifaceted offering that is only available one way, you need to make sure you make that lack of choice look like a benefit. Sometimes no choice is the right choice—a choice the customer is happy to make.
When your product is available in just one configuration, focus on the value of that. When the customer sees the fully array of what they're getting, they won't be able to imagine signing up for less.
In this Template Tutorial, we're going to take a closer look at the NC4B Landing Page format. The NC4B designation indicates No Choice of options—buy, or do not buy, those are the choices (it's a single hard offer), arranged with a large Basement banner supporting 3 detailed benefit Pillars (4 feature-filled sections in all). Wow them with everything you have to offer and bring them home to the Order button!
With this Template Tutorial, we'll assess an NC4B Landing Page for Food Gardening Network—a premier resource to help home food gardeners of all skill levels grow, harvest, and enjoy home-grown food.
Food Gardening Network (FGN) is a Mequoda digital magazine publishing system designed with the home food gardener in mind. It's a one-stop resource for home gardeners—whether they have a lot of land or just a collection of planters on their windowsills. There's good gardening advice for everyone. There's a free signup, complete with freebies, video previews, and limited access to premium content behind the paywall—just enough to whet readers' appetites and convert them to paying subscribers.
Now, we've heard there's nothing new under the sun, and that if it ain't broke, don't fix it. This landing page is a bit of both. This NC4B Landing Page is a variation on the theme of another Mequoda Landing Page Template, the NC4. The key difference between the two? The NC4 has a Rooftile, while the NC4B has a Basement Banner.
So why did we switch things up? The simple answer is testing—you should always be testing. Was the NC4 format in need of fixing? We didn't think so. But we didn't know so, so we tested it.
Boy, were we glad we did. We went for a breakthrough test by tweaking the headline and changing up the pillars, but the main element we changed was to move the Rooftile to a Basement Banner. We split our mailing list evenly between the original NC4 Landing Page and the NC4B Landing Page.
We got a 33% lift in orders on the NC4B Landing Page. That was definitely worth testing.
Now, our theory is that this is particularly effective for a new and lesser known product, which Food Gardening Network was at the time of the test. The shift of the pillars to the top really highlights the breadth and depth of the product, drawing prospects closer to claiming membership.
By applying appropriate testing protocols, you can test an NC4B Landing Page to increase your response rate.
Now, let's take a look at FGN's NC4B Landing Page, and we'll rank it based on our checklist of core components that can help connect with prospects and make the sale!
Nameplate Header

If you're like FGN and most other publishers, you can't always predict how prospects for your premium offers will arrive at your Order Landing Page—from email, site navigation, organic search, affiliate-partner promotions, paid-media efforts, direct mail, and more. Be sure you're consistent when your prospects hit the Landing Page—it better clearly represent you or prospects will take off. Keep your nameplate right at the top of the page so you're clearly identifying your brand. When you drive page visitors from email messages that include your nameplate logo, make sure you're using the same logo on your Order Landing Page to reinforce your credibility.
✓ FGN covers the right ground with this component of the NC4B Landing Page!
Testing Ideas
While opportunities to "test" your brand's main logo and tag line may seem limited, by focusing on this element, you might brainstorm new ways to position your brand (with a new, more powerful tag line, for example). Or you could add an attention-grabbing burst to your logo, touting the "Special Offer" or "Limited Time Only" nature of the current offer.
Headline

After your nameplate header that identifies your business, you need a prominent headline to let visitors know what you're offering. While you may be inclined to get clever, it's much more practical and effective to simply get to the point. Here, FGN is clear and direct: the best gardening tips & advice for just $10. Here, FGN also conveys the limited, exclusive nature of the offer — a charter offer that won't last long.
✓ FGN earns points for their concise, inviting headline!
Testing Ideas
The headline is going to draw your prospect's attention, since it contains the offer. This is a good element to test. Incorporate an icon in your headline; switch up how you present the offer; imply urgency with a deadline. Besides the nameplate header, your headline is often one of the first things a prospect sees when visiting this page. Headline testing can help you find winning or better-performing messages, so you should test how you craft your headline. Examples:
"Grow Your Best Garden Ever!" (Add exclamation)
"Limited-Time Charter Membership for You Today—Only $10!" (Add urgency)
Add a burst over the headline: "Exclusive Offer!"
Offer/price testing—as with any subscription or membership offer, testing introductory pricing is a great way to gauge the marketplace's willingness to order your products or services at various price points and various terms. Successful introductory offers might be a variation on "XX¢ a Week"; "XX days for $1"; "XX days FREE"; and "XX weeks for $XX"—or test including a premium incentive for new-subscription orders—a special report, an exclusive collection of articles, etc.
"Yes!" Copy

The Yes! copy engages the prospect to nudge them over the decision line. They read the affirming copy in first person as they discover just how good this deal really is. The checkmark for the Yes! copy is always prechecked for them.
✓ The FGN Yes! copy checks out just fine!
Testing Ideas
Leave the checkbox unchecked; make it clickable to add the check mark.
Change up the wording in the Yes! copy. Example:

"Yes! I want the best food gardening tips and advice. I can't wait to check out the gardening videos, get expert tips and advice, and start planning what to plant next."

Get colorful: highlight parts or all of the Yes! copy to emphasize the benefits of the offer.
Pillar #1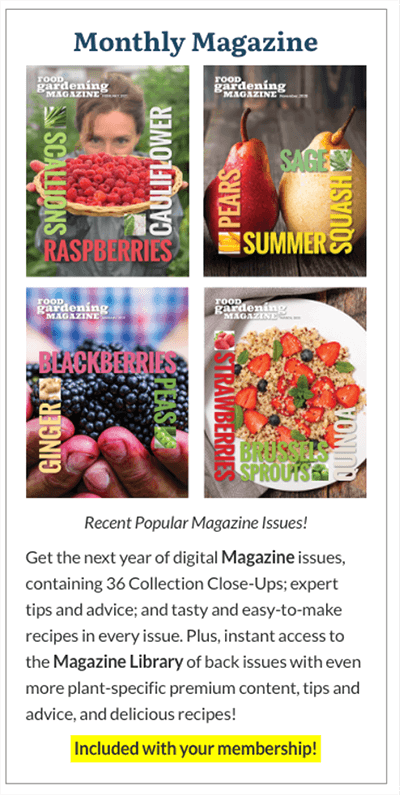 The Pillars on this NC4B Landing Page serve a similar function of physical pillars—they support the offer by providing more detail on key benefits. Here are some best-practice elements of Pillar #1:
It gives the product a face—there's at least one happy, eye-contact photo of someone who's clearly satisfied with their harvest. Remember—photos make an emotional connection with prospects. They also lend credibility to the organization.
The monthly magazine covers look like magazine covers—complete with nameplate.
The copy expands on the benefits, providing additional details.
The highlighted banner at the bottom reminds the prospect that this benefit is included in their membership.
✓ FGN passes the taste test with Pillar #1!
Testing Ideas
Since you've put a face to the product, you could test using more covers with eye contact.
Rearrange the layout of the pillar. Put "Included with your membership" at the top instead of the bottom. Use just one or two covers instead of a block of four.
"Open up" a magazine issue and show some of the contents.
Pillar #2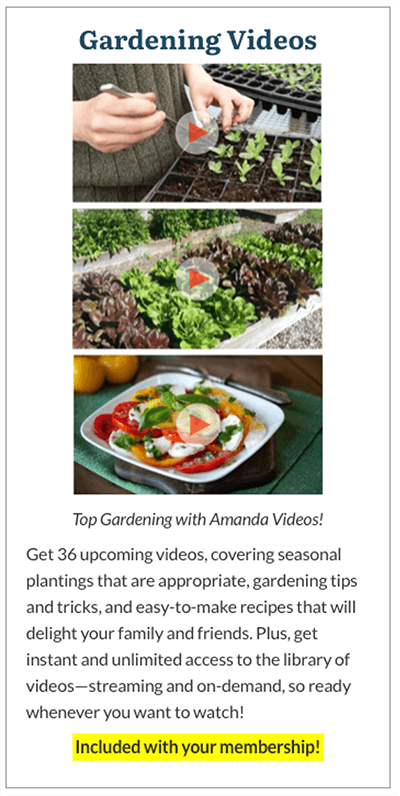 Pillar #2 provides details on another aspect of the offer on this NC4B Landing Page. Best-practice elements of this pillar include:
Display imagery that depicts items subscribers get with this offer—FGN includes a year's worth of digital magazines, so show them what they get. Notice that the video images basically cover garden-to-table—a subtle visual timeline of successful food gardening.
Clearly state the benefits the subscriber will receive; in this case it's instant and unlimited access to an extensive video library.
Reinforce the contents of the offer; the bottom banner confirms that this is part of the package.
Include the name of the benefit; in this case, gardening videos.
✓ FGN clearly covers the benefit bases with Pillar #2!
Testing Ideas
Seasonal testing: Change the video shots.
Since the subhead teases gardening videos with Amanda, include her in one of the video images, with her in mentor mode.
Reorganize the elements: Put "Included with your membership!" at the top, swap the text and collage.
List video elements as bullet points.
Pillar #3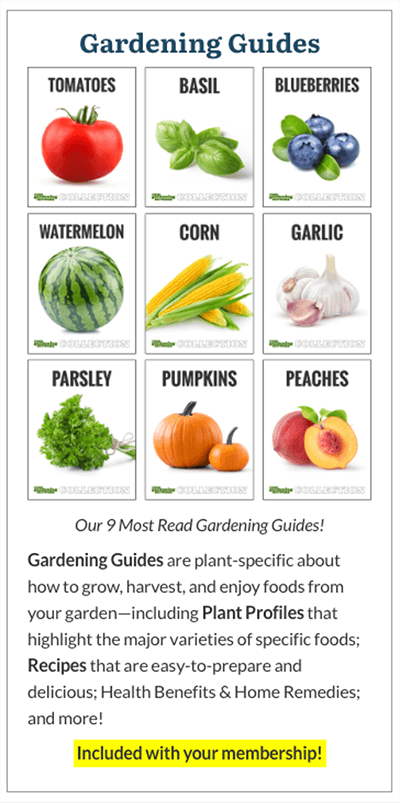 Pillar #3 rounds out the details on the offer on this NC4B Landing Page. Best-practice elements of this pillar include:
Display imagery that depicts items subscribers get with this offer—FGN includes special collections that focus on one food at a time. Notice that the covers provide a representative sampling, with clear titles, and even though the images are small, you can still make out the familiar shape of the Food Gardening Network nameplate.
Clearly state the benefits the subscriber will receive; in this case it's specially curated Collections of specific foods. The subhead indicates that these 9 are the most popular.
Reinforce the contents of the offer; the bottom banner confirms that this is part of the package.
Include the name of the benefit; in this case, the Gardening Guides category.
✓ FGN brings in the harvest with Pillar #3!
Testing Ideas
Seasonal testing: Change the covers in the collage.
Mix it up: rearrange the covers.
Change subhead to a burst: "Our Top 9 Guides!"
Reorganize the elements: Put "Included with your membership!" at the top, swap the text and collage.
List components of the collections as bullet points.
Testing Ideas for Pillars as a Group
Change the order of the pillars.
Alternate the layout of the pillars, changing placement of images and text.
Text color of "Included" bar.
Change "Included with your membership!" to "Included!"
Basement Banner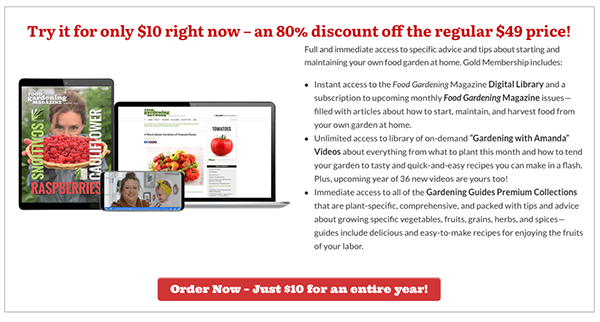 The Basement Banner serves the same unifying purpose of a Rooftile—to pull together our 3 benefit-packed Pillars and urge the prospect to action. In this case, the Basement Banner recaps the key benefits spelled out in our 3 Pillars so the subscriber knows exactly what they get for joining. The Basement Banner highlights the immediacy and completeness of the information the subscriber will have access to when they sign up.
The Basement Banner also provide visual examples of those benefits: the collage has pictures of the website, the digital magazine, and an example of one of the videos. It also subtly informs the prospect that this subscription is available anywhere, any time, and on any device. This is a great example of show, don't tell.
Throughout this collage, you see the harvest-rich colors of fresh food from the home garden. And the Basement Banner doesn't skip the human factor. Check out the direct eye contact from people clearly happy with home food gardening.
The Basement Banner reiterates the offer here, and underscores the value of the current offer compared to the regular subscription price. After getting the full menu of benefits for subscribing now, why would they wait?
By this point, the prospect should be sufficiently convinced that this a great deal they don't want to miss, so the Basement Banner has a convenient CTA button placed boldly at the bottom of the box. If they've gotten this far and are ready to order, we don't want to slow them down. Remember to always include a Call to Action in your Basement Banner. Even if, as is the case in this landing page, the prospect just gets bumped down into the order form—clicking that Call to Action button lets them affirm their choice.
✓ FGN's Basement Banner is grounded in best practices to persuade prospects to click to order!
Testing Ideas
Change the color of the CTA box and text.
Change up the headline and put the discount in a burst.
Where the regular annual cost is listed, put a big X through it to emphasize the discount.
Change the collage to showcase the benefits in the 3 pillars.
Call out the any device/any platform ease of access.
Make the collage bigger and the copy smaller.
Center your copy: collage in the middle, benefits split on each side.
Draw lines/arrows from the benefit text to its picture in the collage.
Make the collage interactive with the name of the benefit showing up with a mouseover.
Order Total Box

The Order Total Box is an essential component of an NC4B Landing Page, to summarize for ordering customers exactly what they're ordering and how much it costs. Unlike multi-page shopping-cart order flows, this single NC4B Landing Page for subscription or membership offers allows you to accomplish "order summary" on one page—and since there is only one choice for subscribing, the Order Total Box is static, reflecting the current price.
✓ FGN scores again with a clear-and-concise Order Total Box!
Continuous Service Language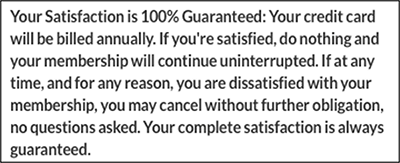 Continuous service seems to be more the rule than the exception these days; so while you definitely need this info on the page, it's not likely to confuse consumers. People have become used to signing up for products and services with auto-renewing continuous service, and that makes subscription and membership retention for marketers and publishers an easier goal to reach.
With an annual term for FGN's subscription offer, you do not need to disclose the conversion pricing here—30+ days before the auto renewal happens in a year, customers will be notified of the upcoming renewal and the cost. Resist the temptation to complicate this NC4B Landing Page by disclosing conversion pricing when you're offering an annual service—not only can it suppress initial orders, it could lock you in on a pricing promise and hamper your ability to change or increase pricing later.
As an added layer of assurance, FGN could include in their Continuous Service Guarantee language for contacting their customer service department—a toll-free number or a clickable link to send an email message, or both. Including this information is optional. Note that contact information is included as a footer on the NC4B Landing Page. This is a convenience for the consumer and also reinforces the credibility of the company and the product.
Note: Some states have passed laws governing how businesses must handle and display continuous-service terms for their products and services—this is an area of the law that is frequently changing, so please consult your legal counsel to ensure you're compliant with current laws. Hopefully, to make requirements universal, the federal government will act to preempt all the state initiatives—stay tuned on that!
✓ FGN follows best practices with their Continuous Service Language!
Email Privacy Statement

Subscribers want assurance that you're not going to sell or share their information. In this case, the FGN Email Privacy Statement tells the consumer what to expect to receive in their email, with the implicit understanding that the customer's email will not be shared. And there's a link to their privacy policy for those who want to read the details. Transparency amps up your integrity.
✓ FGN follows best practices with their Email Privacy Statement!
Page Bottom Bonus

A bonus on this page is the footer that clearly explains Food Gardening Network, where it came from, and the Who's Who list of other Mequoda-supported enterprises. Full contact information is in the footer for anyone seeking additional information.
This is a solid practice, especially when launching a new product. By providing clear background and disclosing other publishing relationships, FGN's Landing Page also provides the enterprise's credentials.
✓ FGN follows best practices with their About summaries in the footer!
Summary
Success! FGN has followed the Mequoda NC4B Landing Page Checklist—a great approach to winning new subscribers.
Here's a performance checklist you can use to test your own NC4B Landing Page!
Mequoda's "NC4B" Landing Page Checklist
| Element | Criteria | Done? |
| --- | --- | --- |
| Head/Subhead | Hype primary offer in headline. | |
| | No mention of conversion pricing or conversion term. | |
| Yes! Statement | Include a Yes! Statement written in affirmatory first person. | |
| Pillars | State the product in the headline. | |
| | Describe features with copy and images. | |
| | No mention of conversion pricing or term. | |
| | Include images with eye contact when possible. | |
| Basement Banner | State the product in the headline | |
| | Describe features with copy and images | |
| | No mention of conversion pricing or conversion term | |
| | Include Call to Action button. | |
| Order Total Box | Restate the initial offer and product ordered. | |
| | No mention of conversion pricing or term. | |
| Email Privacy Statement | State overview of policy and provide link to privacy statement. Make sure the privacy statement opens in a new window, so you don't lose your order. | |
| Continuous Service Language | Provide continuous service message; notify subscribers or members of conversion rate at renewal time—30+ days before auto-renewal. | |
| About Copy | Especially for new products, About copy establishes product credibility. | |
| Test, test, test! | One element at a time! | |

© 2022 Mequoda Systems, LLC
Bottom Line: If you want to draw in more members—just like FGN—take a page out of their playbook and test your own version of this NC4B Landing Page today! You'll clinch more sales on-the-spot and minimize Order Landing Page abandons when you follow these best practices.