Next is our brand building bucket. Again, sources that are really good for brand awareness. First on our list is podcasts. Don, you want to talk about The Economist's, The Intelligence podcast?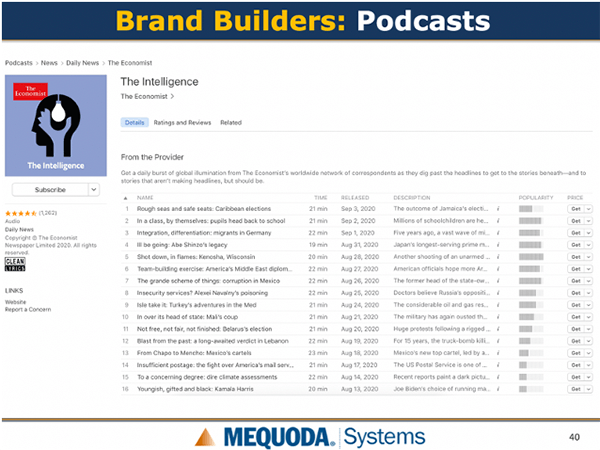 Don Nicholas:
Sure. They've been at this for a long time and I kind of noticed them because I'm a breakfast listener. Every morning I get up and I listen to the Intelligence Podcast on my Alexa device. You can also get it obviously from the website, it's actually any number of different ways that you can tie into this. In a nutshell, it's an author-highlighting vehicle. Jason Palmer, who's the host, will interview anywhere between three and five authors that have written articles that are in the current weekly issue of the Economist or the sister publication, which I think is 1843, which I think it's the year the Economist was founded. And the stories are of course interesting in their own right.
Don Nicholas:
And during the podcast usually I think it's the second break Jason will come back and say and if you want to get a lot more great analysis and insight like this go to the economist.com/theintelligence for the most advantageous offer in your area. They're really doing it at some level to drive paid subs. And in fact, in talking to the folks at the Economist, they actually know that this is a valuable source for paid orders, but of course it's building brand, it's building awareness and it's driving traffic back to the website. So it's really a trifecta in terms of its audience development effectiveness.
Kim Mateus:
Yeah. Wonderful source. Next on the list is Instagram. The case study we're using here is the Old Farmer's Almanac. Another very, very old brand and publishing some 1792, a sister company under the Yankee Publishing Inc umbrella. What they're doing on Instagram, which is what I think a lot of publishers sort of acknowledge is that it's really what they call a pure play engagement. There's very little ROI here due to the lack of links. You cannot easily link back to your website from Instagram but it's helping them to create awareness with new audiences. Everything they do here is very carefully put out so that it stays on brand with their specific fonts and everything. They do contests and giveaways on Instagram. They'll occasionally tie into something that might be happening from a pop culture standpoint, they showcase their best photography, really putting their best foot forward from a brand image standpoint.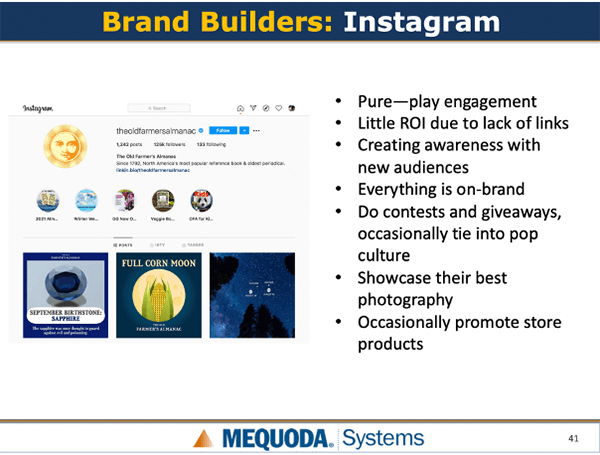 Kim Mateus:
And the other thing they can get away with here more so than in Facebook, organically anyway, is the occasional promotion of their store products. They will carefully throw in a promotion on their Almanac product, for example, or one of the new membership clubs that we've helped them with—good for that as well.
Next is YouTube and the publisher example we're using gear as The Atlantic. In 2017, The Atlantic made the decision to go YouTube first. So instead of licensing a video player from like a bright cove or something similar, they use YouTube as their video player. And since they made this decision, their YouTube channel has grown exponentially to now more than 530,000 subscribers. And we've heard anytime a publisher prioritizes the platform that it doesn't control like a YouTube, there is a little bit of risk. From The Atlantic's standpoint, they chose YouTube as their primary focus because they can build a reliable audience through these people who were subscribing because of the high engagement rates.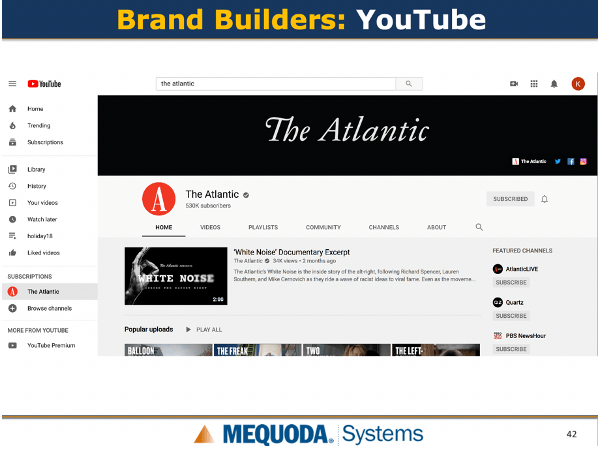 Kim Mateus:
It is wonderful for audience development and it's also a significant monetization strategy for them as they're able to sell ads against these videos. It's a double effect of audience development and monetization.
The next one is books. And we're talking about hard copy books. Don, do you want to tell them the Motley Fool story and how they explained why they have a big, huge successful website generate all their revenue really digitally. Why didn't they think it was important to have a physical book out there at the marketplace?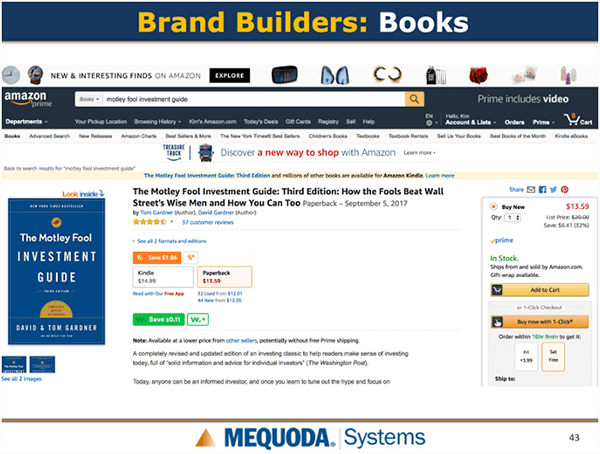 Don Nicholas:
This goes back 15 years ago when the folks at Fool hired Kim and I to run their audience development training programs. Kim and I would go onsite a couple of times a year and one of the very first meetings when I was down there, they offered me a tour of the building and there was a room where they had all the book inventory and I kind of said, "So do you guys make a lot of money selling books?" And the guy that was the chief marketing officer kind of laughed and said, "No, no, no. We make a little money doing it, but that's not why we do it." He said, "In America, authors are royalty. They're thought leaders. If you want to be perceived as an authority in your space, you publish a book." He said, "An academia, it's the publisher parish." He said, "So we obviously have a philosophy here at the Fool about how investing should work." The brothers put together this hard copy book that's published in a very traditional manner and that quickly became an evergreen bestseller on Amazon and the regular bookstore channels.
Don Nicholas:
And he said, "Anecdotally we know from a customer service standpoint and interacting with readers, that people will talk about this." And he said, "Unsurprisingly, if you pick up the book, the book's going to reference things back at the website and resources." It's a part of a larger integrated strategy and if you're in a position where being a thought leader in your marketplace, and you have authors that can carry off that thought leader positioning, it's really a cherry on top of your whole audience development strategy. Obviously, we've seen a lot of other publishers doing exactly that and in fact Mequoda has used that strategy. We publish a number of books that are available on Amazon.
Kim Mateus:
Yeah. And along those same lines, this next one is really just about using the media you own to drive traffic back to your website. The example we're looking at here is how the Harvard Business Review puts inserts in their Print Magazine that drive readers to the website. This is a little postcard that's in there. You're looking at the front and the back and you can see they're really just driving folks to the website to access a ton more content in addition to the print magazine. It's just really good use of the media that you own to drive traffic to that website.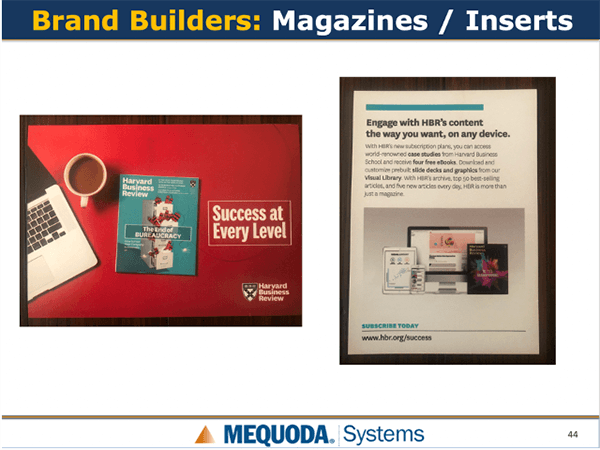 Next is packaged goods and licensing. Don, do you want to tell them a little bit about this example here with a Real Simple and this mattress deal that they've got?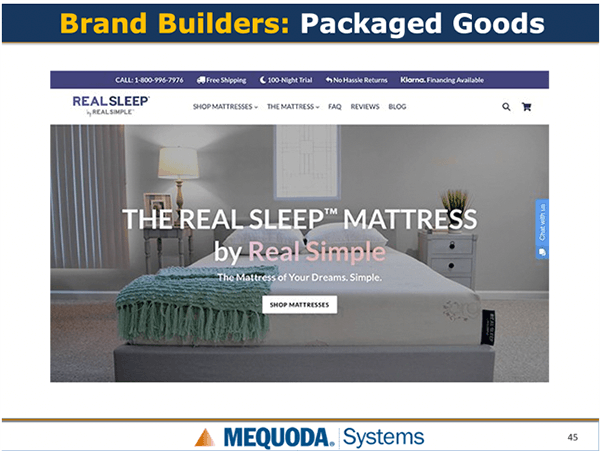 Don Nicholas:
Sure. One of the more fun things I've gotten to do in my life was work on the launch team at Real Simple way back in the day with Ann Moore when she was the publisher, this was before she became CEO at Time Inc. And one of her visions for the Real Simple brand is that it was a lifestyle brand. It was not just an information source, but it was a lifestyle. It was a way of living your life on a day-to-day basis that would make you happy and calm and fulfilled. One of the job titles that she had on the team way back then was a brand strategy, a VP brand strategy and their job was to go out and build relationships with manufacturers, retailers that they could basically either work with them to come up with a product that could carry the Real Simple brand that might be an existing product that can be modified or in some cases actually produce brand new original product that would fit with this Real Simple lifestyle.
Don Nicholas:
It was hugely successful. It is a substantial generator of revenue for the Real Simple brand and of course there's probably not a retailer that you could walk into these days where you won't bump into somewhere in the store a product that carries that Real Simple brand. It's really an example of a relatively new magazine, launched in the '90s that has taken on this much longer, larger brand footprint from Ann's vision around what the magazine could be and what it could represent at this larger brand level.
Kim Mateus:
Next we have newspaper syndication, which of course in the digital world takes on a new meaning due to the potential to generate inbound links. What we're looking at here is The Motley Fool again who syndicates a column through a network of newspapers and this particular example it's the Fort Myers Florida Weekly. And they've been doing this for as long as we've been watching. It must still be working because they are an organization who tests everything and is very mindful about what they're doing. If what you publish could have some relevance here, this could be worth trying to look into coming up with a syndicated column in a newspaper.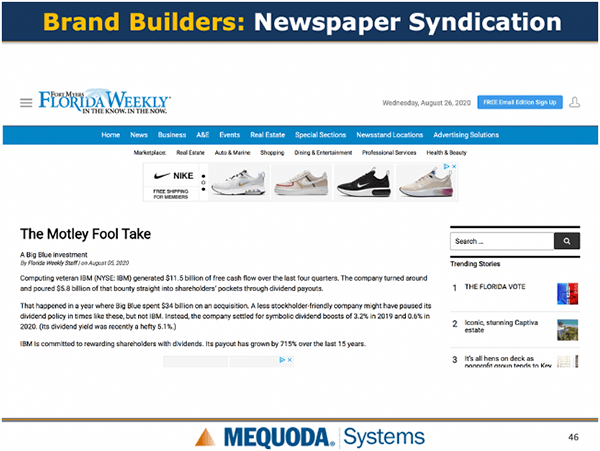 The next brand builder is live events. The example here that we're showing is for Country Living, something of course they were taking advantage of in the pre-pandemic world. Do you want to talk a little bit about this one Don?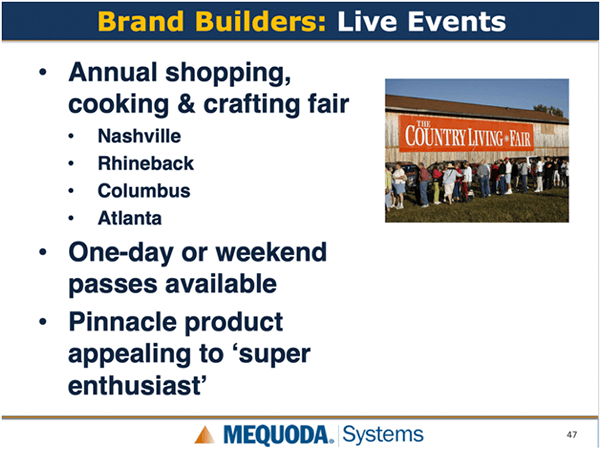 Don Nicholas:
This is a great example again, of a brand reaching out beyond the pages of the website or the idea of print and creating this environment for their fans, readers, users, to come together in a way where they can meet the editors, they can meet the authors, they can meet sponsors and really have a curated live experience of what the magazine represents translated into a physical world. These events are profitable for them in their own right. Actually, last I knew they did three of them pre pandemic, and I'm sure can't wait to get back to a post pandemic world like most of us. And so they can turn around and re-launch the Country Living Fairs. And this is something we've seen a number of lifestyle publishers do. And of course, from the B2B standpoint, almost all B2B publishers have some sort of a live event that allows them to do training and education and basically bring the brand to life in a physical way.
Kim Mateus:
Okay. Next we've got television. This is Weekends with Yankee, a television show that they launched I think, four years ago or so. Don, do you want to tell them a little bit about this one?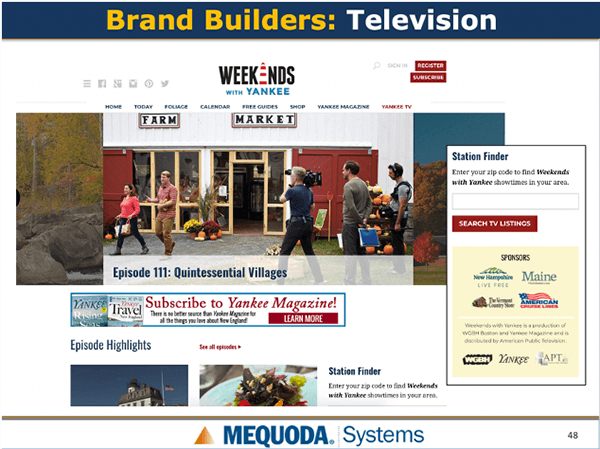 physical way.
Don Nicholas:
Yeah. This is a great example that we've seen over and over from America's Test Kitchen, Beads, Baubles Bangles, PBS is incredibly open to special interest brands showing up that have an audience, have a brand, have a following and then creating what's typically a 30-minute television show that really expands that brand onto the small screen, I guess we'll still call it. And obviously in the case of the Weekends with Yankee, this is produced in cooperation with GBH Boston. The production values are phenomenal. Amy Traverso, who's a senior food editor is the cohost and then Richard Wiese, who's a well-known author, travel writer, adventurer who loves the New England area is the other host.
Don Nicholas:
And a very much the kind of a magazine TV format, something that I've been involved with the production of over years, where you have typically three to five segments relatively quick-paced and using material that's really sourced from this magazine that's been around since 1935. It's carried now on close to 200 PBS stations in its fourth season. And one of the things we were able to do with this video is also use it to enhance the all-access product. In addition to being available on PBS and some of the other streaming services that are premium when you become all access Yankee member for $39.97, you have access to three of the four seasons. And later this year, actually relatively soon, you'll have access to season four.
Kim Mateus:
Yes. All right, very well. We encourage you to check it out if you haven't seen it already. It's a wonderful show. The last brand building source here in this section Don, something we've called "article PR" and the recent strategy Atlantic has put out to take advantage of this. You want to talk to them about this one?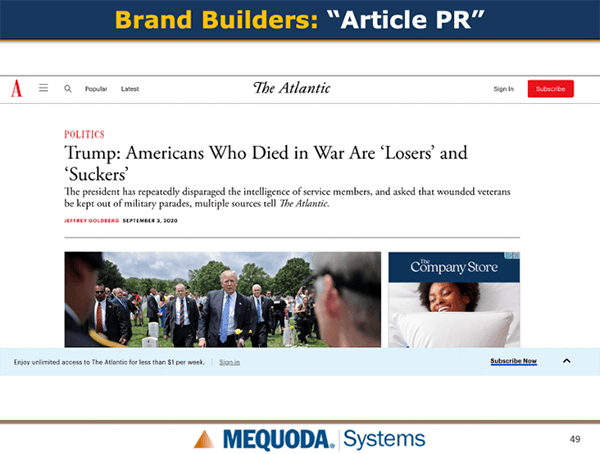 Don Nicholas:
Absolutely. Atlantic, New Yorker are two magazine brands I can think of that repeatedly do this. It's something that they'll pull out of their quiver with some frequency, where they have a piece of original journalism, the sourcing is usually such that some of it's going to be hard to repeat for other news outlets. They really hit it out of the park on this one. I've seen this story picked up on everything from The Washington Post and The New York Times to CNN and CBS News, it's hit multiple news cycles. And the beauty of it is all of these other reporters are really in a position where credibility-wise, they have to source The Atlantic. They have to source The Atlantic website as the originator of this source, because the reporters at The Atlantic pulled this in as multiple off-the-record sources. It's not something that's easy to replicate the sourcing on although of course they're trying.
Don Nicholas:
And they've done this on repeated stories. I think The Atlantic probably pulls something like this off once a year or so. And this is just the biggest success that I think they've had so far in using solid original journalism and reporting to create a PR buzz that drives just a boatload of traffic back to the website and every time it happens, spikes their paid subscriber numbers.
Kim Mateus:
And another example of this that can be executed too is just any sort of original research. I know in Mequoda's case we publish a study every couple of years about the consumption of digital magazine media. And that's kind of our way of getting out into the universe with a unique piece of research in the hopes of doing the same thing, in generating PR and links from other associations and other sources that cover the magazine media space to encourage links back to our site. There are a couple of different ways that publishers and companies can take advantage of this.