Kim Mateus:
Final bucket of audience building opportunity, our audience import programs. This first one here is what we call a cross brand import. And this is something that every time I've heard anybody talk about doing this at like an event or something, they always have huge doubts that this is going to work. It's never going to work. The audiences for example, between Old Farmer's Almanac and New England Today are so very different, it doesn't work. We've heard that repeatedly. And then for those though that actually go through and make the test and see what happens, they're often pleasantly surprised. And I think that's what happened here Don, with this exchange. Do you want to talk a little bit about what we planned here and what the results were to share the audiences between these two brands?
Don Nicholas:
Sure. And it's a great example where you've got teams at Old Farmer's Almanac and Yankee who think they have this very unique brand identity and they do. And at the same time, those of us who've been doing this for a while think back to the direct mail days where we would have a campaign that could have had dozens or hundreds of lists. Well, they all don't perform equally, but if they meet a certain economic criteria, you'll use them. So, number one, what you've got to realize here is if you're playing with this kind of a trade program internally inside a company and we do know that other large publishers like Meredith and Hearst have done this program now successfully as they figured out how to manage it and manage recency and contact frequency. But number one, it's virtually free. I mean, there's some labor involved with taking the names from Old Farmer's Almanac and importing them and welcoming them and monitoring the program but there's no media cost because you own the lists for both properties.
Don Nicholas:
It's pretty normal here that the benchmark in terms of a lifetime value of a name, if we compare it to what is our often benchmark, which is an organic name that's been generated at the website. If we go off and we say, well, what's the lifetime value of a new name that shows up at the newengland.com website in terms of their purchase. Forget about the advertising, let's just talk about purchasing the all-access subscription. Let's say for the sake of argument, we'll benchmark that at 100 and then we'll import some of these Old Farmer's Almanac names, and we'll measure them over 90, 180, 270, 365 days. And they'll typically benchmark when we do this program at anywhere between 30% and 80% of the value of an organic name. Well, 80% is great, 50% is wonderful, but even 30% on a name that we didn't pay for is terrific.
Don Nicholas:
And of course, the added bonus is that we're beefing up the circulation on New England Today. We are driving more traffic, and New England Today in addition to being a part of the whole marketing program, the audience development program as sponsors. We can make our sponsors happy, potentially raise our rates by being able to use this kind of a program to boost the circulation of the daily newsletters and at the same time justify completely on the amount of all access membership revenue that we're generating. It's just a total win-win if it's managed appropriately.
Don Nicholas:
And I think to Kim's point, often what we hear done is that it's one of those things that if you do something and you don't know how to do it and you do it badly and it doesn't work, well, organizationally the culture then is, well, we tried that and it didn't work. Well, you tried it but you didn't know how to do it and the fact that it didn't work for you doesn't mean it doesn't work, it means that you didn't know how to do it, but now culturally it's become "oh, that doesn't work". We have dozens and dozens of systems where we have this kind of a program running where we have a publisher who has multiple websites, multiple titles, and we're running these cross-brand import programs and they work four out of five times such that they're a solid component of the overall audience development strategy.
Kim Mateus:
Yes. Absolutely. Definitely worth testing if you've got this opportunity.
Next, we've got fulfillment system imports. This is the idea that if you're fulfilled at a service like a PCD or an SFG or a CDS and you've got an integration between those systems in your own website how you can go about transferring data between the systems to help grow your audience. Don, is there any specific example of this that we can reference?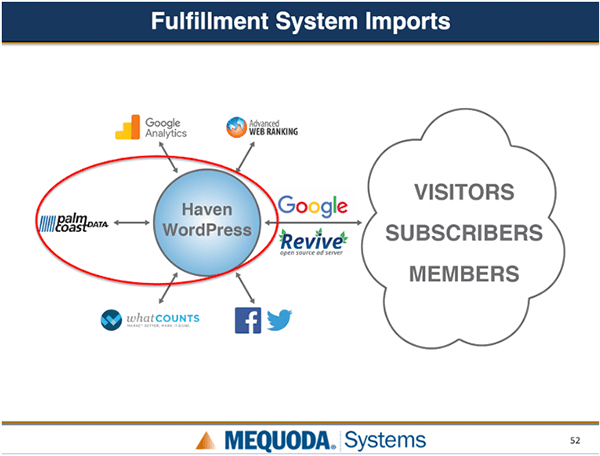 Don Nicholas:
It's just kind of the two variations on this for a lot of places where the big providers you talk about with PCD, SFG, CDS we have an automated system so that even when a new print-only subscriber arrives at the PCD system and is entered either through heads down keying or a telephone conversation, as soon as there's an email address that's available, there's two things that can happen. We could have an automated updater that will push that name out to the website so that the smart website now knows that I have somebody who is a print subscriber, but they're not an all-access subscriber and I will treat them accordingly now. So just think about something like the Yankee website. Yankee thinks about their members. There're now members in terms of three flavors, they've got unpaid members who are getting the free email newsletter but they haven't purchased anything. They've got print-only subscribers who have purchased the print subscription through something probably other than an online source. They've paid money, but they're not all-access.
Don Nicholas:
And then of course the pinnacle is the all-access subscriber who's paying $39.97 and gets print and gets unlimited web access and access to Weekends with Yankee, et cetera. For a system that is not as sophisticated, we'll typically do some sort of a quarterly update. Once a quarter we will pull a file from the fulfillment company and look typically to make their life easy. Just to give it to everybody who has an email address. And then on our end, we'll do a de-dupe for anybody that we already have that email address. And then the rest of them, we will run them through an import program and onboard them as free subscribers or print subscribers depending upon their status.
Don Nicholas:
And it could be that when we're doing it the first time, we may be picking up a bunch of expires who will bring on these free daily subscribers. Obviously, somebody who's print-only we'd be bringing them on as a print subscriber—it's a big source of names. And these are folks who were already knowledgeable about your brand, have been a subscriber in the past or are a current subscriber and you're just not going to find a better audience for upgrading to an all-access sub than somebody who's either a current print subscriber or a print expire.
Kim Mateus:
Yeah. Nothing more powerful than knowing the status of your various subscribers, so that you can communicate with them directly, very, very good stuff.
Last source is email appending. This is where we will take, for example, a print active file where we don't have email addresses or a print expire file where we don't have email addresses and send it out to a third-party service, like a Melissa Data, for example, to have those email addresses appended. Just based on the nature of how these third-party systems work, we do ask for a 12-month activity screen because of course there's a deliverability of risk of importing these appended names into your system. If they are old, not in use, you've got the potential for them to be on different spam traps.
Kim Mateus:
That's the one cautionary component here is if you're going to do email appending, you got to make sure that they're able to screen it on 12-month activity such that you don't want any names who haven't proven to be alive in the last 12 months. And these, again, another powerful one, right? Because these are names of people who have previously done business with you. Similar to the last source to the extent where you can get their email addresses it can be very powerful. I feel like with this source Don too it's another one of those, we've tried it, it doesn't work. Other than the importance of the 12-month activity screen, is there any other key to making something like this work?
Don Nicholas:
I think there's two pieces. Kim, it's a great question. Number one is the 12-month activity screen, but the other is that you've got a robust content-driven marketing program. As you know, when somebody comes in on one of these programs to one of our systems, using our methodology, there's going to be a daily email newsletter, there's probably a weekly email newsletter. If they're using our collection preview program, they're getting content previews, they're getting the spotlight marketing program. If your online marketing program is lackluster, the program won't work as well, right?
Don Nicholas:
If you have a website where you really don't have much of an email marketing program and you import a bunch of names and they don't necessarily monetize well, well, that's not about the names, that's about the fact that you don't have an active email marketing program that in our experience is going to be 50, 60, 70% of where your online subscription and membership sales come from. So again, you may get one of those cultures where they say "oh, we tried that". Well, if you tried it and you didn't have a good email marketing program that they were being imported into, it probably didn't work. But if you do, it's going to work every time.