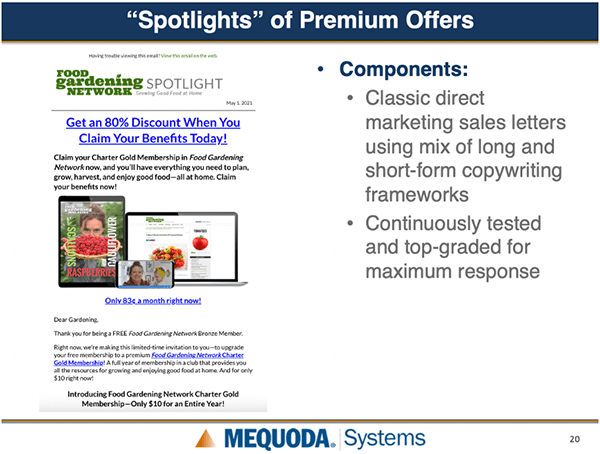 Kim Mateus:
But we've always known that the spotlights, which is the next piece we're talking about, generate the most orders. These are your classic direct marketing sales letters. We use a mix of long form, short form. There's all of these frameworks, we're constantly testing them.
Kim Mateus:
The majority of the orders are coming from Spotlights, because they're asking for the order. They're very directly asking for the order. But can you talk about what we discovered when we realized the kind of impact that the previews were actually having on the Spotlights?
Eileen Shea:
Sure there are two things, I guess. We have a very, very aggressive contact strategy. And we found that in order to send out three Spotlights a week, we need to alternate with really valuable content in between the Spotlights. So the previews will really hype the content, tell you everything that's in the library. But they're not offer-driven, they're more content-driven. They'll have the pitch down at the end. But the spotlights are entirely offer-driven. And we found that the previews help the Spotlights perform better. So previews bring in orders on their own, and they also support the Spotlights. And it's very hard to convince our partners of this sometimes.
Eileen Shea:
So I had one partner who was unconvinced and wanted to split their list in half, and look at the list at the beginning and at the end. And to see if more people were unsubscribing, because of the intense contacts frequency. So we did that, and we found that the previews brought in more orders. But the Spotlights for the half the list that had that got a preview in between every Spotlight pulled 22% more orders. And then we looked at unsubscribes. And unsubscribes, were less than a quarter of a percent more. So there were very, very slightly more. But it was less than a quarter of a percent. They were convinced, and we now do a preview in between every Spotlight.
Kim Mateus:
So basically, the concern about increasing your frequency. And it's not just that example, I feel like we've had to prove that many times. It really never really holds up, especially if you can segment. So for example, if somebody were to scroll to the bottom of this email and unsubscribe, they will be brought to a preference management page that shows that the daily newsletter is a segment. The weekly is its own segment. Spotlights are its own segment, previews are his own segment. So they can opt themselves down. That's another way you can get away with this level of aggressive sending. Bu on top of that, not only do they not unsubscribe if you're doing this right and you're adding the right types of emails in there like these previews. It boosts the performance of the Spotlights. That's just wild.
Kim Mateus:
So it's just important to aside … we're marketers and we're trying to market our stuff. And it's so easy to be like, "Oh my goodness, this is too much. Too many emails. I can't. I would always unsubscribe. I would unsubscribe from this." It's important to not put yourself in their shoes, to not think that you are your own user, or you're your own reader. I feel like people get in trouble and they assume that they're just like their constituents. They're really just not and you won't know until you test. So that's also the bigger message. But these Spotlights, we mentioned that they're continuously tested and top-graded. Basically, if we come up with a framework, so a lot of what we do is we subscribe to everybody else's newsletters.
Kim Mateus:
And if we see a framework that looks nice and beautiful, and we say let's test that. No matter how in love we are with the look and feel of it, if it doesn't sell, it's gonzo. Bye baby, bye. No more. And we replace it with one that does. So what is this continuous improvement approach, that whole Six Sigma thing. Okay. If spotlights are, I guess king, then the previews are queen. This is a statement of benefits. So this is when we borrow from a framework that's very successful in direct mail that we've just applied to email. This is one that I don't think we've ever seen this lose across any of our client.
Eileen Shea:
It's one of the strongest for every single one of our partners.
Kim Mateus:
It's very good. So feel free to steal it, guys. Go ahead and subscribe to Food Gardening Network and rip it right off.