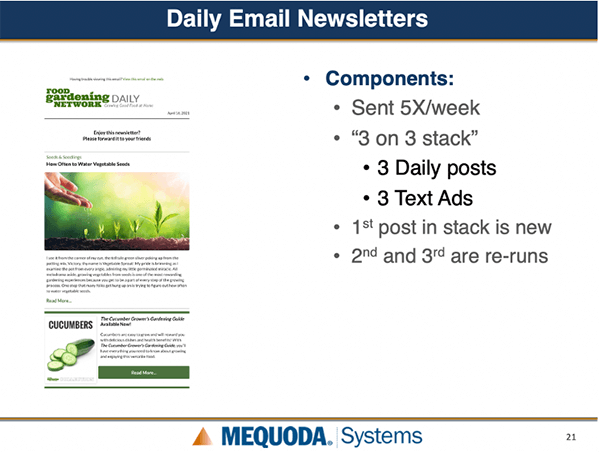 Kim Mateus:
Next we have daily email newsletters. Everybody has got these stacks. We call this a three on three stack. Basically there's three daily posts that we send out a day. This goes out five days a week, and there's three text ads. And one thing, really it's not part of this webinar but it's important to point out. A big part of our SEO strategy is this concept of blockbuster posts. Posts that are in your archive that you might have written two, three, 10 years ago that continue to drive traffic to your website. And a big part of how you keep those on the top of page one is to re promote them, keep them updated, keep them fresh.
Kim Mateus:
And so what you would see in a stack is for a Food Gardening Network, even though we haven't been around long enough to have "blockbusters" yet, we do put reruns in positions two and three. So the first article is always brand new. And again, these are always optimized for SEO. And then as you scroll down, the next ones are posts that we've already published three or six months ago. And you got to keep them in the rotation. And sometimes we will say, "Well, oh my goodness, won't your readers realize that you're sending out the same stuff over and over again?" And the answer is no, when you realize open rates at best are 30, 40%, that's still the majority of your readers not opening any given email. So it's a great way to reuse, recycle, repurpose that high quality content that you've invested so much in.
Kim Mateus:
So just from a selling standpoint, Eileen, we do put text ads in here. So here we've got a text ad that touts the cucumber collection. As we scroll down, there's a text ad that highlights the most recent issue. We don't generate an enormous amount of sales from dailies, but it's enough to make it worth paying attention to when to keep testing these out and rotating them through.
Eileen Shea:
Exactly. And we know there's great engagement with the dailies. People can read as much or as little as they want. And when they click through, eventually they may hit a paywall also. So it's driving more people back to the site and maybe driving more people into the metered paywall.