Kim Mateus:
So with that, we're going to transition into talking about the particular case study that we're going to walk you through today. Cabot Wealth Network is a partner that we've been working with for several years, they're in the investing space. So Bill, do you want to walk us through their brand wheel and how they transition people from visiting their portal, which is where they give away the content for free and moving them around the circle and to becoming premium members?
Bill Dugan:
Sure. Starting at the 12:00 o'clock position on the portal, Cabot is a legacy print publisher who has fully converted their business model to be online, and in this space, personal investing advice, that's critical. Sending advice about the stock market through the mail these days is not optimal.
Bill Dugan:
And so starting with the portal, Cabot has a wide variety of content that is optimized for the different types of investing strategies or philosophies that someone might use to approach how they manage their own portfolio from growth investing and value investing, income and dividend investing, small cap, micro cap, et cetera. And all of that content is published daily at the site and promoted through a daily e-letter.
Bill Dugan:
Next position we have the free reports, for each of the categories of reporting for Cabot there's an aligned free report. So there's a free report about small cap investing, there's a free report about growth investing, there's a free report about value investing, and so on. Next on the brand wheel are the events. Cabot conducts a variety of events, but the marquee event has been an in-person annual investing summit.
Bill Dugan:
Last year because of the pandemic, the event was converted to a virtual event and will continue that way unless things get safer, but that is a premium event that is paid registration. Next on the brand wheel are the solo advisories that line up with the categories that I mentioned. So there's a Cabot income advisor, there's a Cabot dividend investor, there's a Cabot small cap confidential advisory, there's a micro-cap advisory and so forth.
Bill Dugan:
And those are sold mostly either annual or continuous service monthly terms. Then the final item on the brand wheel, the all access are a variety of clubs, membership clubs that bundle advisories and, or sub memberships into an all access membership. Currently, for example, the Primo club is the Cabot Prime Pro, which essentially gives access to everything that Cabot publishes with a discount to attend the annual event.
Bill Dugan:
Cabot Prime, a level down from that club is all the advisories but nothing to do with options trading. The options trading products are reserved for the Cabot Prime Pro. And then there's a retirement club that bundles the retirement related advisory, income and dividend related advisories and another club that is exclusive to folks that are really into options trading and is a very exclusive, limited membership, we only allow 30 people into it, very high priced.
Bill Dugan:
And basically this brand wheel gives you a picture of how we go from free content that attracts visitors to the free reports that are used to capture and the monetization with events, solo advisories, and the all access clubs.
Kim Mateus:
And speaking of price points, Bill, for the sole advisories like on an annual basis, the prices range from a couple of hundred bucks a year up to…
Bill Dugan:
Up to a few thousand. The options trading products one of them is $1,997 a year. We do run a lot of introductory promotional sales to capture new premium subscribers to the advisories. And that can vary from a dollar for 30 days, a dollar for 10 days, we do half price sales. But the majority of the advisories probably a good portion of them are really sitting in the two to $300 a year price range.
Kim Mateus:
Perfect. Excellent. Thank you. Then the next slide here, we're just showing the website to kind of orient you guys to how strategically with what we just saw on the brand wheel gets manifested into the architecture of the website. So what we're looking at here is the network homepage. It's really, as you can see, just a parsing page to get you into the different areas of the site.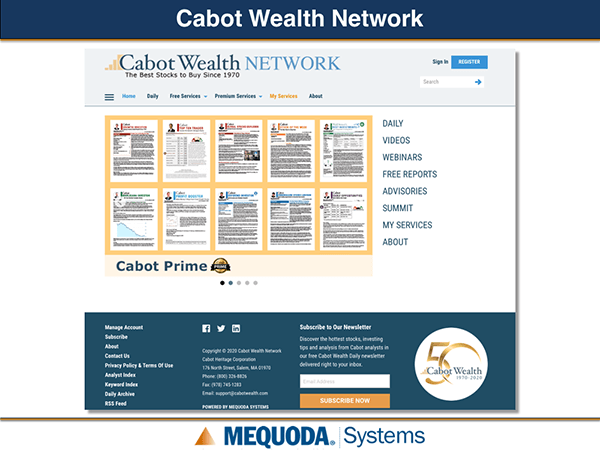 Kim Mateus:
The majority of the traffic is coming in on that daily tab so we tend to order the navigation from free to the premium stuff. So you'll see all of the free content in the daily, you've got your free services. This is where you're going to find those free reports. They also do webinars. And these free reports, as Bill mentioned, they're really meant to be incentives to build that email list, which is what you're going to see here when we start showing you all of the examples of the creative that we use to capture that email.
Kim Mateus:
It's always leading off with a particular guide that they're giving away, free report that they're giving away. And then as you move into the right, that's where you find the premium services. And if you're not a member, you're going to get sales copy trying to entice you to be a member. And if you are a member, you'll be able to just log in and get access to all of that premium content.