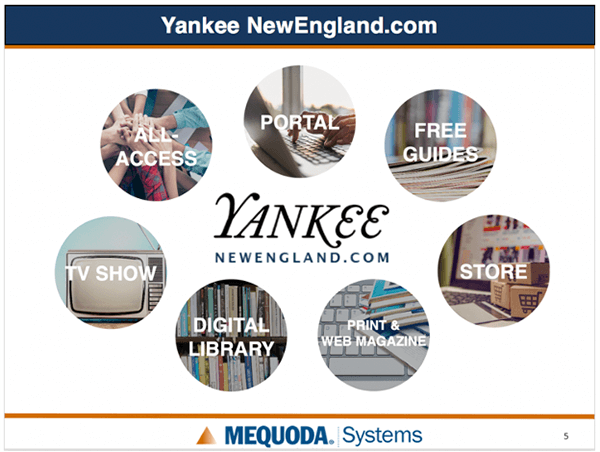 Kim Mateus:
When it comes to the case studies that we could have chosen to present here in this webinar today, we chose Yankee Magazine and newengland.com. Do you want to start off, Don, giving a history of the magazine and when we started working together and what our mission was and why we chose them as the primary case study for this particular webinar?
Don Nicholas:
Yankee is, some of you may know, is a magazine. It's been around for a long time. It was founded back in 1935. It is for people who live in and love the New England area. I've worked with them several decades ago, back when they were a subscription-based print magazine, and that was their whole world. Obviously, like most publishers, starting in the late '90s, early 2000s, they started to evolve, they did what a lot of publishers did, which was to, as Jim Spanfeller from Forbes used to say, they did shovel ware. They basically shoveled content onto the web because they had content and the web looked like it needed content and maybe they could sell some banner ads around that, but it really wasn't a primary business for them.
Don Nicholas:
We teamed up with them back in 2015 to really overhaul and rethink their web strategy, their digital strategy and take them into a digital first multi-platform environment where the Yankee brand and its associated brands were now being used as a showcase and a centerpiece for the whole organization, which opened up a lot of new revenue streams, in particular, online revenue streams.
Kim Mateus:
Yes. And so the way we're laying this out here visually is in a brand wheel. And if you start in the 12 o'clock position, you see a label for a portal. And Don mentioned audience development portals a couple of slides back. This is what we define as the portion of the website, the portion of the website network that is doing all the attracting. So the first principle in the Mequoda system is attract. And how do you attract? You give away a lot of free content that's SEOed. And they were already a very solid SEO shop when we came in, and all we were really doing was just helping them organize and get disciplined about what kinds of content they were willing to give away for free and continue to SEO. That's going to live in this portal, which again is the attraction engine.
Kim Mateus:
And then, what do we do with all that traffic? How do we convert it into email subscribers? And this is where we introduce to them the concept of giving away free guides, because as we all now know in 2020, we need some incentives in order to give up our coveted email addresses. So these free guides act as exactly that, and we'll look a little bit more in a few slides here about the importance of making sure there was a contextual to the searches that are happening. But that's a key part of the capture mechanism, which is that principle number two. So you've got your portal tracking all the traffic, you're giving away free guides on that portal so that you can capture, then you're engaging through your high quality content, all of your email newsletters, which we'll talk about in detail, and then you're on to the monetization.
Kim Mateus:
So looking in that three o'clock area, they've got a store, which we'll look at here in a little bit more detail, where they're selling calendars, individual magazine issues, etc. They of course got their coveted print magazine. They've been, I think, in print since 1935. And when we relaunched their website back in '16, part of what we did was to digitize a portion of that archive. I think we selected the last 10 years and digitized that content into HTML articles, which is a pretty key component of that strategy that we'll talk about in a little more detail, but that's where you see they've got their print and their web magazine, their HTML archive.
Kim Mateus:
Then you've got the library where this archive lives. And one of the key things that we've discovered through a lot of experimentation and testing was that it wasn't just the idea of creating an archive of your back issues. That in and of itself does help sell more subscriptions because all of a sudden when you're marketing your subscription, instead of just teasing the upcoming six issues or the upcoming 12 issues, you can now also market and talk about the fact that there's this archive. So you subscribe today, not only are you going to get the next six issues of print and web, but you're also going to get a 10, 12, 15-year archive as it grows.
Kim Mateus:
What we began discovering as we were testing different marketing approaches, different languages, is that what people are really looking for, what people tend to value out there is curation. So it's not just that they could access the August 2010 issue of the magazine, it was that they could access curated content on the best summer destinations in New England, the best winter destinations, the best road trips, the best places for foliage, you get the idea. We're curating all of their best content into these special collections, which is a big part of the marketing approach that we'll talk about in a little bit more detail. But all of that awesome stuff lives in what we classify as a digital library.
Kim Mateus:
Then they also have a TV show that they launched, I think, Don, back in '16 or '17?
Don Nicholas:
We are in season four, so let's see, 2019, '18, '17. Yep, season one was 2017.
Kim Mateus:
Weekends With Yankee is the name of it, wonderfully, beautifully produced in partnership with… it's on PBS, right?
Don Nicholas:
Mm-hmm (affirmative). The local station here in Boston, GBH is actually the partner. And it's aired on, I think it's close to 200 PBS affiliates nationwide now.
Kim Mateus:
That was very exciting for them to kick off, and it's been a really good success. And then leading up to the culmination of all of this is what we're selling on the website, is really an all-access pass to get access to everything. You join as an all-access member, you get your print, you get your web archive, you get your collections, you get to view Weekends With Yankee TV shows on the website, and that also has been a key to how we have been able to boost their revenues, is selling this concept of an all-access pass.
If you go to newengland.com, this is what you'll see: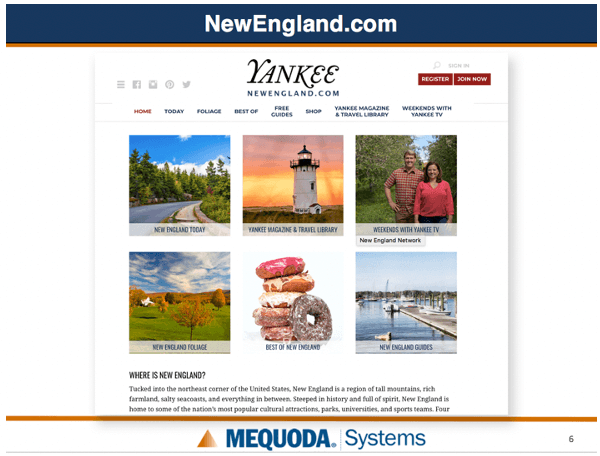 Kim Mateus:
And you'll see that we very carefully try to reflect the strategy we were just looking at on the brand wheel, in the architecture. When somebody lands on it on a deep-linked page within this website and they want to understand where they are, and they click Home, we want them to get a sense of the breadth of content here and that some of it's free, some of it is premium, and these network homepages give us a window into that. They're really meant as a parsing page to explore all the different areas of this website.