Moving into Mequoda system principle number three, this is all about engagement, engaging your customers early and often.
Kim Mateus:
So the primary the way we measure engagement is through email. They found you on the web looking for content, you've convinced them to give you their email address. And now you've got it, what are you going to do with it? Most of our systems have what we call a Daily in New England's case, it's branded as New England Today. This is where all of their free content shows up. So in New England Today's case, it's a stack of, I want to say at least six, maybe it's five or six editorial posts a day, which is on the heavy side. Some of our clients might only have three a day. For some, it might be one a day. It's going to vary depending on how much content you have, what your resources are, etc, but they are flush content and have the resources to be able to put out, I think it's five freshly updated free pieces of content Monday through Friday in this newsletter format.
Kim Mateus:
And we call it a stack, five on six stack, and what we mean by that is there might be five editorial entries, which is what you're looking at here, that say read more. And then they're interspersed with ads. And oftentimes, these are sponsored advertisements, third-party ads that they're accepting revenue on. Others might be internal, maybe as you get more toward the bottom, you'll see, you'll see ads for Yankee branded products, and that's pretty normal for it to be a blend. What we're looking at on the right is the preference center. So when somebody's coming in to the website and they see that desktop floater or any of the conversion elements, and they give us their email address, we're opting them in to a number of newsletters.
Kim Mateus:
And you can see here on the right, the preference center. And there are, I think, eight different newsletter segments that they're now opted into. But if and when they go to manage their preferences or unsubscribe, that's when they can manage in. And they might say, "Okay I want the daily, but I don't want this, that, or the other one," they can manage down as necessary. But we found that method is the best, because if you try to flip this and ask them instead what segments they want to opt into, you're likely to get a lower response there. So we go with a slightly more, I guess, aggressive option where we opt them into everything and let them manage once they get a feel for all the content.
Kim Mateus:
So the Today newsletter in terms of their engagement rates, they have an average open rate of almost 40%, which is really high and healthy average click rate of seven and a half, also really nice and healthy. And then the monthly retention rate of almost 94%, so really good. They're very, very hygienic, doing a constant cleansing protocols to deactivate anybody who isn't active, and that helps keep their engagement rates healthy. And then in terms of the single metric, Don, that we attached to the engagement principle, you want to talk a little bit about that? Because there's obviously so many engagement metrics across the web and email that we could use. You want to talk a little bit about what the key metric is for engagement?
Don Nicholas:
Sure. I think you're right, Kim. There are what we think of as contributing key metrics, things like, are they opening? Are they clicking? But at the end of the day, the ultimate key metric for engagement for us is retention, it's that email retention rate. And that email retention rates for us is an all in numbers. So as Kim points out, that is including anybody who goes in and manages their preferences down, so that they're opting out of the daily segment, for example, that would be a loss. The other thing we pay absolute attention to in terms of hygiene is this idea that they are active and engaged. And in fact, we use a 90-day screen filter that basically is also factoring that 94%. So even if they don't unsubscribe, if 90 days goes by and we don't see them open or click, we unsubscribe them. We basically unsubscribe [inaudible 00:27:36]. We filter them out.
Don Nicholas:
Now, if we see them pop back up again, this is where the engagement level is dynamic, they actually can pop back in and effectively re-engage. And then of course, anything from a delivery hygiene, like a hard bounce, we take off immediately. So we, as Kim points out, we have a pretty aggressive, "Hey, this is all free. We're going to opt you and do a bunch of stuff." And at the same time, we have a very aggressive hygiene program on the back end and maintain all of our systems. The retention rates on the dailies are typically in the mid '90s, ranging from say, 92 to 98%.
Don Nicholas:
Interestingly enough, you probably won't be surprised, the more targeted the market, the more defined, like you'd be thinking of something like the program on negotiation at Harvard Law school, they have a higher retention rate. The more broad, something like Yankee, where this is travel and lifestyle, they'll tend to have somewhat lower retention rates. And at the end of the day, the whole retention process is effectively calling and curating the audience so that what you have subscribing to your daily and your other segments are your most engaged customers.
Kim Mateus:
Yes. All right. Let's look at a couple of more templates here. The weekly. So they have now gotten to a point where they've got two flavors of their weekly, so this is sent over the weekend and they're basically summarizing the best content from the week. So in Yankee's case, they do a five best travel stories weekly, and then a five best recipes weekly. And again, this gives them an opportunity to get more sponsorships out there with those text ads, re-promote their own content. So lots of benefits of having a weekly, and particular, for people who want to opt down too.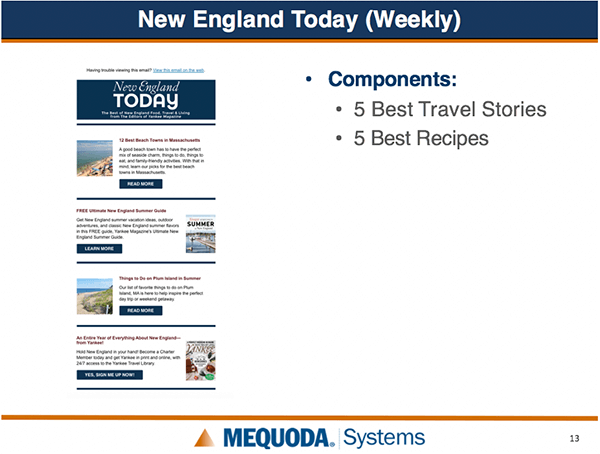 Kim Mateus:
We would hate to lose them completely, so we give the weekly as an option for somebody who might not want to hear from you every day, but certainly want to have a weekly checkpoint. And the other template we want to point out in this engagement realm is this free guides templates. So we mentioned earlier that they have created lots of free guides that are better curated and targeted toward a particular piece of their content. And we send these out and sometimes people stop and say, "Well, why would you dedicate an entire email to giving away a free guide that the recipient already has access to? You already have the recipient's email address, so why waste a send if you will, promoting a freebie.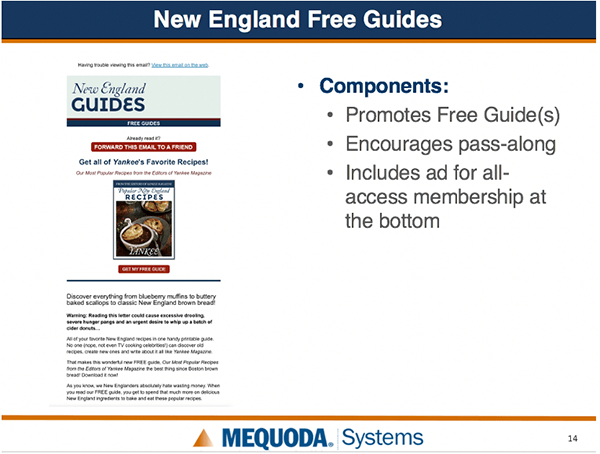 Kim Mateus:
And the big reason would be for pass along. You can see here that we've actually very much made that a part of the design. And that's something we evolved to over time through testing, is put it right out front. You already read this, forward this email to a friend. So that's another big reason why we do it, but also to just remind the recipients that we've got a lot of awesome free, great content and you should continue to subscribe and stay engaged with it. If you were to scroll down in this email, you would see ultimately at the bottom an ad for all-access membership, again, another opportunity to remind them that they can spend money with us.
Kim Mateus:
And these do come in a different couple of flavors, what we're looking at here is a whole email dedicated to a single freebie, but we have some templates that represent all of the freebies we have, or some curated selection of three or six or nine of them where we're wanting to get them all out there and say, "Hey, look at all the awesome freebies here." So this is another good template that helps with the engagement.