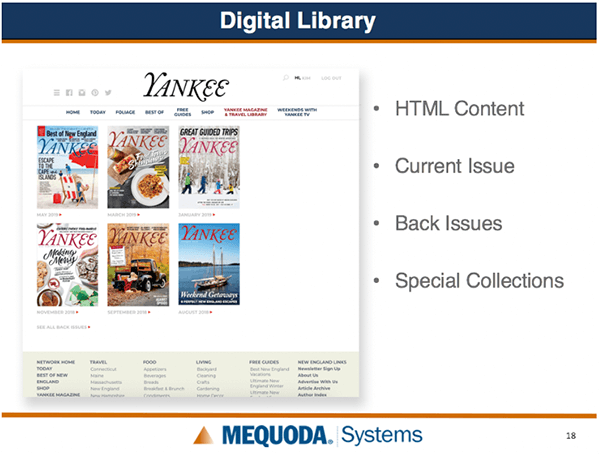 Kim Mateus:
Now, we'll get into the digital library. So what we have here, and we talked about it a little bit in the beginning, this is the area of the site that houses all of the premium magazine content, both that's been displayed as an issue. So this is the area of the site where you can get access to the current issue in HTML, all the back issues in HTML, and also those wonderful, special collections that we talked about that really anchor the way that we market the product. And this just shows you if you were to scroll down on that digital library homepage, what we're highlighting. So this is the most recent issue, and we want people to click through and get themselves right into the issue.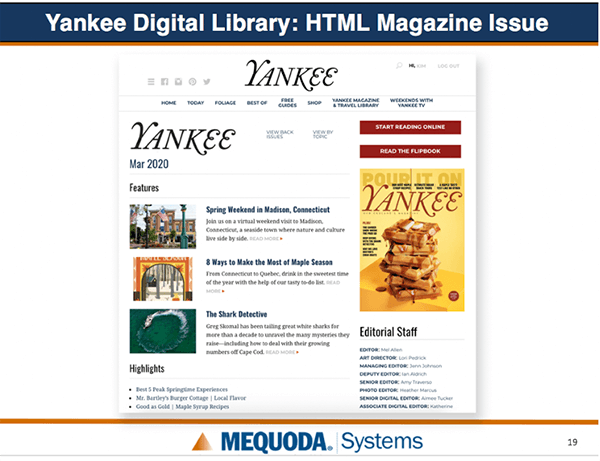 Kim Mateus:
This here is a close-up of an individual magazine issue. So now we're in the March 2020 issue, and you can see that we very deliberately designed this in a way to make it clear to the user that they're in the March 2020 issue. We've got the image of it on the right, and once you click into an individual article, you now see a persistent TOC. We think this is pretty critical because you're trying to help illustrate this mental model of, "Okay, now I know why I'm paying for this content, I know why it's premium, it's part of this magazine and I can experience it front to back like I would a print issue.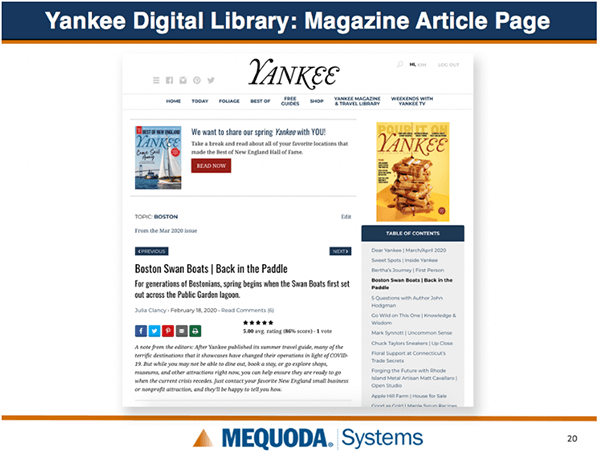 Kim Mateus:
So when you're in an individual article, you can go previous, you can go next, as you see here with these buttons. You have this table of contents in the right hand column that is persistent. And again, this helps reinforce that mental model. Another key piece here is the fact that each of these articles aren't HTML, what does that mean? It means that it's going to render well on a desktop, on a phone, on a tablet, you don't need an app to access this, it's just browser based, it can be accessed from anywhere. And that's been a big part of the success here as we lead into paywalls, all the contents open to the search engines.
Kim Mateus:
And so it just really lends itself to the overall strategy of truly digitizing the content and making the most of it, that this is an investment you've put in to creating all this editorial content and being able to show it to the world, if you will, and this format just makes a lot of sense, it allows you to leverage that awesome investment and put a package really in front of the prospect that's powerful and makes them want to subscribe. This here is an example of one of their special collections, so this is a Yankee summer destinations collection. You'll see that it very much functions just like an issue.
Kim Mateus:
We give it a cover, we list out the editorial staff, we give it a TOC. So trying to, again, illustrate that it's almost like an SIP, like a Special Interest Publication that you're just digitizing into HTML and using it to really anchor a lot of the market.