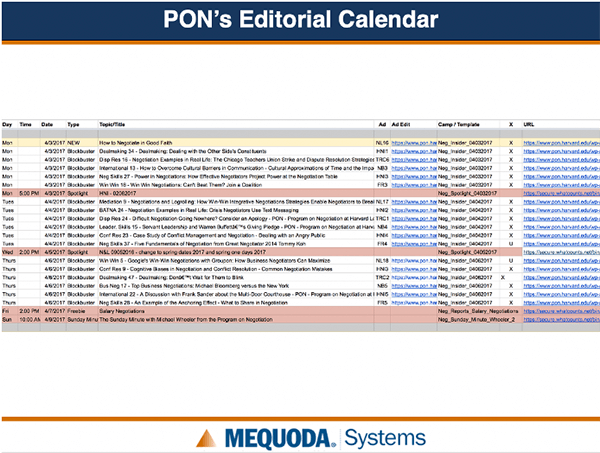 Kim Mateus:
The next thing we want to talk about is this concept of new posts that you're creating, but also blockbuster posts. Program on Negotiation at Harvard Law School, what we're looking at here is their editorial calendar. They publish three, what we call daily newsletters a week. In these daily newsletters, it's a stack, it's like a six on six stack, meaning, there're six articles, and then six text ads that promote their various education events and freebies that they offer and that sort of thing. But what's fascinating here, what we're looking at is, over time, where they've gotten to over the years of executing the strategy is that out of the 18 posts that they're publishing in any given week, only one of them is brand new, the rest of the 17 are all blockbusters. Okay?
Kim Mateus:
So, what is a blockbuster? A blockbuster post is a post that is capable of producing a sustained amount of traffic over an extended period of time. And the best news ever right now is that you guys all have these, it's just a matter of finding them. So, blockbusters are posts, again, that have been driving traffic to your site. When you look at how much traffic you're getting from search, chances are very likely that the posts that are driving search traffic are posts that have been sitting on your site for years. And once we discovered that, we realized, "Wow, okay, we just need to pay attention to those old posts and keep them updated." If you look back at this editorial calendar, every single week when you're preparing their content, you look at every single one of these blockbusters and give them a tweak, right?
Kim Mateus:
It's not like, "Oh, they're driving traffic, we're going to leave them alone and it's fine." No, we've got to pay attention to them and make sure that they're compliant with the scorecard that we're going to walk through here in a minute.
Amanda MacArthur:
Exactly, we're always adding to them a little bit as we go along as well.
Kim Mateus:
Like adding new content.
Amanda MacArthur:
Yeah, we're always just trying to improve them every time we republish them.