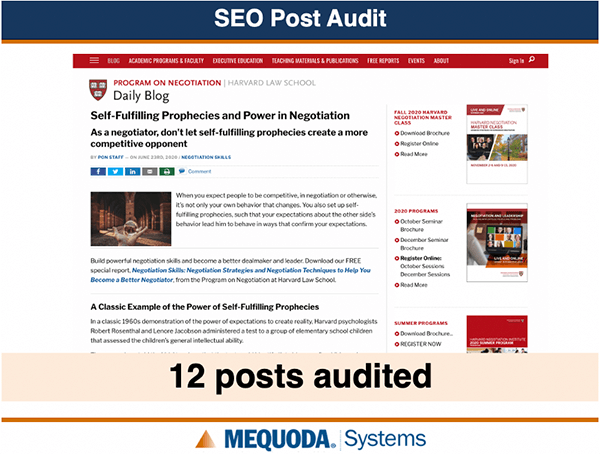 Kim Mateus:
What we're going to talk about here is, a couple of years ago, we started noticing on the Program on Negotiation website that they were basically dropping, losing rank. Their website was not ranking as well as it had been. When you look at the trend line, we saw some dips and we started to get concerned because for them, the dip was not only on the traffic side, but also on the executive education registration side. So, it's like there is a correlation here between traffic and revenue. And so, we said, "Okay, what are we going to do about this?" So, we decided to look at their top 12 blockbuster posts at that time, and basically give them an audit.
Kim Mateus:
At the time, they had an in-house editor that was publishing this content, and we said, "You know what? Let's just audit it against our scorecard and see how it's doing and how we can improve it. So, we took the top 12 posts, audited them, brought them through the scorecard, made all the updates. They were probably scoring, the one that we're going to walk through today, for example, was scoring 55 out of 100, we brought it to 100, and the results were astounding. So, what we're looking at here is basically the 18-step checklist and where in this particular post that we're going to show you, what they forgot to do, if you will.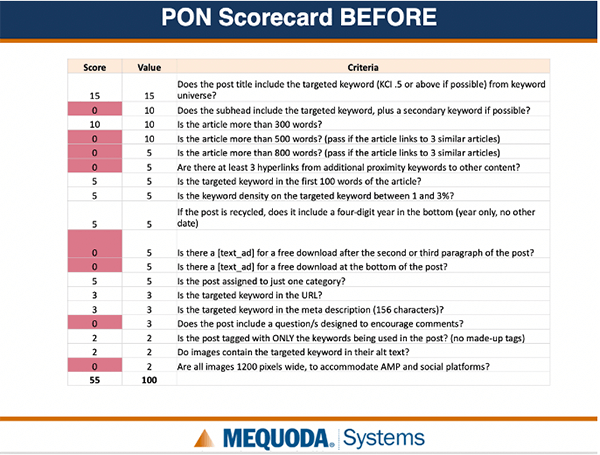 Kim Mateus:
So, they didn't have the keyword phrase in the subhead, and in fact, they didn't have a subhead at all. The article was too short, it was only 300 and something words. And so, we know that Google likes depth and length as long as it's relevant. They didn't score on that. They weren't hyperlinking to other content. They weren't having text ads, those conversion elements on the page that are meant to keep the person on the site and get them added to your email newsletter. They weren't necessarily encouraging comments, and the images weren't fully optimized the right way. So, at blush, you look at this like, "Ah, it's no big deal, right? It's all honest mistake, honest oversights, if you will."
Kim Mateus:
But when you see the dramatic impact that the correction had, you'll get an understanding of how critical this stuff really is. So, here are the results of that audit that we did on those 12 posts. Basically what you're looking at here is, on those 12 posts, in the 30 days before we made the changes, these 12 posts had 1,400 arrivals, and eight conversions. We made all the updates, we pushed them live, and the 30 days after those 12 posts were all pushed live and optimized, they had a 56% increase in their arrivals, which we were all super thrilled about, but then the biggest awesomeness was the increase in conversions, because again, for a publisher like Program on Negotiate, pretty much anybody, that's really what matters is building that relationship, building that list, that's what you can sustain. So, we were just thrilled to see this kind of a lift, just simply by following the scorecard.