Food publishers have no trouble generating free traffic to their website portals through social media with appealing recipe titles and professional photography. In fact, most of the food publishers we know rely heavily on social media traffic because it's easy to make something get passed around quickly if the recipe looks good. But garnering traffic through Facebook likes, email clicks, and Instagram hearts generally has an end date, because while some recipes do go viral, most don't. Getting savvy to the principles of recipe SEO will help your website traffic in the long term beyond your social media efforts.
While Google is never truly transparent about what makes a post rise to the top of search engine results, what we know to be true is that recipes are weighted in a different way than a regular editorial post.
To allow users to review your recipes, you have to use schema markup, which is structured data that Google and social networks like Pinterest look for when listing your recipes in their search results.
For those using WordPress or our Haven WordPress system, this is as simple as using a "recipe card" plugin (more on that later) which allows users to rate your recipes, but it also feeds Google this data, along with cook time and ingredients, which it shares in the search result to help people click the result that looks best to them. In the below screenshot, you can see that Google delivers three apple pie recipes, the images, rating, bake time and ingredient in the Recipe Preview. In the listings below, it also includes the calorie counts. This is all generated by structured data, which Google has told food publishers to use for better recipe SEO.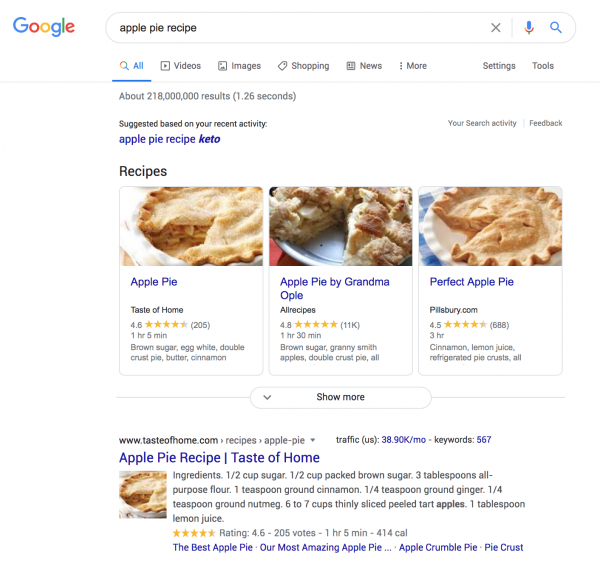 Why Reviews are so Important to Recipe SEO for Food Publishers
Reviews are heavily weighted in this algorithm, as you'd probably expect, and I'll share an unfortunate lesson learned to prove it.
Our communications director Amanda is a best-selling cookbook author who has run an independent recipe website for the last 10 years called WickedStuffed.com where she shares recipes for those following a ketogenic and whole foods based diet.
In 2018, her website received around 3.6 million visitors and generated around $36,000 in sponsorship, ad, and ebook revenue. In 2019, after using the same website for nine years, she went through the process of updating it, with a grand re-launch in February 2019. She also began publishing new recipes on a more frequent schedule and added over a hundred recipes in 2019. But instead of her traffic booming with her new, responsive, visually appealing site, her organic search traffic crashed from 300,000 unique visitors to less than 30,000 unique visitors per month.
I should note that Amanda is no dummy, she's an SEO expert, but as she puts it, "I wasn't taking the site entirely seriously at the time, it's a fun side project for my cooking hobby, and I was just grateful to get so much traffic to begin with. The new launch had a lot of custom data fields, so we had to re-load all of the recipes to make them show up to match the new format, which included new structured data based recipe cards."
"At the time, I never thought to mention to the developer I was working with, how sacred those reviews might be," she says. "And so, I lost all them, and fairly quickly the traffic drop followed." An in-depth analysis of the site showed that this was likely the culprit, as there were no broken links, and social traffic remained the same and steady.
Amanda has been actively working to regain those reviews in the last 90 days and has seen a 6% increase after months-long decline, which is mostly thanks to a number of loyal followers on her healthy-sized email list of almost 100,000, which luckily wasn't affected by the loss. By asking subscribers to review their favorite recipes, she's been able to generate over 100 recipe reviews in the last 90 days, with more campaigns to increase those numbers. Below is a glimpse at what a recipe card looks like: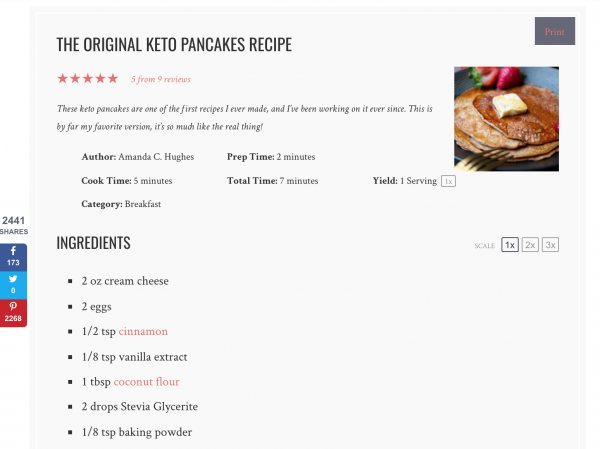 Other Factors in Recipe SEO to Consider
If your magazine or newsletter publishes recipes and you depend on those recipes for website traffic, use the following checklist to determine if your recipes are as search-optimized as they could be:
Keywords
Certainly, an appetizing recipe title is the key to clicks and shareability in social media, but publishing recipes that people are looking for 90% of the time, and saving those unique unsearchable titles that will perform on social for 10% of the time is a good ratio. Use keywords in your meta fields and URL too.
Video
Increasing "time on site" is valuable in recipe SEO and all SEO, and videos can increase this number from seconds to minutes. If you can make recipe videos, do it!
Word Count
If you peruse the web for specific recipes, you'll find that word count still matters for recipe SEO. Often, recipe developers will include tips and tricks beyond the recipe. For example, in a recipe about making pie, there may be a whole section on the history of that type of pie, or the main ingredient.
To increase word count in old recipe posts, you can also see if there are any common questions that people post in the comments, and answer those in your post. Another fun trick is to Google a recipe similar recipe and look at the "People also ask" questions, and include those in your recipe post.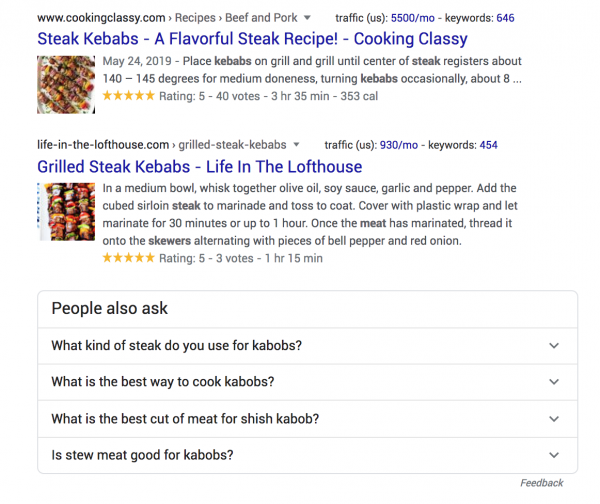 Photographs
Step-by-step photos are ideal because they're easy to include naturally in recipe posts. Be sure to optimize the title of the recipe photo, and the alt descriptions with your keywords and variations of your keywords.
Recipe cards
If you're using WordPress or our CXMS, Haven WordPress, structured data for recipes is easy because there are recipe card plugins. Free ones, such as WP Recipe Maker and  WP Ultimate Recipe will do the job, however we'd recommend the premium plugin Tasty Recipes for $79 per year to avoid the issues Amanda had above, because their recipe cards can be imported and exported and converted for other plugins if you decide to switch. Additionally, it's built for recipe SEO and uses schema markup JSON-LD, which is supported by both Pinterest and Google.
Run fast
Don't upload high-res images to your recipe pages, optimize them to be web-friendly. Page speed has always been a factor in SEO.
Right now, you can use Google's Structured Data Testing Tool on your recipe pages to test them and see if there's work to be done. Schema and structured data isn't just for recipes, there is also schema for articles, events, software, products, books and more. For those other topics, plugins like WP Schema can help you structure that content in a user-friendly way, that feeds Google the data it wants to show for those types of pages and posts.
And if this all seems like a lot of work, but something that you need, we're here to help. In fact, we have several food publishers under our belt and we can share some insights with you if you schedule a case study demonstration. Call (866) 713-1005 to schedule or click here to request an appointment.