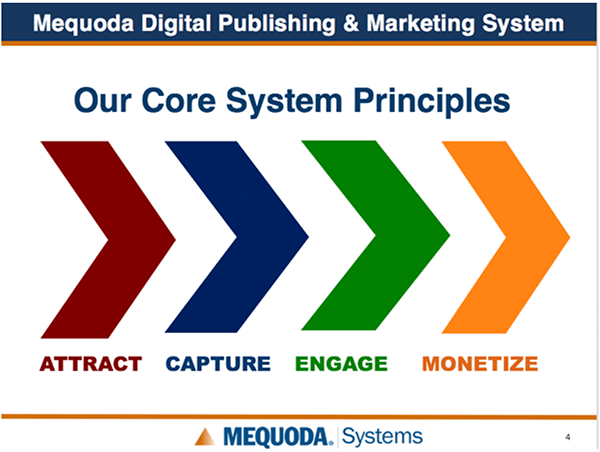 Kim Mateus:
Excellent. And as a result of the work we did back then and the work we continue to do, we've landed on the Mequoda system principles, if you will. Do you want to walk us through how we got here and what each of the core principles stands for?
Don Nicholas:
Sure. We actually didn't get to this for a while. We spent well over a decade poking around where we had a lot of best practices and we had done dozens, maybe as many as 100 websites by the time we got to '05, '06, '07. And were working with a company called Interweave, our CEO, Clay Hall, was busily building this out. We ultimately launched nine Mequoda systems there. And at one point, Clay approach Kim and I and said, "I want you guys to come in and basically train my whole 200-person staff. I want a certification program," that became my Mequoda Pro. "And I need you guys to simplify this because I want everybody to be able to understand the methodology and how it applies to their job, the writers, the editors, the art directors, the marketers, the technical folks."
Don Nicholas:
So Kim and I backed up and organized all the best practices into what became these four buckets. And the other thing we were able to do for each of these pillars or principles was to come up with a key metric that we could look at every month and say, "Are we getting better or are we getting worse?" And then ultimately, we began to use these buckets, these pillars as screening devices for roadmap initiatives. So now, anytime one of our systems directors is putting together a roadmap, it's actually broken up around the idea of when we initiate this new functionality, is it going to help us do a better job of attracting more website visitors to our free content?
Don Nicholas:
Is it going to help us do a better job of capturing those visitors and converting them into email subscribers, free email subscribers? Is it going to do a better job of helping us in engage with those email subscribers and retain them so that we have a chance to monetize them over a long term, as long as possible? And then finally, is that new functionality, new initiative going to help us monetize that relationship either through sponsorship or through some premium content initiative? So it really acts as this overall organizing principle, much like Agile or Lean might be in terms of how you run a business with the specifics around running a multi-platform content business that's digital first, and a large amount of your revenue is being generated around and through the website and all of the ancillary systems that are connected to, and which support the website.
Kim Mateus:
Yeah, it's so true. And I think just coming up with the methodology and documenting it this way was a big win in terms of helping us understand it, and helping our clients understand it, their staff, it really puts everybody on the same page. But I think too, one of the key pieces is that identification of a single metric. We all know how distracted and overwhelmed we can get in the analytics space and not knowing what to pay attention to. And the fact that we've settled on a single metric for each of these really just helps align everyone in the organization, which is what Clay was looking for originally, and we have held to that standard and expectation ever since. And it's been really helpful for everybody.
Kim Mateus:
This is certainly something I rely on every day and I think anyone working with a Mequoda system has really become used to the idea that they know the four key things they need to be looking at day to day and month to month.