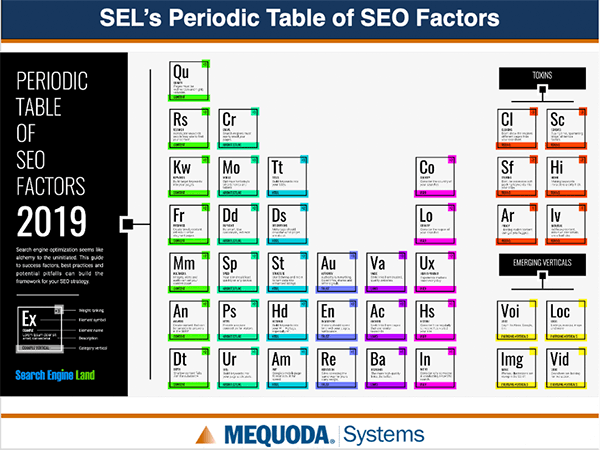 Kim Mateus:
So, the first step of the 21 step scorecard, if you will, is to really understand the science of SEO and how it fits into your overall digital strategy. And when it comes to understanding the science, one of the resources that we rely on pretty heavily, we all subscribe to it, we read it on a daily basis and we recommend that you do the same, is Search Engine Land. And one of the resources that they put out is called this Periodic Table of SEO Factors. And the last update that they put out, which was a pretty significant update, was in 2019, and we just get a kick out of the fact, they always say, SEO is both a art and a science. So, to understand the science piece of it, we think this table here is a really great resource.
Kim Mateus:
And what you're essentially looking at, these six factors here in the middle, things like content, architecture, HTML, trust, links, user, these are all things that as you can see, they each have their own point system. And the way Search Engine Land just describes it is, what you're looking for is to use this as a guide to make sure you're doing as many positive things as you can to achieve the outcomes that you're looking for, while also paying attention to the toxins, as you see here in the upper right, things like cloaking, stuffing, all the bad stuff. And they also, of course, pay attention to emerging verticals, things like voice, and local, and then image and video.
Kim Mateus:
And as we get into the depth of the scorecard here today, you're going to see that we do touch on a lot of things that are represented here. But one thing I want to point out, I always like to say every time we talk about SEO to the publishing community is that we really have a major leg-up on basically every other industry out there who's trying to figure out content marketing because we are in the business of producing content. We produce content and generate revenue from that content versus all the brands across the globe that are trying to figure out how to create content. No, this is what we do for a living. So, we have a really great leg-up on this first item here, quality.
Kim Mateus:
Because we sell content, we've got that piece in the bag. As you go down, which is what we're going to get into today, got to do the keyword research, and then you've got to use the keyword research, right? So, yes, as publishers, I feel like we have a huge advantage, but at the same time, you still got to put the work in, you still got to do the keyword research, you still got to use the keywords, and you still got to pay attention to all of these other factors like freshness and more of the technical side here with the architecture and the HTML. It's all just part of a bigger picture strategy where you've got to hit on as many positive things as you possibly can.
Kim Mateus:
So, we recommend you download this. They have a tutorial that goes along with it, it's a wonderful resource, but with that, the rest of this webinar is really going to focus on the nitty-gritty, how to optimize individual posts, and how to execute on this blockbuster strategy that we talk so often about.