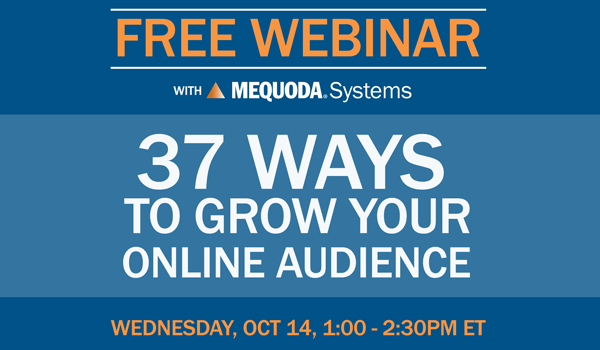 Have you ever wondered why your online competitors get more traffic, and have larger email lists than you? Do you see them growing year over year, while your business is forced to make budget cuts?
Most of the time when a company comes to us, they come in a slight panic, wanting new strategies to generate more revenue quickly, and our reply is always: how big is your audience currently?
Your audience drives your revenue, and many publishers aren't on the best path when it comes to attracting and converting visitors into subscribers.
On October 14 at 1:00 PM ET, we want to share a few dozen case studies from publishers just like you, who are growing their online audience rapidly.
During this FREE webinar, 37 Ways to Grow Your Online Audience, you'll learn how to use organic and paid programs to build an audience that is five or even 10 times the size of your largest paid subscription audience.
We'll provide a condensed summary of the key strategies that are working today to help publishers build a sustainable future for their brands and businesses. In this 90-minute webinar, you'll:
Discover the email capture elements that capture the most amount of new email addresses
Learn the sophisticated conversion architecture and other programs our partners use to build large databases of free email subscribers who engage daily with their content
Find out how one publisher is getting 70% of their organic search traffic from just 5% of their posts, and why that's a good thing
See how other publishers are using the most popular social media networks to convert followers into email subscribers
Discover modern email frameworks, online tools, and social ad techniques that few publishers even know about
Join me and Mequoda's CEO, Don Nicholas, as we share 37 tried-and-true strategies for building an online audience, featuring case studies from publishers who are putting each one into practice. We are presenting this webinar absolutely free! The only caveat is that seats are limited to the first 97 attendees to help ensure a successful Q&A session at the end of the webinar.