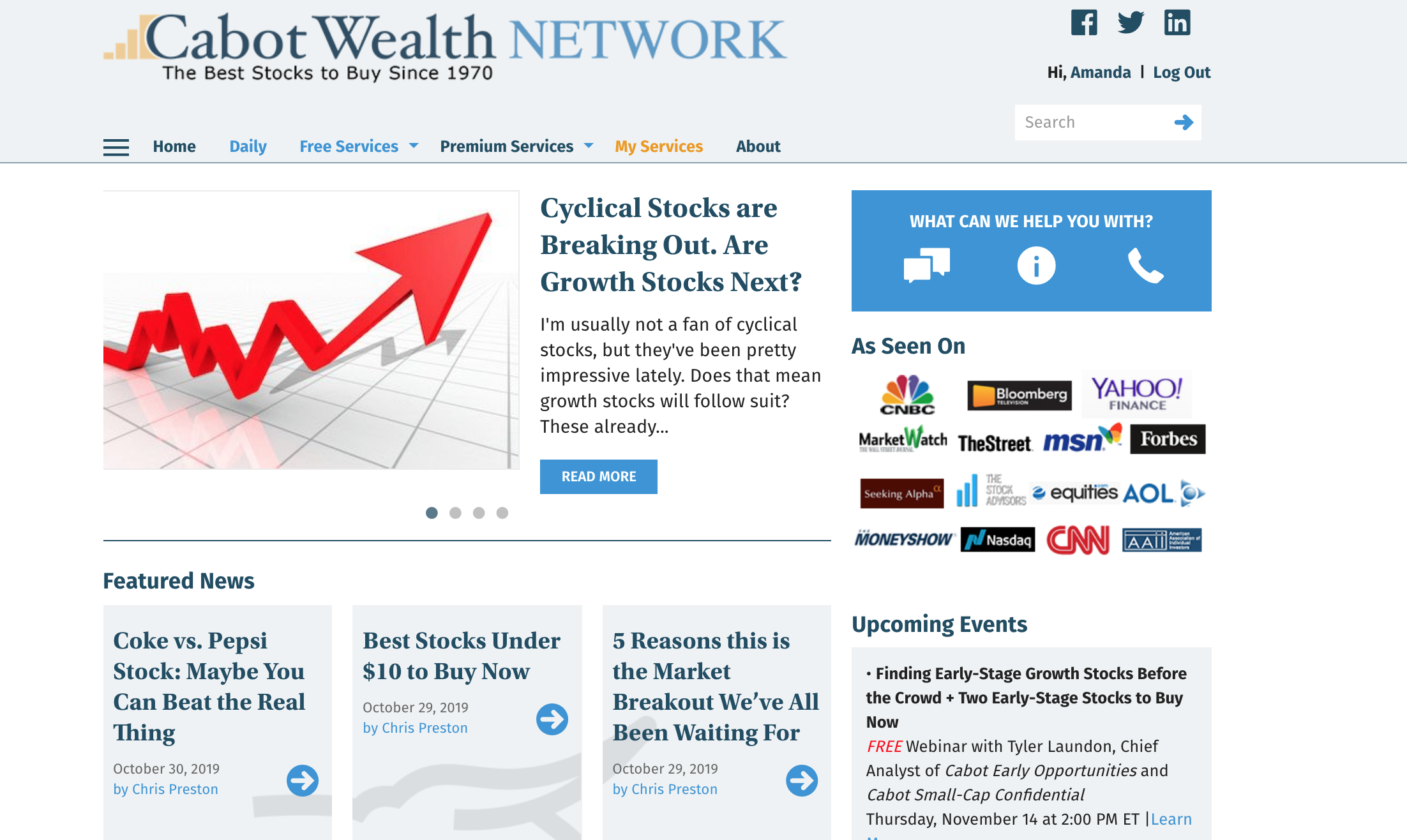 Our annual award for website growth goes to a financial advisory that's grown 72% in the last 12 months
The Mequoda Rocket Award annually recognizes and honors the fastest growing website among Mequoda's Gold Members, many of whom are using our Haven Customer Experience Management System (CXMS) software platform. 
Over the years, Rocket Award winners have been the online publishers who soar above the competition, with a growth greater than 10%, to position their brands at the top of their marketplaces.
The Mequoda Rocket Award, first awarded in 2009, considers Mequoda Gold Member websites and awards the top spot to the online publisher who achieves the greatest growth in online traffic throughout the year.
And the great thing about the Mequoda Rocket Awards, unlike many other award competitions, is that there aren't any judges—the winner is determined by measuring data, site-traffic volumes, and reporting the results for a year's period of time. There's nothing in our world like having a data-driven contest winner!
And the winner of the 2019 Mequoda Rocket Award is…
This year, the Mequoda Rocket Award winner is Cabot Wealth Network, one of the oldest and most respected independently owned personal financial advisory services in the United States. Cabot sells many premium advisory services, including specialized investment newsletters and two premium membership clubs, plus registrations to their annual Cabot Wealth Summit. Cabot Wealth Network launched their Mequoda Haven System in November 2016 and achieved a 72% increase in site traffic in the last 12 months.
A 72% increase in site traffic makes Cabot Wealth Network our 2019 Mequoda Rocket Award winner—congratulations to Cabot!
[text_ad]
Having a Mequoda Haven System and following our best practices sure helps toward achieving this distinction, but having a terrific team at Cabot to manage and operate the system with foresight and discipline is what really matters. Cabot's large team—including nine different specialized market analysts who write stock-picking financial advice—is led by CEO & Chief Investment Strategist Tim Lutts and President Ed Coburn, and they are focused on optimizing their content so it can be found by organic searchers; landing key partnerships with other financial publishers to drive referral traffic; targeting relevant content for social- and paid-media promotions that bring traffic to their site; and maximizing customer engagement to increase email and direct site traffic.
It's great momentum for Cabot to win the Rocket Award this year, because they've won it before—not only is Cabot Wealth Network a two-time winner of the Rocket Award but they're also a consecutive winner, having won the Mequoda Rocket Award last year, in 2018, when they also achieved a 72% increase in site traffic.
Now, the question is: Can Cabot keep it going and make it a three-fer in 2020? Or will another Mequoda Haven System rocket ahead of them?
And now for the 2019 Mequoda Rocket Award Runners-Up…
The runners-up below have grown, too—just not enough to earn the top spot. They have employed rock-star editors, created quality content, and follow our best practices for email conversion architecture and Search Engine Optimization (SEO). There's a lot to learn from the forward-thinking publishers below, and we recommend checking out their sites to see how your own site stacks up—and the runners-up are:
#2: In December 2017, AAA-Northeast launched a Mequoda Haven System that serves both existing AAA regional members and new prospects. With a powerful and recognizable brand that delivers well-known membership benefits such as roadside assistance that includes towing, free fuel and delivery, flat-tire service, and vehicle lock-out service, AAA-Northeast leverages content from their membership magazine to anchor their system with quality and relevant content. And an aggressive and effective engagement strategy with existing members drives traffic to their site, too. Results? A 62% increase in site traffic, year over year—and second place in the 2019 Mequoda Rocket Awards.
#3: Yankee Magazine is a venerable brand that represents everything about New England, and in July 2016 they launched a Mequoda Haven CXMS System under the NewEngland.com umbrella. With a deep archive of content that is unique and engaging—the first issue of Yankee Magazine was published in 1935—Yankee has optimized their system with free guides, content previews, seasonally relevant content, and metered-paywall premium content that drives traffic growth. Last year, Yankee achieved a 47% increase in site traffic and third-place recognition in the Mequoda Rocket Awards. And that's a big jump over the previous two years when they achieved 17% and 13% site-traffic increases for 2017 and 2018 respectively.
#4: The Program on Negotiation at Harvard Law School (PON) is dedicated to developing the theory and practice of negotiation and dispute resolution and includes faculty, students, and staff from Harvard University, Massachusetts Institute of Technology, and Tufts University. Their portal, which launched on Haven CXMS in 2009, offers an abundance of free content and free reports, plus lots of paid products including training materials and executive training programs that comprise the majority of their revenue. PON achieved a 46% increase in site traffic in the last 12 months as the PON team continues to focus on optimizing Blockbuster posts for the best SEO and engaging existing customers with compelling content to drive site traffic.
#5: Prime Publishing is a major presence in the crafting arena, and their I Like Crochet Mequoda Haven CXMS was re-launched in the summer of 2018. When Mequoda helped Prime Publishing re-launch this premium brand online, a Gold Club Charter Membership program was created to include tons of content and unique benefits. Gold Club includes a subscription to the flagship magazine; access to the searchable Library of magazine back issues; membership in the Collections Club that includes dozens and dozens of special crochet patterns; video tutorials; special crafting tips and tricks; advertising-free content delivery; and the extra special, can't-be-obtained-anywhere-else exclusive patterns from recognized crochet designers. And as a disciplined practitioner of the Mequoda Method, Prime Publishing achieved a 27% increase in site traffic for the last 12 months—not bad, considering the previous year saw a decrease in site traffic while we were planning and building the re-launch.
#6: The Successful Investor (TSI) is a Canadian-based wealth management firm, and TSI Wealth Network is the front end for their high-end premium advisory services. TSI Wealth Network achieved a 25% increase in their site traffic, year over year. Their Mequoda Haven System re-launched in June 2016, and they have a strong content team powering their system and following the Mequoda Method. They have been avid followers of the Mequoda SEO Scorecard when creating their daily evergreen content, and it shows!
#7: World Politics Review (WPR) is a daily digital-only source for news and analysis of global events and trends. Founded in 2006, WPR delivers online stories written by a network of leading experts and on-the-ground influencers in every region of the world—the premium content gives all access subscribers comprehensive and detailed perspectives that are as valuable as they are unique and compelling. WPR launched a Mequoda Method strategy in the summer of 2018 and has achieved a 21% increase in site traffic over the last year. What really sets WPR's program apart from its competitors is the digital-only focus that allows WPR to always deliver the most current news—we look forward to even more site-traffic growth in the coming year as WPR's team remains focused and disciplined on optimizing Blockbuster posts.
#8: The Old Farmer's Almanac is the oldest continuously published periodical in North America, first published in 1792 when George Washington was president. With a deep reputation—and content that's just as deep—The Old Farmer's Almanac was ripe for a capstone membership product that delivers it all. And that's where Mequoda came in, to help launch in 2018 The Old Farmer's Almanac 1792 Society—a nod to the year of the founding of The Old Farmer's Almanac by Robert B. Thomas. And The Old Farmer's Almanac team is devoted to the Mequoda Method—their discipline resulted in an 11% increase in site traffic over the last year. And because their existing site is so huge, the raw number is very impressive, more than 5 million new visitors to their site over the last year!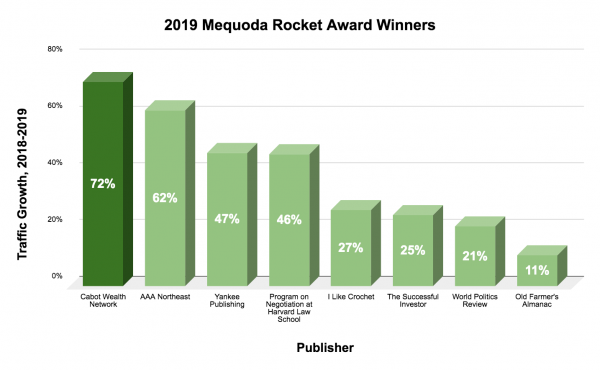 To learn more about growing your site traffic using the Mequoda Method, download How to Increase Your Audience and Decrease Your Marketing Budget for FREE today–discover in this free report how to get the most out of your website traffic and turn visitors into digital dollars.