Membership Website Mistake #5: Charging Too Little
By— Chris Sturk • 12/07/2011
People often overestimate their market. They do this by looking at the number of nuclear engines, bakers or weekend woodworkers and assume they can get a higher penetration than they've seen.
Look at the market, profession or hobby and pay close attention to the penetration levels of mature products in the two-five year range.
If you are thinking that a much larger customer base will be paying you, you often price lower than it should be. In order to succeed however, you have to get the price just right. If it's too high, you cut out a lot of the market share you can achieve. At the same time, by charging too price you'll find yourself in position where you have market share to possess, but the price point makes your business not viable.
------------------------------------------------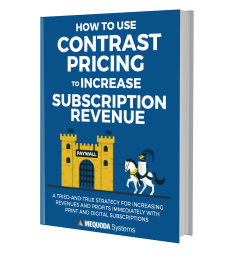 Learn how to choose the best subscription pricing & single-copy pricing strategy for your subscription websites & subscription apps when you download a FREE copy of How to Use Contrast Pricing to Increase Subscription Revenue.
------------------------------------------------
Posted in Subscription Website Publishing