This featured WordPress plug-in will help reduce the amount of spam on your website
As the Askimet website asks, "Are you tired of comment spam?" If you are, and you run a WordPress blog, then the Akismet plug-in may be your answer.
This WordPress plug-in checks your comments against Akismet web service to see if they appear to be spam. It also allows you to review potential spam that is caught under your blog's comment section.
The interactive part of your blog has a lot of importance. Comments from real people show Google that your content has value. Google sees value in this and rewards websites with a lot of user generated content. Plus, Google likes the consistent updating of content, and views the website as active and of interest to users.
Due to this, spam can bring down a site's ranking in search engines. Akismet can be set to serve on auto-pilot and take care of any spam comments that are left while you aren't monitoring your blog's content.
Akismet was developed by Automattic and is based off an algorithm that is continuously updated.
If you'd like to have access to an array of plug-ins, including basic and premium plug-ins – some of which have been created exclusively for Mequoda Systems – contact Kim Mateus via email or 401-253-0401 for consulting options.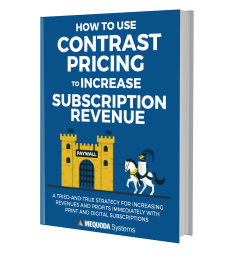 Learn how to choose the best subscription pricing & single-copy pricing strategy for your subscription websites & subscription apps when you download a FREE copy of How to Use Contrast Pricing to Increase Subscription Revenue.