We love to share our own experiences at Mequoda Summits. It is our program after all, and we've designed it to share experiences, both positive and negative, with our clients and attendees.
Within the last few months, we made a major change by redesigning our entire look and feel of our daily blog. This change focused on eliminating some of the clutter that comes with content-based websites, so we ended up taking out permalinks, category listings, category topics in navigation, related articles at the end of posts, tags, and breadcrumbs.
Our lead developer made these changes, and after we took a look at some of them, we started to feel slightly uneasy. We imagined that these changes would hurt from a visibility standpoint. However, after calculating the data a month after the changes, our visibility had slightly increased.
------------------------------------------------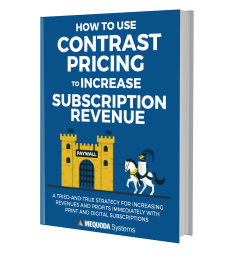 Learn how to choose the best subscription pricing & single-copy pricing strategy for your subscription websites & subscription apps when you download a FREE copy of How to Use Contrast Pricing to Increase Subscription Revenue.
------------------------------------------------
But that isn't where our measurement stopped. We took a look at other data pieces and realized that three major engagement statistics were hurt; our bounce rate went up, our time on site decreased, and our pages per visit decreased.
After thinking about it, negative results make sense from a human standpoint. If I read an article and find it interesting, I would be much more likely to read a similar article, go to more pages and stay on the site longer.
If you are planning on making changes to your website, make sure you benchmark site data before the change and then measure after the change. Doing so will save organizational time if the changes result in negative measurements and you need to revert back to original settings.