Landing Page Design Tips
As you may already know, most people arrive at a website and within less than 10 seconds can determine whether it's clean, professional and worth their time. Your landing page delivers the first impression. It's usually the most important page on your site. It needs to be a fast, effective messenger.
With a quick glance, visitors to your site should know exactly what your site is all about or what your business does. Determine what image and message you want the customer to "get" in those first few seconds, and design your landing page toward that objective. Anything that distracts from the central message or image you wish to project should be eliminated.
Here are some tips for keeping visitors around and convincing them to order:
1. Keep it clean, efficient, and focused.
Your website should create an immediate sense of comfort and well-being. Accomplish this by choosing a clean, efficient design with an easily discernable central focus. Use lots of white space, choose comforting colors and readable fonts. Avoid speckled backgrounds, unreadable type fonts and a bewildering assortment of buttons, animations, drop down or pop up menus and multiple frames.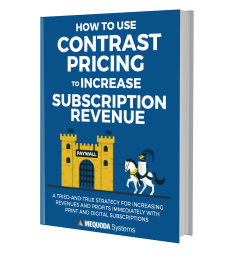 Learn how to choose the best subscription pricing & single-copy pricing strategy for your subscription websites & subscription apps when you download a FREE copy of How to Use Contrast Pricing to Increase Subscription Revenue.
2. Write strong, engaging headlines.
Don't distract the visitors by confronting them with rotating banner ads for other products. Instead, write a forceful headline to capture their attention and interest.Far too many landing pages fail almost immediately by offering up lack-luster headlines and subheads. A good landing page delivers a compelling headline for a single product or service.
3. Don't make them wait!
If you only have 10 seconds to capture the attention of your visitor, then your front page better load quickly. If it takes more than 20 seconds to load, many visitors will bail out before reading your message.
You can speed the loading of your landing page by eliminating unnecessary graphics, especially photographs. Review every image on the page carefully, and include only those that are absolutely necessary. The graphics that you must use should be minimized using an image compression program.
Also, avoid using offsite page counters, news feeds and other resources that slow down the loading of your main page.
4. Make it easy to navigate.
Use a standardized navigation system throughout your site. Easy-to-use navigation helps visitors feel comfortable about exploring your site.
Avoid using hard-to-read graphic buttons, hard-to-find drop down menus, or any other programming tricks that do more to prevent visitors from exploring than encouraging them to do so.
5. Keep it fresh.
Make sure the headlines, text, and other information on your landing page is always up to date. Visitors are usually interested in current news, reviews, and information, and will leave your site if they get the impression it hasn't been updated in months.
Check your navigation links. Most visitors will abandon your site after encountering just two broken links.