There are dozens of WordPress plug-ins that can transform the functionality and efficiency of your website
WordPress is the system we've used to build clients' websites.
If you've been looking, it's clear that we aren't the only consulting and development firm that approves of the work from the WordPress community. Publishers like the Wall Street Journal and New York Times use WordPress to power their websites.
Why is it that so many websites use WordPress? The large community, open source software, and slew of plugins makes building and operating a website fit your needs much easier than other options.
Since digital publishers are near and dear to our hearts, we've compiled a database of WordPress plugins that allow publishers to create effective websites that put content, commerce and community first. Many of these plugins are free to the WordPress community while others have been custom designed by our developers.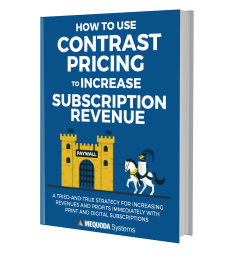 Learn how to choose the best subscription pricing & single-copy pricing strategy for your subscription websites & subscription apps when you download a FREE copy of How to Use Contrast Pricing to Increase Subscription Revenue.
Here's a quick look at a few of these plug-ins.
–Akismet: This free plugin checks your comments for spam and allows you to review the spam it catches on your blog.
–Efficient Related Posts: This free plugin determines related posts based on the number of overlapping keyword tags.
-Mequoda Source Tracking: This premium Mequoda plugin collects info on how users get to your website. Original source code and arriving source code are stored in your database.
If you'd like access to the entire database of plug-ins perfect for digital publishers, contact Don Nicholas for  consulting options.