Now we're into the paid media traffic drivers. The first one is Pushnami with this concept of push notifications. Don, do you want to talk about the experience we've had here testing Pushnami on some of our websites?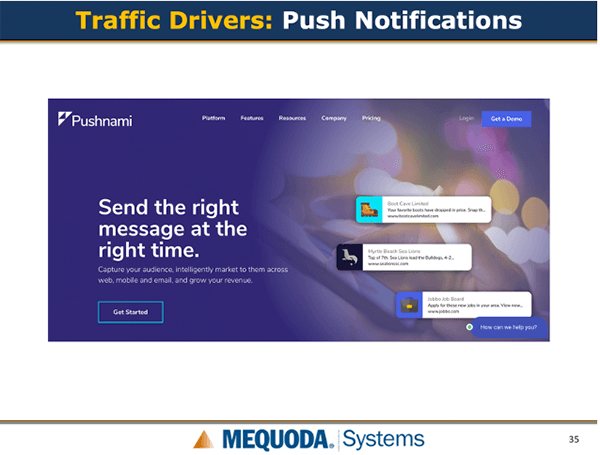 Don Nicholas:
Absolutely. This has been fascinating, evolving very rapidly and has quickly become second behind email as a traffic driving source that relies on registration and a broadcast schedule that we really control. So in a nutshell, we enable Pushnami on the website for someone to opt into the program and then we take that Blockbuster calendar and come up with a seven day a week push schedule around what would be editorial notifications, where we're using the headline, subhead, the Blockbuster post to push that out through Pushnami. And then we supplement that for the websites that are mature enough to have all those kinds of membership offers with what could be offers for the all access product, if it was in a website that had events, it might be events offers, and it ends up being two broadcasts per day. We have an editorial broadcast being pushed out, and then we have an offer being pushed out that typically leads back to a sales letter landing page or straight to an order page, and we would test both of those.
Don Nicholas:
Now, remember, we don't know who these people are, we don't know if they're registered through email, not registered through email, et cetera. There are some complexities around setting this up that acknowledge that they're registered and they're following you, but you don't really know who they are or what their relationship is to the brand. Where you land them and what kind of pricing you might show them all comes into play. And in a nutshell, this ends up being a source that is totally self liquidating. Last I looked, it was the first 30,000 followers are free and then up to 100,000 you pay $1000 a month and then there's a per thousand charge over that. And for all the websites that we've deployed this on, we can get the $1000 a month back selling premium subscriptions and we've got websites where this is now six, seven, 8% of our total traffic and our Pushnami subscriber base actually rivals or begins to rival our email subscriber base. It's become a very important component of the audience development and the marketing programs for a lot of the websites that we support.
Kim Mateus:
Yeah. And it does of course costs money. It's important that if you are going to explore this that you've got all the tracking in place to make sure that you're getting an ROI on the investment that you're putting in to launch a program like this, but it's proven worth it for the publishers where we've experimented with it.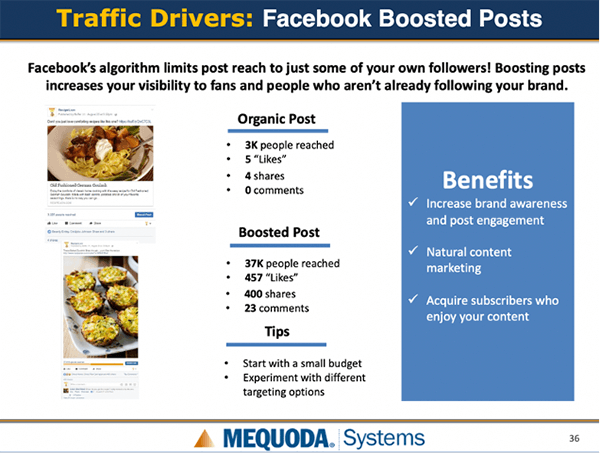 Next two sources here are both Facebook, the first one is Facebook boosted posts. The example we're using here is that Prime Publishing example one of their big food websites is RecipeLion. And as many of you probably already know, Facebook's algorithm really limits your post reach to just some of your own followers, sometimes not even your followers at all. Boosting posts a.k.a putting money behind these posts increases that visibility to your fans and people who aren't already following your brand.
Kim Mateus:
And although boosted posts still exists and the results are always going to be a lot better in terms of your reach, as you can see with these numbers, for Prime, they are now focusing the majority of their Facebook budget on ads and lead ads.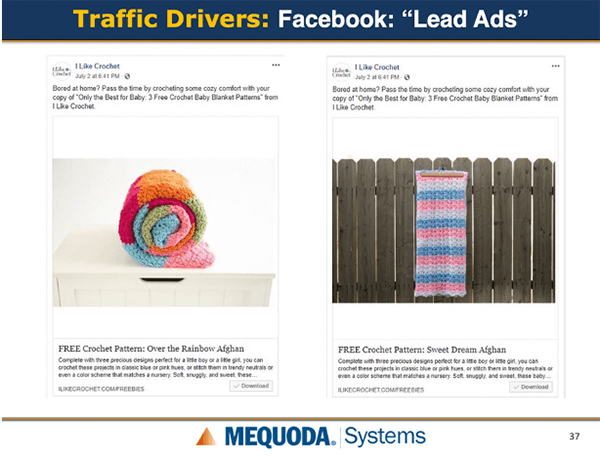 What we're looking at here are two examples of lead ads that they run on one of their premium content brands, which is the one that we work with them most closely on, which is I Like Crochet. This is a premium magazine and collection website and of course we still are interested in building the audience for it.
Kim Mateus:
On Facebook we're doing lead ads to try and capture email addresses from Facebook. And you can see here that we're doing that by giving away a free pattern and getting somebody to download and get their email right through Facebook. A couple of different options here but this happens to meet Prime's goals a little bit stronger than a boosted post. And I think Don, the math on this is in terms of an ROI on the free lead ads are they're able to break even in year two. Do I have that right?
Don Nicholas:
We do. And it's almost a year-one break even, but certainly at conversion. And we're typically selling an annual subscription here. It's again become a good source of new free members for the website and we get a nice strong conversion of those people who are acquired as free members to paid members so that we can break even within 12 months.
Kim Mateus:
Excellent. And the final traffic driver we're going to talk about are ad networks. And in this particular example, we're talking about the search ad network, so Google and Bing. And the case study here is Cabot Wealth Network, which is one of our partners who publishes investing information, advisory services in the investing space and the way they use Google and Bing search ad networks in a couple of ways. But the one we're talking about here is how they use it to build their free subscriber database. Every month they publish a new five stocks to buy in X month.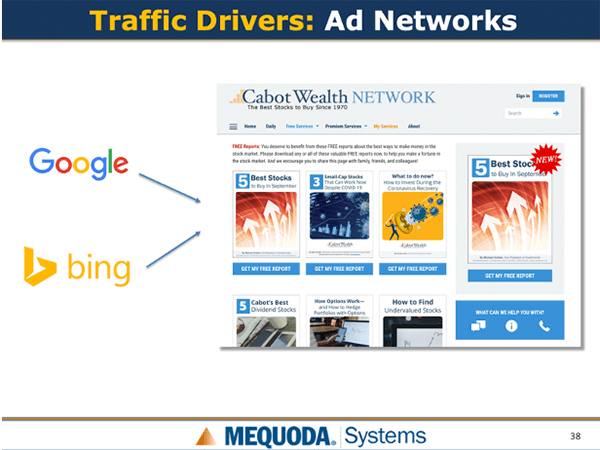 Kim Mateus:
And those tend to perform the best in terms of the Google and the Bing ad strategy where they link to a detailed page on this. We're showing you the index to give you an idea of all the different freebies that they publish but what you would actually find if you searched in Google and Bing and got linked into the Cabot website would be a dedicated page that's offering up this five best stocks to buy in current month freebie. And they're able to not only successfully build their email file this way, but I think from an ultimate ROI standpoint Don, they do discover that these free people do turn eventually into buyers. Is that right?
Don Nicholas:
They do. And we've got a more complex breakeven strategy here than most of the websites. We've got 16, 17 different products and capstone products that are big bundles. We do a lot of monthly pricing. We have product that goes anywhere from $20 a month to $400 a month. There's an upsell strategy so that somebody coming in on one of the individual products can be up sold. We can track all of that so that our analytics director can go in and say, okay, for this span on this keyword phrase with Bing, how many months does it take us to break even?
Don Nicholas:
We are doing a lifetime value calculation that's looking at the ability to track them across multiple products, multiple upgrades, monthly, quarterly, annual. I think our average on this right now is about seven months. Meaning if we go out and spend $10,000 in January by the end of July, we've got that $10,000 back and we still have a bunch of paid subscribers who are then going to generate highly profitable revenue for us since all of our product at Cabot is digital delivery. Our cost of service once we've got them in is near zero.