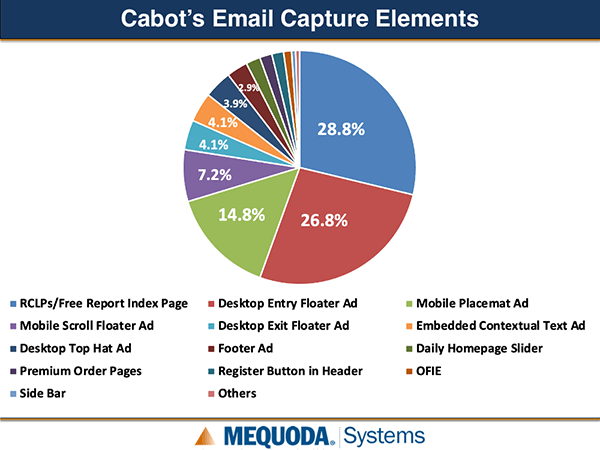 Kim Mateus:
What we're going to get into next is an inventory of various email capture elements. So we're going to look at Cabot in particular, we're going to look at a pie chart to see which elements are contributing the most to the number of email addresses of the capture every month. And then we're going to just take a quick look at each of these elements before we actually get in and show you some of the tests that we ran and we're going to look at the controls, the tests and the winners.
Kim Mateus:
So that'll be the fun part. But first let's look at all of the elements that are in the mix and how their pie chart looks so that the leading element on their website contributing the most number of email subscribers is actually their free report index page, their RCLPs which mean rapid conversion landing page, which Bill will talk you through in a second and their free report index page that these landing pages live on.
Kim Mateus:
And I'm pointing this out because it's unusual. So for the majority of our clients, this desktop entry floater ad is the leader element. But for Cabot and maybe Bill could tell us why he thinks that's the case, their number one element is this index page. So we'll look at that in a second. And you'll also see that this is ordered by its contribution, so each row goes like this. And you'll see for them, numbers three and four are both mobile ads which is interesting.
Kim Mateus:
So we'll go ahead and look at each one of these individually and Bill can kind of talk us through each of the components. So starting off with this index page, just talk us through it Bill, and maybe if you have any sense of why for Cabot it's such a big contributor.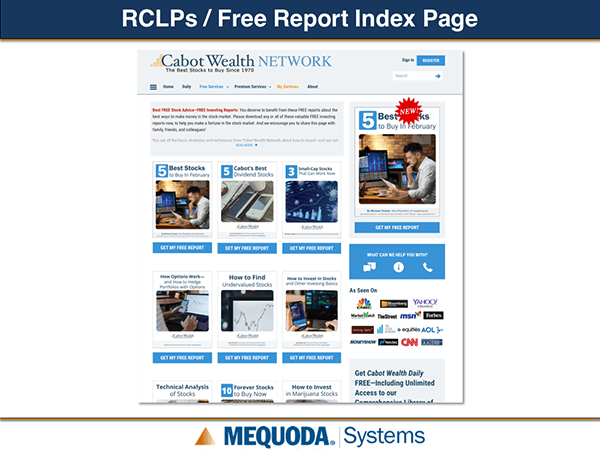 Bill Dugan:
Sure. It's a relatively new phenomenon for Cabot to have this, relatively new as in within the last year. There was a point in time over a year ago where the desktop entry floater ad was the number one contributor. But I think what's happened is this page, which is after the slash describes it, an index page of all the free reports that they have, the RCLP is the rapid conversion landing pages, each individual report has a landing page that describes the report and has conversion email capture architecture built into it.
Bill Dugan:
So the combination of those pages and this index page are what is driving this to be the number one collector of email addresses for Cabot. I think about a year ago, we started playing around with this page, and you'll see some of those tests later. And all of those tests in combination have boosted this page to be slightly better than a desktop entry floater ad but then you'll see the test that we did.
Kim Mateus:
Right.
Bill Dugan:
This is currently how it looks. There's a design treatment that's different in the rail of the page and then the right rail is different and we'll see that test later.
Kim Mateus:
Very good. Now we've got the desktop entry floater app.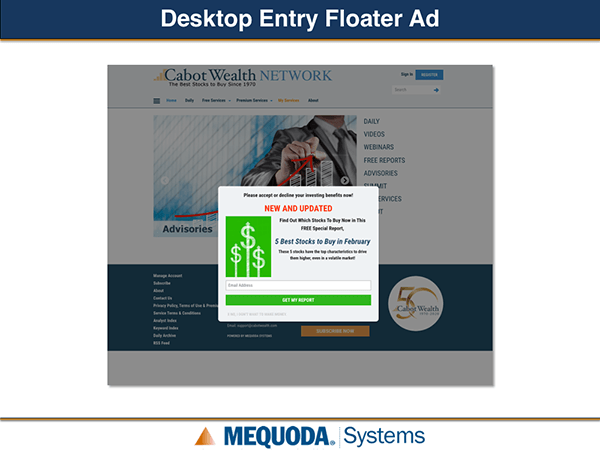 Bill Dugan:
So this is typically one of the number one contributors to email capture because for an unknown organic new site visitor who comes to your site on a variety of pages, get served up this interstitial if they're on a desktop device that what we're looking at here is the home page serving up an ad. But if you're on any specific article page, the alignment to that topic or category with a topic or category specific free report can be served.
Bill Dugan:
And that is a best practice that we have across our clients to align free report ads for email capture in the topic categories where they can be served. Cabot has tested… I'll digress for a minute here, Cabot has tested into an overarching free report called the five best stocks to buy in, blank, fill in the month.
Bill Dugan:
It's a monthly report that gets updated every month, not that it's five totally new stocks every time, three of them might be the same as the previous month if they're still performing well, and there might be two new ones, for example. But this overarching free report is served across the site, not totally.
Bill Dugan:
The options trading categories have their own specific reports because that's a very specific type of investing and we weren't able to test this overarching report which is more basic to the sophisticated audience that comes to options trading pages. But in any case, this desktop entry floater ad, which is an interstitial and could be x-ed out of, you see down in the lower left corner you can x out of the ad is a big performer for email capture.
Kim Mateus:
And we'd always get… before the pandemic when we were doing live events and we'd talk about these, you'd see the eyes rolling, "Oh, I hate these, I hate these. I'm always x-ing out." Well, as marketers, of course we know the tricks, right? We know what the sites are trying to do. But as we mentioned before, everywhere we have the chance to measure, this is the number one element. So it's worth testing. And we always try to caution not to let your own personal despise of them get in the way of doing what's right.
Bill Dugan:
Right.
Kim Mateus:
Yeah, exactly. All right.
Bill Dugan:
Well, it's interesting Kim, because some publishers serve those ads for other purposes. On one of our systems, the best way to not see this ad is to register. You won't ever see these ads. If you're a logged in user, you never see these ads.
Kim Mateus:
That's right.
Bill Dugan:
Because we already have your email address. And as Kim mentioned earlier, this conditional architecture of one of Mequoda's haven systems recognizes you as a logged in user, you'll never see these interstitial ads. And by the way, a distinction, this is an interstitial ad, not a pop-up. So these kinds of ads are not blocked by browser functionality to block pop-up ads because it's not a pop-up ad.
Kim Mateus:
That's important, both parts of that. The smarter your website is about recognizing user states, the more aggressive you can be when it comes to stuff like this. All right. So next we've got a mobile scroll floater ad.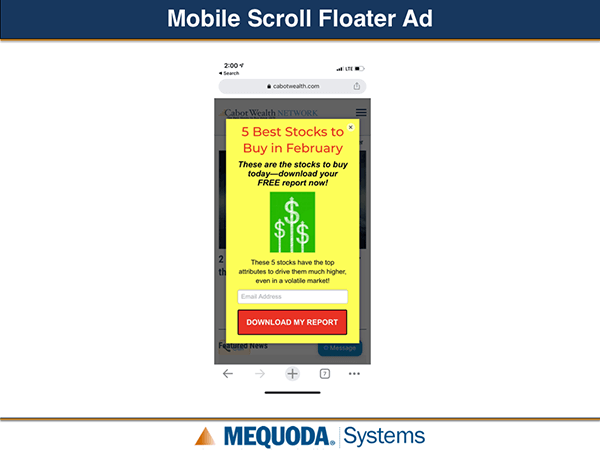 Bill Dugan:
So as the name implies, this is only served to users who are on a mobile device. And we call it the mobile scroll floater ad because this interstitial is served when an organic new user comes to the site, is on a page and scrolls a certain percent down the page, which can be defined by the ad serving platform.
Bill Dugan:
You can say, for example, I want to serve this ad after someone has scrolled 25% down the page. With Google rules about blocking content, you want the visitor to initially not be blocked so that we're not being punished by Google. And so we have various definitions for when to serve this ad ranging from 25% to 40% down the page. So and again, it can be x-ed out, you see the x in the upper right corner. But this has become a nice contributor to email capture as we see more mobile users.
Kim Mateus:
And now we've got a desktop exit floater ad.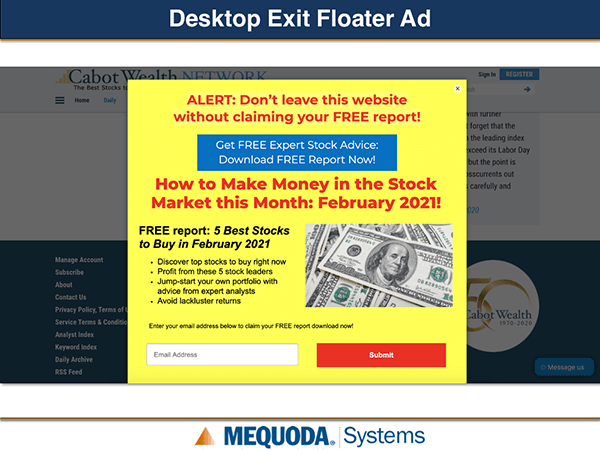 Bill Dugan:
So again, if you've come to the site and you've tooled around and you didn't respond to one of our other ads to capture your email address, if you start to exit the site, and the way the technology works is that your browser recognizes when your mouse is going up to the x. And so when you get into that header area, it will serve this ad.
Bill Dugan:
You may have seen these kinds of ads, a lot of news websites use them as a way to capture your email address to get on a regular news e-letter. This is the same concept here. If you haven't responded to one of the ads and you're not logged in, and we didn't capture email, this is last chance saloon for us to try to capture you, and this works very well.
Kim Mateus:
Excellent. What about embedded contextual text ads?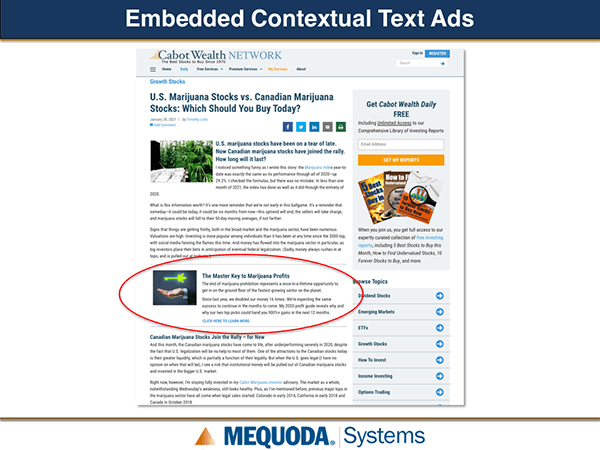 Bill Dugan:
Again, going back to what I said about the interstitials not being pop-up ads, these don't get recognized. These are embedded writing content. So these don't get recognized as ads being served in terms of ad serving blocking software. These are contextual, again, topical. In this case, the Cabot post we're looking at is about marijuana stocks and the embedded text ad is about the free master, a key to marijuana profits, free report. And basically clicking on the link there brings you to an email capture flow just like the interstitial ads we've looked at.
Kim Mateus:
And what's great about this one too, it's both desktop and mobile, right? Because that's right in the article.
Bill Dugan:
That's right. And there's no content blocking, right? Within this in terms of being punished by Google because it's part of the flow of the article itself.
Kim Mateus:
Next we have desktop top hat ads.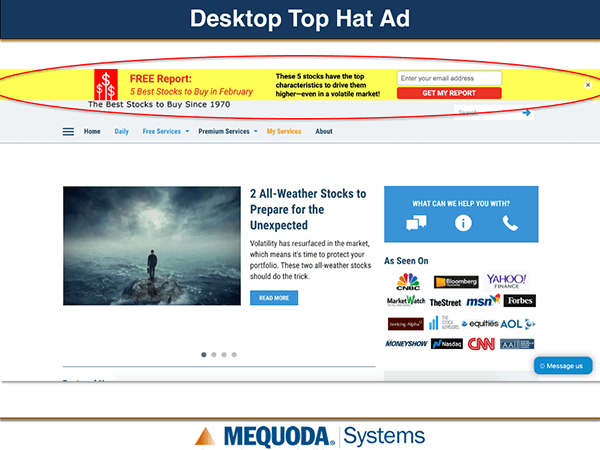 Bill Dugan:
So this is a newer element for us. Basically this is a top of page persistent ad. You can see with that overarching best stocks of the month report being featured and the embedded email capture box. We serve this on a lot of pages, but once you exit out somewhere, it doesn't appear again.
Bill Dugan:
So it can block, like you can see in this case, it's blocking the top of the page name plate because you're not logged in, we don't know who you are and we want your email address. So as part of, as Kim said, our very aggressive methods for doing so, this gets served if you click that category. Once you x it out, it won't re appear unless you come back for another session. But this is probably one of our newest elements and we're constantly testing it.
Kim Mateus:
Next we've got footer ads, so all the way now at the bottom of the page.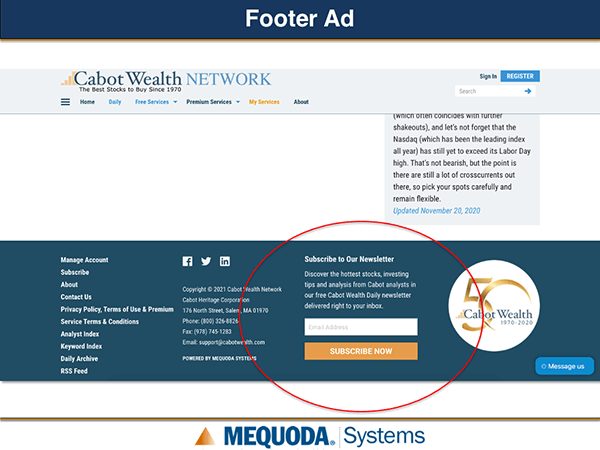 Bill Dugan:
Oh, this one's interesting. Again, an overarching element that appears in the footer that is focused on the free e-newsletter. You can see from the copy that this particular mention does not say anything about a free report. What we found is that while publishers have a tendency to immediately think, "Well, everyone should get my free e-newsletter."
Bill Dugan:
New visitors to your site often are coming because they have a particular need or problem they're trying to solve. And the free reports, the one-shot free reports, which also opt them into the free e-newsletter are a better way of doing it. But this is another way to capture people who might just be interested in oh, I want free regular advice about X topic. Not a big performer, but we feel it's an essential part of having a variety of ways to get onto the email list.
Kim Mateus:
And maybe their thinking too, is if somebody down at the bottom of the page, they probably really are looking to understand who you are, they're looking for the about, or the contact. So kind of having a general subscribe to the newsletter would make sense in this context, in this space.
Bill Dugan:
We sometimes do it in right rail ads too, but that's occasional, that footer treatment is universal.
Kim Mateus:
Excellent. Now we've got daily homepage slider. So we're in the daily section of the site and the very first element here is a slider.
Bill Dugan:
So this is an index page of the daily posts that we talked about before. And in Cabot's case, they're publishing Monday through Friday, the stock market is open. And when you're on this index page, as Kim pointed out, there's a slider here at the top. This slider has four positions that advance periodically. And we reserve… well, we're always testing here, but sometimes we reserve for promoting the annual summit, we might have a premium offer in one of the slots. But typically we like to use at least two of the slots for email capture where we're promoting a free report or two.
Kim Mateus:
And what about premium order pages? So now we are in the order flow of any one of their individual advisories or in this particular example, it's the Cabot Prime annual membership order page flow. And how do we use this to build the email list?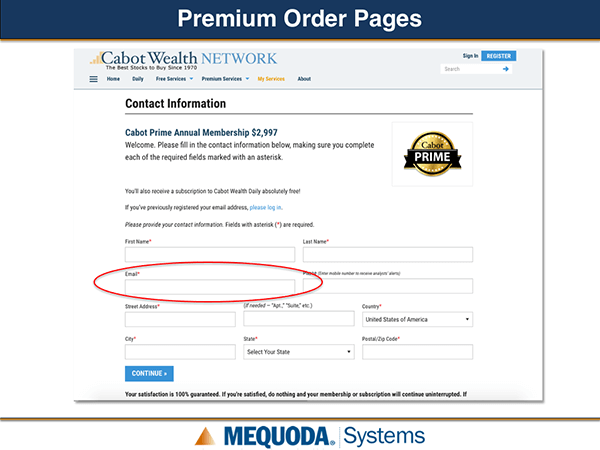 Bill Dugan:
Well, what we have going on here, and just to back up about premium offers, all of the special prices, the things I mentioned earlier, the dollar for 30 days or half price, you never see those at the website. Those are only offered through email promotions to existing free email subscribers. And you can only get to those order pages if you're on the list so that the regular website pages offer the full price offers for any given product.
Bill Dugan:
So what you can have happen though, is a user comes to the site, a friend told them I get this thing called Cabot Prime, it's a great thing. You get all these different investment advisories covering investment philosophies of all types. And if you go to cabotwealth.com, you can get it yourself. And so the friend goes, is not logged in, is not a free email subscriber, tools around the site and finds Cabot Prime and then goes to the order page.
Bill Dugan:
So you could see in the upper right of this screenshot next to the register button, you see sign in. That means whoever this user is that got to this page is not signed in. Otherwise, it would have your name there, hello, John. So we're allowing you to order because we'll gladly take your $2,997. And if you go through the full order flow and become a member, naturally we've captured your email address.
Bill Dugan:
But on this first page of the order flow where we do data collection, after you fill out this page and email as you note from the red asterisk is a required field and you hit the continue button to go into payment options, even if you abandon, we've still captured your email address. You get to the next page, you have second thoughts, you're maxed out on your Amex card or whatever, and you don't finish the order flow, we've still captured your email address.
Bill Dugan:
And this is great functionality for any publisher who is interested not only in selling premium products, but getting those captures. We also go through a process of abandoned recovery collection in terms of premium orders that get abandoned. We try to push over a series of days, push the recipient a variety of notices about, oh, did you forget to order? But no matter what happens, we've captured the email address and we've opted you into our free e-letter daily.
Kim Mateus:
We've even told you how up here too in this little sentence that you're going to receive a subscription to Cabot Wealth Daily too. So we've kind of even let them know that that's going to happen, which is good. Now we're on to that register button in the header there.
Bill Dugan:
This is just another way, that footer treatment, that was more explanatory about getting onto the list for the free Cabot Wealth Daily e-letter. This register button in blue in the top right does the same thing. If someone knows for sure they want to sign up to get a free content from Cabot Wealth Network, you can just click that blue button and you'll have access to all the free stuff that any free e-letter subscriber gets. But we're not putting you through a flow or teasing you with a free report.
Kim Mateus:
And what I'll also point out too is, and part of what we do is look around at websites at large and the magazine newsletter publishing space. And sometimes the only way to subscribe to their email is through some sort of a link in this area of the site. And realize that we're toward the end here in terms of the elements, meaning that we're now into the single low digits, maybe this is responsible for 1% of all the emails that they're capturing.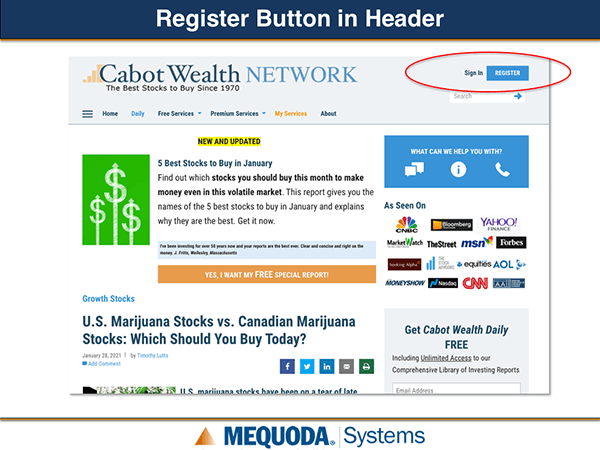 Kim Mateus:
And oftentimes when we look around to the industry at large, this is the only area. So if that happens to be what's going on at your website, I mean, think about all the upside that you can have by introducing some of these other elements that we're talking about. Because these are the classic need to have, but the majority by far and large are coming from a lot of the other elements that we've shown you.
Kim Mateus:
So that was just good to keep in mind. All right. We now are looking at OFIEs, which stand for order forms in editorial in this particular case above. So if you're on a individual daily article and you're signed out, you'll see this ad just above the content. And these tend to be contextual too, right Bill?
Bill Dugan:
Yes.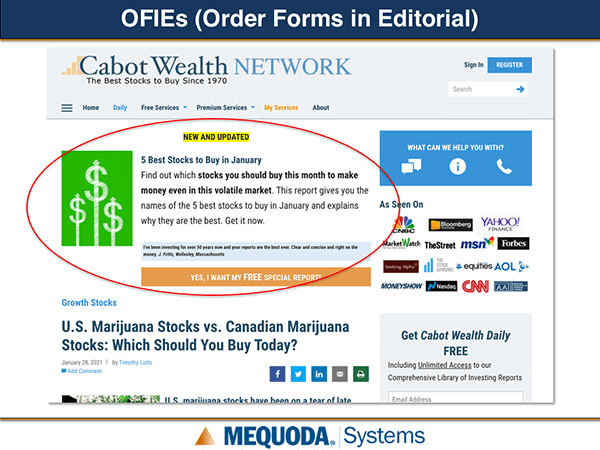 Bill Dugan:
In the case of Cabot, because of the overarching report we have, that's not the case in this channel of growth stocks. But there is a free report on growth stocks. With some of our other systems, you'd see that OFIE ad aligned to the category because we've had success testing to this overarching best stocks to buy in January report. You'll see that everywhere. And as Kim mentioned, it's conditional.
Bill Dugan:
If you were signed in and logged in, this disappears. Because we are… again, the purpose of these ads is to capture your email address. So if we've already got your email address, those elements go away. And sometimes they get replaced by premium offers and upsells and upgrades because we know your status.
Kim Mateus:
Excellent. All right. And the last element here is the sidebar.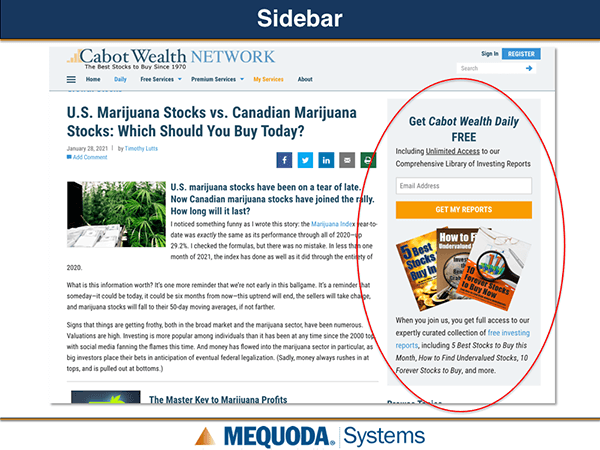 Bill Dugan:
Sure. And like the register button at the top and the footer mentioned to get onto the e-letter list, we have a right rail sidebar that also lets you sign up to get onto the free e-letter list and get access to the free reports. And again, as Kim mentioned, these were down at the elements that contribute the least. But we feel as though having the variety, why not scoop and pick up everything we can? So we allow a wide variety of ways to get onto the list, including this one.