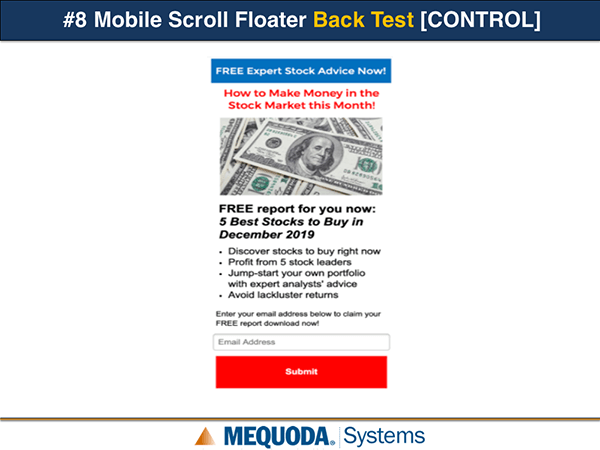 Bill Dugan:
The next type of test we wanted to perform was to take that new control because it became the control. And we said, what element if we could isolate a single thing that we changed, could we identify and apply to the former control and do a back test? So that's exactly what we did.
We took this and we said to ourselves, that email capture box which we've had success in other places, including the contextual text ads we looked at earlier, where when we've added that to an element, it boosts response. So we basically took that old control that we did with this and on the next screen added, you can see right above the download my report, that email capture box wasn't there before. And that was the only change.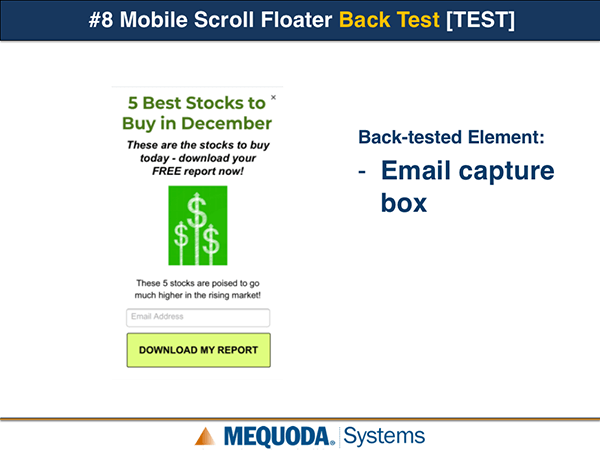 Kim Mateus:
Fascinating.
Bill Dugan:
And ding, ding, ding, our old control came back as a winner. So we ran that breakthrough mobile scroll floater only for a while until we went back to the control with an email capture box added.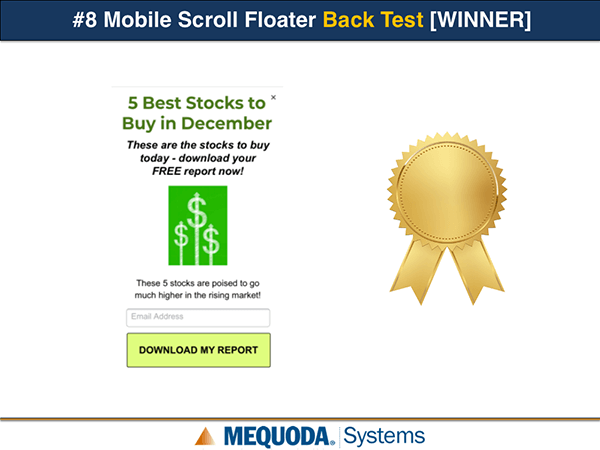 Kim Mateus:
And does that happen often where you kind of… look, I feel like in this case, you guys just… you nailed it. You happened to just use your gut instinct to say that box must've been it, and then it proved that it was. But I'm guessing if you hadn't had had this results, would you have just tried to go re-dissect-
Bill Dugan:
We might have. We might have fiddled with the image, the Ben Franklin actual $100 bill photo versus this artistic representation of a dollar sign. And we might've tested that. And we possibly could have gone back and done each element, tested copy, maybe just the headline versus the other headline. But I was surprised that we got back to the old control with an update so quickly.
Kim Mateus:
It's kind of nice that it worked out that way.