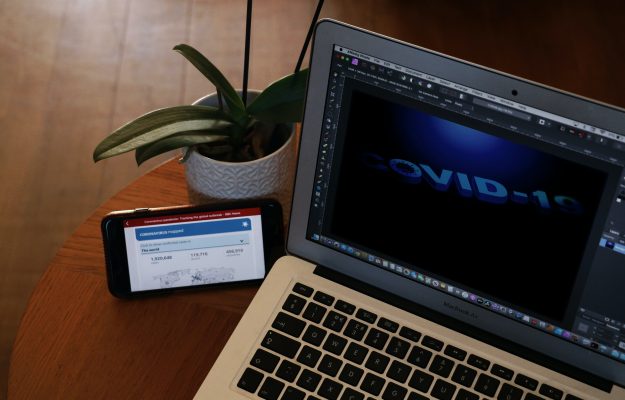 Do you feel like your inbox has recently started to fill with sales emails that all begin a line like, "I hope you're doing well in these difficult times," or end with my favorite, "have a great day (or as good as you can in these difficult times!)"
Reaching out to a customer, prospect, or even a colleague you haven't spoken to in a while comes with a bit of a knee-jerk "how are you," followed by a courtesy reminder of the current state of affairs. It feels akin to writing a work email to someone who just returned from a funeral. How do you start a conversation after a tragedy?
In the same vein, how do you come up with email marketing campaign ideas to send during a pandemic?
[text_ad]
Let's start at the beginning. During March of this year, when the US started to quarantine, a number of businesses changed the status quo and didn't proceed with business as usual.
Some publishers, especially news publishers, opened paywalls to allow users to access COVID coverage and other content, a membership marketing trend we didn't 100% agree with in the long term. Yankee magazine, who doesn't publish news or COVID-related content, made a gesture of removing the paywall from all content on their site so that people would have a positive distraction from world events, and made the first three seasons of Weekends with Yankee available to stream for free, formerly a member benefit. These were kind and forward-thinking gestures in a time when the world was, quite frankly, freaking out.
Many other publishers ceased sending emails entirely, not sure of what to say. How do you open a promotional email with, "I hope you're doing well in these difficult times … now please subscribe to my magazine!"
Another group of publishers offered two-year subscriptions, no money upfront, and free for the first year—a testament to faith in auto-renewals while acknowledging the dire financial circumstances many Americans found themselves in.
Creeping closer to the summer, as the country started to open back up a bit, more publishers began to resume the status quo, but those first few months were awkward. And while larger publishers hit headlines with an increase in subscribers after loosening up their COVID paywalls, smaller news publishers weren't as lucky and had to resume the paid model quickly.
Still, many publishers are trying to enter into transactional relationships every day by talking about the one thing we all have in common: a pandemic.
Better Email Marketing Campaign Ideas That Work During a Pandemic
Publishers should be focusing on generating more revenue, not less, to keep their teams intact and their businesses growing.
The thing is, most of the publishers we work with saw an increase in sales during those first few months, not a decline; A 79% increase in subscription sales to be exact, using email marketing campaign ideas we've been touting for the last two years. Most didn't make changes to their paywalls. While they span across industries, one thing they have in common is a single email framework that we developed, and that they use, to promote their subscription products.
Let me share an example of an email sent by our publishing partner RecipeLion back in May, which acknowledged the current state of affairs, while also highlighting their product in an advertorial method with a Library or Content Preview, which we consider the ultimate advertorial for your magazine membership product.
Recipe Lion's Gold Club includes access to recipes, magazine issues, special issues, cookbooks and instructional videos. Their Content Previews focus on a single product, which is available as part of the larger membership, such as a cooking class, a cookbook, or an issue.
The Content Preview offers a glimpse into the content of that product, often giving away something to make the email valuable, like a recipe, while promoting the membership as the way to get access to that product.
Another way Content Previews can be used is with a metered paywall. With a metered paywall, one way to get people to use up their "free" tokens, is by including links to the articles within the Preview, rather than sending all traffic to the membership signup page. Once the tokens are used up, users will be reminded of how much they love your content, because they'll continue to hit it every time they click a link in your email, or via your social media posts.
Now let's get into RecipeLion, who directs all of their Preview links to the membership signup page. For the pandemic, they put together a "Stay at Home" special issue which seems appropriate to feature as an example given the topic at hand, but you can replace this product with any other issue, collection, book, or download that is a feature of your membership.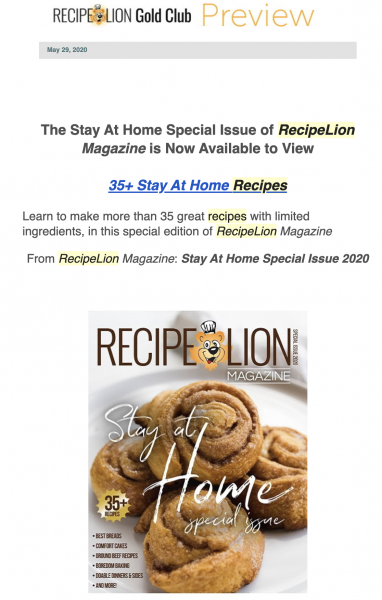 A Content Preview email is conversational by nature, so at the beginning of the pandemic, this was certainly a natural place to include dialog about current events. But you don't always have to talk about the pandemic either. In July, if you're a gardening magazine, why shouldn't you be talking about the current growing season, instead of just sending out a "Subscribe and learn about growing tomatoes" magazine promotion with standard copy and bullet points? In this example from RecipeLion, they are highlighting their special issue, but they often feature a curated collection or cookbook, in the voice of their featured chef, Addie Gundry.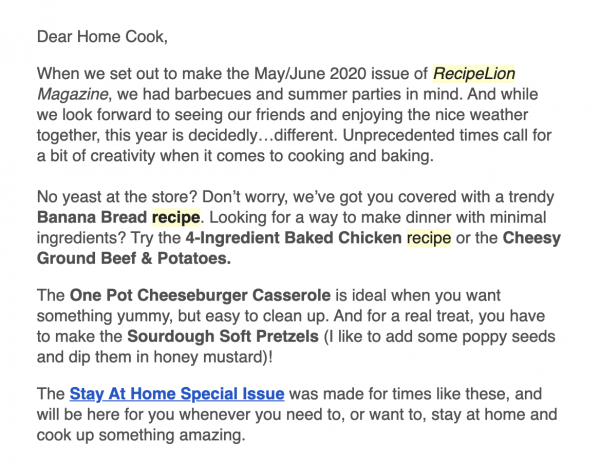 Next, the Preview might feature anywhere between one to three recipe snippets, and they may even include a full recipe, or at least most of what the reader needs to entice them to attempt it themselves or subscribe to the all-access membership for the official recipe and instructional video.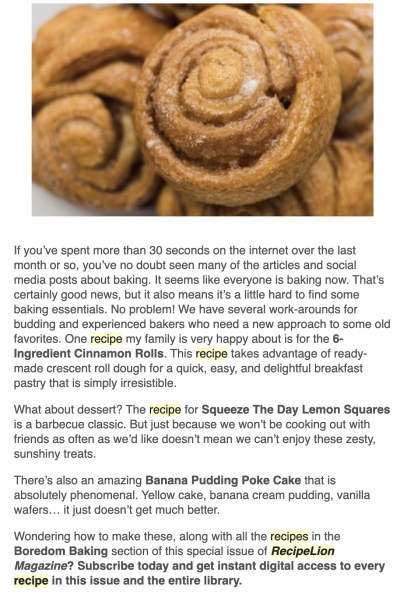 In between sections, you'll find a visual ad for their subscription product, including the current offer they're testing (and RecipeLion is always testing!)
After these sections and ads, another section arrives, which leads to the marketing boilerplate. In this pre-boilerplate section, the Preview describes all the recipes the reader would have access to in the featured product, which is available to all-access members and may feature a headline, a paragraph, and bulleted list of the types of articles (or in this case, recipes) they will get in the product. This leads into talking about the membership product and recipes that are related to the topic at hand, which are part of the membership—so not quite yet talking about the whole kit and caboodle.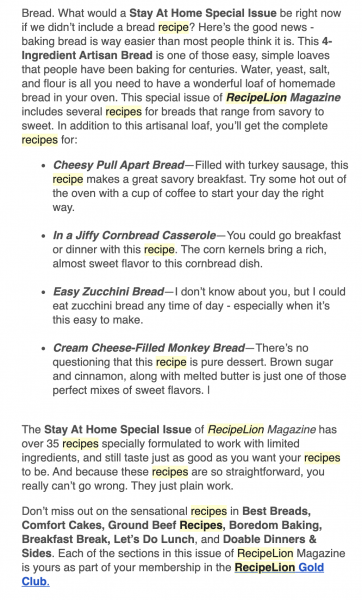 Finally, the soft sell comes at the end, which starts to talk about everything else the reader can get access to, and the reader is led into the marketing boilerplate. The boilerplate is quite long because it's intended to convince the reader to join as a premium member at some point along their journey of reading it. For less than a dollar a month, how could they refuse?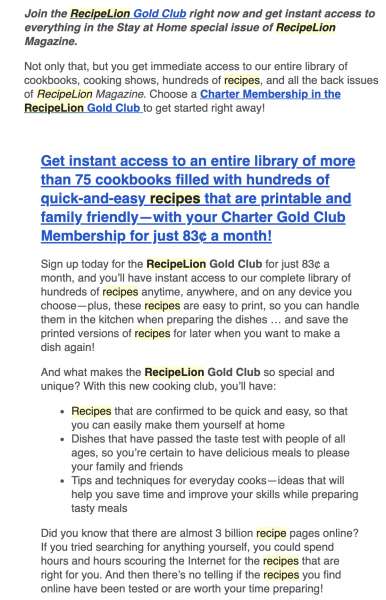 At the end, it closes with a signature from Addie Gundry. These Content Previews are the hallmark of success for our publishers who have ridden the pandemic wave so far. The key aspect to the Previews' success is that you can "give away" content without actually giving anything away – or at least not in comparison to the volume of content in your magazine membership libraries. Email subscribers are happy to stay for the free content, giving you the chance to convert them into paid subscribers.
If you would like to use this email framework, our audience development team can develop these Previews for you, including writing the content and deploying them in a systematic fashion that allows you to gauge the results. And the way they're built, you can often recycle your best-performers in the future. Contact us to learn more.
Share with us your email marketing campaign ideas in the comments below. How have you kept your business afloat during "these difficult times?"