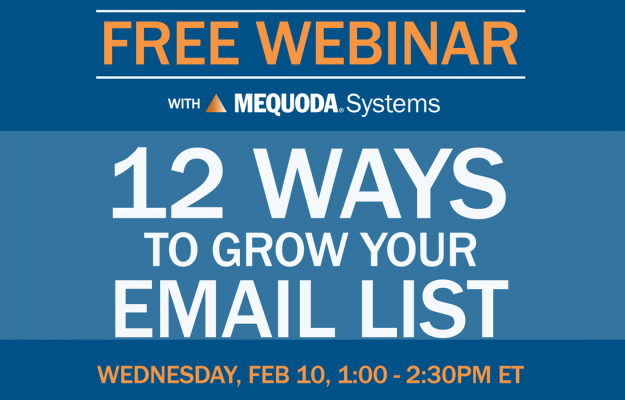 On February 10 at 1:00 PM ET, we'd love you to join us live online for a FREE 90-minute webinar, 12 Ways to Grow Your Email List. With plenty of room built in for discussion, we'll provide a condensed summary of the key strategies that are working today to help publishers build a sustainable future for their brands and businesses, complete with examples of the publishers using them.
Do you want to know the most important email capture conversion elements necessary for subscription-based publishers, and what we think is most important to test?
Would it benefit you to know where the majority of the conversions come from, how we use that to prioritize our testing, and how you can do it too?
Did you know that there are elements that we don't actively test, and why?
Would you like to know how you can roll out test results from your active tests into your non-tested channels?
When you attend this FREE webinar, you'll learn all of this through an in-depth look at one of the smartest most successful digital publishing systems run by industry superstars.
In addition to what we expect to be a lively Q&A, you'll also:
Discover how to conduct more effective A/B tests
Learn how to do a sequential test
Start understanding how to validate your test results more strategically
Begin analyzing how to maximize the different channels on your website
We'll share real-world A/B test results that will give you ideas for your own testing.
When you attend this FREE webinar, you'll get a checklist of email capture elements you can implement on your site that will actually make a difference.
Register today so you don't miss out on this event, and please pass this along to colleagues and any friends in the industry who may benefit from this webinar. Seats are limited to the first 97 attendees to help ensure a successful Q&A session at the end of the webinar. Don and I look forward to answering your questions to help you relate our audience development methodology to your organization, mission, and goals. Register for FREE today.