Food Gardening Network and GreenPrints Magazine get into the holiday spirit with original digital DIY greeting card kits.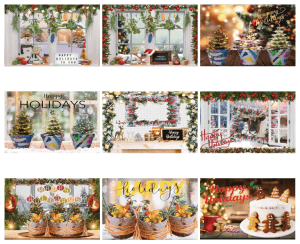 Food Gardening Network and GreenPrints Magazine are getting into the holiday spirit with the release of two user-friendly DIY greeting card kits.
The kits are available on the GreenPrints website for $20. Site visitors can buy a kit, or they can get the greeting card kit as a free gift when they purchase a gift subscription to Food Gardening Network or GreenPrints.
"Our subscribers at GreenPrints and Food Gardening Network are very attuned to their environment and feel a sense of ecological responsibility," says Bill Dugan, Editor and Publisher at both sites. "We wanted to give our subscribers — and their friends and family — an environmentally-friendly option for sending greeting cards this year. I have a huge stash of leftover holiday cards that came in those multi packs. There have been a lot of years when I had more than enough cards left over for the next year, but could I find them when holiday season rolled around again? Nope. Digital greeting card kits let you print and use exactly the number of cards you need — with no waste."
Each kit comes as a PDF with an assortment of cards specially designed for Food Gardening Network and GreenPrints. The cards are designed to be printed on card stock on a home printer. The inside of the cards are left blank for the senders to express their own sentiment rather than a formulaic holiday message. Envelopes are not included, but the instruction page provides links for ordering envelopes.
The GreenPrints Holiday Greeting Card Kit features 7 homestyle, heartwarming cards with festive seasonal themes. The Food Gardening Network Holiday Greeting Card Kit features 9 festive images with directions on the back to make the featured hands-on crafts on the front of the card, including natural material garlands and custom decorated planters.
The Greeting Card Kits — $20 each, or free when customers order a gift subscription — have no limit on printing, and subscribers and visitors are encouraged to share the kit with friends and loved ones.
"We wanted to give our readers a gift with low environmental impact and high holiday spirit," says Dugan. "We think these Greeting Card Kits do just that. And the original artwork is beautiful, festive, and inspiring."
About Food Gardening Network: Food Gardening Network was founded by home food gardeners and for home food gardeners—the mission is to serve gardeners with tips, tools, advice, and recipes for growing and enjoying good food at home. During the Covid-19 pandemic that began in 2020, it became apparent that home food gardening would grow beyond a hobby for many home gardeners. Food Gardening Network launched in January of 2021 as an all-encompassing resource for gardeners of all skill levels, with in-depth articles on planning, planting, maintaining, and harvesting home garden crops. Food Gardening Network also includes easy-to-prepare recipes so home gardeners can enjoy the fruits of their labors in delicious, creative ways.
About GreenPrints: GreenPrints is the premier resource for inspirational and entertaining stories about gardening. GreenPrints is all about the human side of gardening, and brings readers the joy, humor, wit, and wisdom of life through compelling gardening stories that will make readers laugh … and sometimes cry. GreenPrints publishes a quarterly magazine—in print and online—and offers daily motivation with stories by email, plus a full library of content that is sure to delight any gardening reader. The whole idea behind GreenPrints is to share the feelings, the joys, and the experiences of gardening—really, the heart and soul of gardening. And that's what makes GreenPrints so unique and special.
Contact: To become a Sponsor or marketing partner with Food Gardening Network, or to speak with a member of our team, please contact Christy Page at Christy@Mequoda.com or 781-556-1006. Follow us on Instagram, Twitter, and Pinterest on @FoodGardeningNW and on Facebook @FoodGardeningNetwork