Looking to improve or build a newsletter website? Learn these 8 best practices for building profitable newsletter website templates

.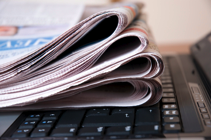 A newsletter website is set up to build subscriptions for a print or digital newsletter. The newsletter website offers access to back issues in either HTML or PDF form. The site also sells subscriptions to the newsletter like a retail site.
The Motley Fool's six print newsletters, for example, all have related subscriber-access-only newsletter websites. They are companion retail subscription websites, where newsletter subscribers can download PDF versions and non-subscribers can purchase a newsletter subscription.
Newsletter websites are commerce-based with an overall objective of increasing product sales and providing customer service to existing subscribers. A newsletter website includes, for example, a customer-service functionality to manage the ongoing relationship with the subscriber; it might also allow the subscriber to download back issues, perhaps for an additional price. Most importantly, the organization of information on a newsletter website is by issue date, not topic of interest.
Here are eight steps to creating a newsletter website template:
Offer a print and PDF package: While subscribers enjoy instant-access to a digital newsletter, they also appreciate a print counterpart more than you might think (and vice-versa). From our experience, in an orderflow that offers a package upsell including both the print and digital version, 80% or more will choose the package.
Include testimonials: People love to help, so when someone emails you and tells you that they love your newsletter, ask them if you can use their testimonial. Alternatively, you can send out a survey asking people to write testimonials that will be used on the website. Make sure to include first and last name as well as location or business (depending on whether you are B2B or B2C).
Offer a trial issue: Offer a trial period of one to three months where they will receive your newsletter at no cost. Collect their credit card so that when the trial is over, and they haven't canceled prior, they become a full-fledged subscriber. This may come with a few people who will want to cancel late, once the bill has come in, but you'll graciously refund them. Trial issues are the key to building a large database because there is low-risk to the subscriber and as long as you are selling a quality product, it's also low-risk to you.
Find out the CMS features that publishers require to manage an online publishing business. Download a FREE copy of 7 Ways Haven Wordpress Goes Beyond Wordpress, and discover the features all publishers should have access to for a bigger audience, greater revenue, and higher profits.
Offer premiums: If you have an archive of freemiums, offer them along with the subscription package as premiums. Offering them "six special reports" with their order sweetens the deal and adds value to the package. If you are offering a trial issue, hold the premiums until they have confirmed that they want to continue receiving your newsletter and their credit card has been charged.
Feature key points with corresponding issue numbers: In the section of your salesletter where you reveal what the subscriber will learn in your newsletter, include the issue information when you answer a question. For instance, if you were a gardening newsletter, you could say "Why you must wait until the soil is dry before re-watering your orange trees. Vol. 6, Page 8". This increases interest in your archives while giving subscribers a sample of the information your newsletter is built upon.
Show cover shots: In your archive, showing the cover of every issue will increase the ability to scan when someone is looking for a specific newsletter that they may have lost or accidentally deleted.
Allow subscribers to sort by date and keywords: Be forewarned, in our experience we've seen newsletter websites have very low usage rates. Meaning, that once a person gets your newsletter, they don't come back to view past archives very often. If your content is evergreen, they will visit more often than if the content is newsy. However, when subscribers do come back to your archive, you should make it easy for them to find what it is they're looking for.
Assign tags to every newsletter: This will make it easier for subscribers to find specific issues, unless you have a PDF search built into your newsletter website. Use names, topics, and other identifiable keywords from every article.
Now that you know what to do, take a look at three examples of what we would consider best-practice newsletter websites: