How a more robust registration headline on this membership website brought conversion rates from drab to fab
The folks at Business and Legal Reports (BLR) are gluttons for A/B and multivariate testing. Similar to Google, their pages are designed based on numbers and results, not opinions or a creative web designer.
In the following case study, the folks at BLR were performing multivariate tests on their membership website sign up page that offers a free trial to their robust library of HR resources.
They swapped several elements in the test, including the main headline, main body copy, premium (with or without), and the registration form headline.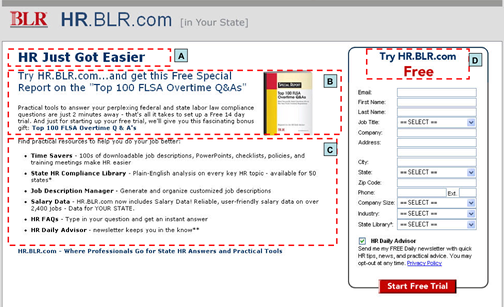 We're going to show you just the registration form headline test below. To see the rest, register for our upcoming Landing Pages that Work webinar.
Here are the registration form headlines they tested:
Control: Try HR.BLR.com

Free

New Headline #1: Start Your

Risk Free

Trial Now
New Headline #2: Complete this form and Get Your

FREE and UNLIMITED

Access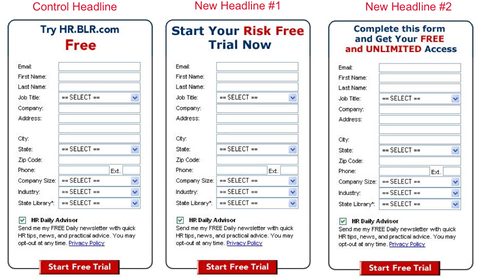 In this test, which was receiving traffic from paid search, the user would get one of these three registration headline variations. Otherwise, the registration form itself was identically the same.
According the Bob Brady, CEO of BLR, the top combination of all four elements increased conversions by 52%. The winning registration form headline improved conversion rates 15.74% all by itself.
Which registration headline do you think won?
Find out the CMS features that publishers require to manage an online publishing business. Download a FREE copy of 7 Ways Haven Wordpress Goes Beyond Wordpress, and discover the features all publishers should have access to for a bigger audience, greater revenue, and higher profits.
"Complete this form and Get Your FREE and UNLIMITED Access" was the winner.
Now, this doesn't mean, "Complete this form and Get Your FREE and UNLIMITED Access" created an immediate 15.74% increase in sales, Bob told us.
"On the end you're going to lose some of those people. The job of this page is to move them along to the next page, and unless you've done something dramatically different on the next page—like change the offer—the results still stand. The important thing is to get them to the next page and then let that page do its work".
In a couple weeks, on June 10th, Bob Brady from BLR and Greg Krehbiel of Kiplinger will join us for a co-sponsored SIPA/Mequoda Webinar called Landing Pages that Work: Using a Proven Testing Method to Increase Conversion Rates which will feature many more case studies like this.

So, multivariate tests aren't smart enough to tell us why things work better. What's your theory on why the winning headline converted best?