The need for proper interaction between website programs
According to PC Magazine, an Application Programming Interface (API) is used to "communicate with an operating system or some other control program such as a database management system (DBMS) or communications protocol…An API implies that some program module is available in the computer to perform the operation or that it must be linked into the existing program to perform the tasks."
For Mequoda Systems, APIs are standard. There is a need to have them in order to create working relationships between the different software tools we need for a successful, fully functioning online business.
This involves setting up real-time interfaces with email service providers like WhatCounts and integrated payment systems like PayPal.
These relationships help online businesses grow and thrive in an environment where a lot is expected from websites.
If you want to learn more about having a Mequoda System developed that can integrate all the fulfillment systems you need for a successful online business, contact Kim via email or by phone at 401-293-0401 for more information.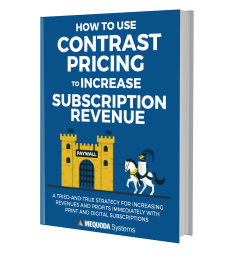 Learn how to choose the best subscription pricing & single-copy pricing strategy for your subscription websites & subscription apps when you download a FREE copy of How to Use Contrast Pricing to Increase Subscription Revenue.