In business it's location, location, location. And of course online, it's your list, list, list. Back when there was no Internet, the only way to communicate with your prospects or loyal customers was to contact them through mail, fax or phone.
Today, anyone with an online presence that has an in-demand product or service can set up an ezine list of thirsty customers. Another way to grab market share is to grow rich within your niche.
And that's what the very telegenic "Ezine Queen," Alexandria K. Brown, has done. The beauty of the ezine is that it's probably one of the most cost-effective marketing tools ever created. Just think: with the click of your mouse you can contact your customer in nano seconds with valuable information or a viable offer. And because they have opted in, you know you have an interested party as a subscriber.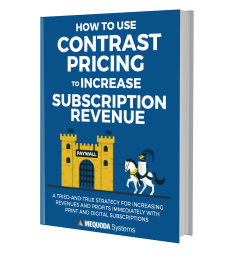 Learn how to choose the best subscription pricing & single-copy pricing strategy for your subscription websites & subscription apps when you download a FREE copy of How to Use Contrast Pricing to Increase Subscription Revenue.
But how do you accomplish putting together an ezine when there's so much competition? How do you navigate around the nuances of this particular type of marketing? Well Alexandria's Boost Business With Your Own Ezine site shows you how to do that—and more, while at the same time "squeezing the name of the prospect" by giving them a FREE report.
In a landing page review of the Ezine Queen's Boost Business With Your Own Ezine landing page  Peter J. Fogel outlines five landing page optimization tips Ali uses on her site.
There's no sense of urgency in the headline, but curiosity gets the job done.
The copy presents a strong argument to keep reading all the way to the last drop.
Impressive array of testimonials, with photos of folks who vouch not only for Ali, but on the reliability of her program and how it changed their business.
Yes, Ali has strategically placed the links to order buttons throughout the piece under the testimonials, BUT she did not make them stand out.
This is an effective landing page. Ali impressively uses audio and some visuals to move the prospect to take action.