In an online world heavily focused on user engagement, Google Analytics' Advanced Filter can help
Google Analytics' Advanced Filter can help you determine the most engaging content on your website.
This information can then dictate what topics you cover the most, which is similar to the process we've discussed before about creating blockbuster SEO articles.
As you begin using the advanced filter in Google Analytics, focus on the attributes of engaging content. While I was using the advanced filter, I decided to use average time on page, bounce rate and unique pageviews as my qualifiers.
For time I site, I was looking for individual articles that have a higher time on page than my entire site's overall average. I did the same for bounce rate. I set my unique page views at 500 for the month.
How to set your specifications
To set your specifications in Google Analytics' Advanced Filter, start by looking at the "Top Content" under your Content section overview.
As you look at the Content performance, scroll to the bottom of the list and click on the Advanced Filter.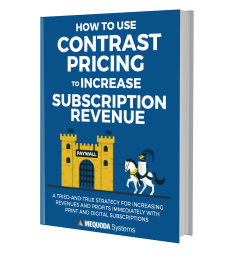 Learn how to choose the best subscription pricing & single-copy pricing strategy for your subscription websites & subscription apps when you download a FREE copy of How to Use Contrast Pricing to Increase Subscription Revenue.
At this point, you can choose to filter for up to six different content performance metrics – pageviews, unique pageviews, average time on page, bounce rate, % exit, and $ index.
After selecting my three metrics (unique pageviews, time on page and bounce rate), I filtered the results.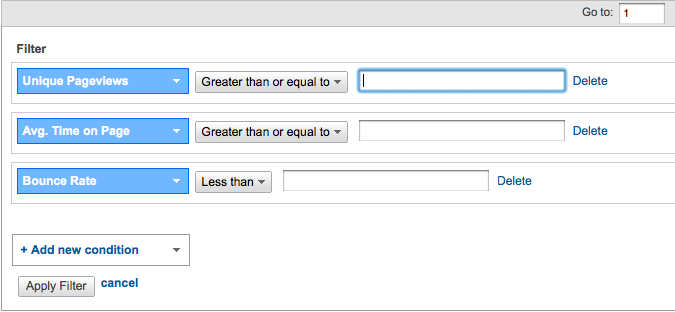 I wanted a sampling of at least 30 results, as I already knew some of the articles that would come back in the results. Fortunately, the original criteria I set for time on page, unique pageviews and bounce rate yielded 32 results. Although not all results were individual articles, I decided to stick with that current sampling and look further into the content.
What I learned from this data
Google Analytics' Advanced Filter helped me find new potential in my topics. Due to these findings, I will analyze the individual articles that have been engaging my audience and create new or updated articles based on this information.
While using the advanced filter, be sure to change the time range to get an idea over long and short periods of time.
Do you use Google Analytics' Advanced Filter often? Has it led to any major successful stories or strategies? I'd love to read your thoughts in the comment section below.