Some 16.5 million Americans—or 7.5 percent of all adults in the United States—are yoga practitioners, and another 25 million people expect to try yoga within the next 12 months, according to the results of a second annual "Yoga in America" study recently conducted by Yoga Journal. And most yoga is practiced at home. To make quality information on yoga accessible to those folks or to those who may have special issues that are not addressed in a yoga class'—and to tap even deeper into the $3 billion yoga market—Yoga Journal has created a series of videos and DVDs that are jumping off the shelves.
Generally recognized as the "voice of yoga," Yoga Journal has been around for nearly 30 years. Its current paid circulation of 325,000 includes both subscribers and an enormous newsstand sell-through.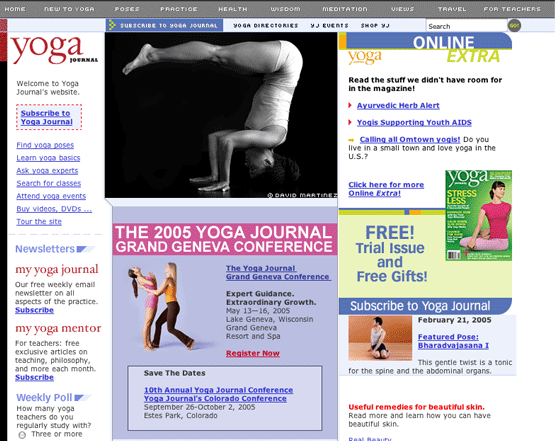 Yoga Journal's Homepage
"As the foremost authority on the practice of yoga," according to Ancillary Business Director Martin Kupferman, "our role at Yoga Journal is to reach out to people interested in yoga at all levels. Our readers include both practitioners (those who practice yoga) and yoga instructors."
He admits, however, that the magazine content can sometimes be "a little arcane" for those who are just starting to practice yoga. The publisher's research, including the "Yoga in America" surveys performed each year for Yoga Journal by Harris Interactive Service Bureau (HISB), indicates that among the 55 percent of yoga practitioners who have been involved for two years or less, many aren't particularly interested in reading an enthusiast magazine. So as director of all non-magazine businesses, Kupferman's job is to get those people involved in the brand. One of those ways he is accomplishing that is through yoga videos and DVDs that offer viewers an entire practice series, as well as specialized exercises. Five branded titles are currently available, along with an audio kit that is designed for people who find it easier to learn by listening rather than by watching.
Yoga Journal first got involved in video sales five or six years ago through a licensing agreement with Gaiam, Inc., a Colorado company that produces branded products and services focusing on the environment, healthy lifestyles, and personal development.
"Since Yoga Journal had a significant credibility in its marketplace," says Kupferman, "we felt that we could improve on the quality of the yoga videos that were available at that time. We were merely an outlet for Gaiam," Kupferman explains. "We bought the products at a preferential rate and sold them on our website. But we don't do that anymore—now it's our own skin in the game!"
Starting up a Video Business
Yoga Journal began producing its own branded videos and DVDs in 2003. To get its own product going and to guide the subject matter, the folks there first needed to understand what the market wanted or needed from a yoga video.
"We conducted a 'Yoga in America' study [again, through HISB]," says Kupferman, "along with some internal surveys of the people who purchased the Gaiam videos through our online store. From that research, we determined that our audience was interested in home practice, stress management relief and prenatal yoga. We then looked for a video-production company to pull the product together."
As an editorially driven company, maintaining editorial control over the product is key. "We want to drive the creative and the content ourselves," says Kupferman, "so we deliberately selected a video-production company [Lobitos Creek Ranch] that did not have fitness experience but one that could work collaboratively with us to carry out our vision."
Kupferman is executive producer of the videos and Kathryn Arnold, editorial director of the magazine, writes the scripts—step-by-step instruction for the safe and effective practice of yoga that is basically the same as material that appears in the print magazine—with input from the teachers.
"The hardest part for us," Kupferman says, "has been finding the right talent. Some people are wonderful teachers in the classroom, but they don't appear well on screen." Nevertheless, Yoga Journal has avoided the "star" route, preferring instead to search for great teachers who also present well on film.
So far, the products have been very well received—and bringing new subscribers to the print magazine is an added benefit. A subscription card inserted into each video box has proven to be an effective, cost-efficient prospecting method for new subscribers.
"We also advertise the videos in the magazine," Kupferman says, "so it's a cross-platform opportunity."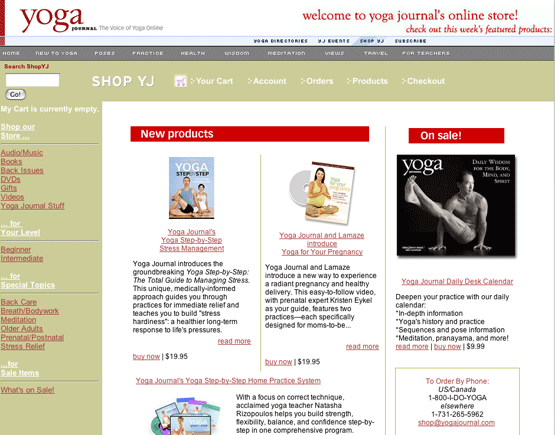 Yoga Journal's Online Store.
Among the five videos/DVDs currently available from Yoga Journal:
"Yoga for Your Pregnancy" is a prenatal yoga video/DVD for moms-to-be, produced in partnership with Lamaze® in a joint venture with iVillage Parenting, which owns the Lamaze brand in the United States. It has "taken off very fast," according to Kupferman.
"Yoga Step-by-Step Stress Management" is a medically informed approach to stress management and was produced in conjunction with Baxter Bell, M.D., a family practitioner.
"Yoga Step-by-Step Home Practice System" is comprised of three separate videos and was the first series the publisher produced in-house. It is selling well to individual home practitioners but is also popular among yoga instructors. The teachers, who ordinarily don't have an opportunity in a classroom setting to spend one-on-one time with their students, buy the videos to augment the studio or classroom environment with best practices and to inform the students about how to practice yoga safely.
Kupferman has learned, however, that selling a three-part video series is difficult. "Most people buy the first one and seem to love it," he says, "but it has been hard to get sell-through on the second and third videos. So now we're working on integrating some of the content from the second and third sessions with the first one and repackaging it as a single video."
Packaging, in fact, is absolutely critical in the retail market, and Kupferman recommends extensive testing via focus groups.
"Retailers stock their shelves based on packaging," he says. "And in a crowded marketplace, packaging helps shoppers determine the video content and also differentiate your product from all the others. Some packages work; others don't."
Yoga Journal used external resources to design its video box covers and also works with a distribution company—Good Times Entertainment—"which," he adds, "you also need."
"Retailers stock their shelves based on packaging," says Ancillary Business Director Martin Kupferman.

"And in a crowded marketplace, packaging helps shoppers determine the video content and also differentiate your product from all the others. Some packages work; others don't."
Marketing Videos: Retailers vs. the Web
Yoga Journal videos and DVDs are now sold in retail stores and direct to the customer on the publisher's website. Selling through retailers, however, is a challenge, according to Kupferman. "Retailers have economies of scale and can move huge quantities of product," he says, "and that's where you get your fastest payback. But they don't have a lot of shelf space and will bounce the product out of their stores in a minute if it doesn't sell through."
He also warns of the difficulty of positioning certain video products with retailers. For example, Yoga Journal's stress management and relaxation video has a huge market, according to the publisher's Harris research study. But WalMart, Target, and other "big box" retailers don't have a "stress" category in their video departments.
That's where the electronic world enters the picture! On your own website, you will find the market that understands and is interested in your product. And through your website:
You can stream your video electronically to promote and advertise it;
People can sample the video; and
You can actually sell the video without having to worry about shelf life.
"Direct marketing is a very integral part of our program," says Kupferman. "On our website, we get 14 page views for each unique user. Based on that metric alone, it's obvious that our audience is extremely dedicated. So because they're involved with what we're doing, selling videos and DVDs to them is a lot easier than if we were simply resellers."
Requisites for Success: Quality, Patience, Perseverance
Nevertheless, producing and selling videos is still challenging and involves a lot of coordination. And it's not cheap. It's definitely not something you do casually, Kupferman suggests. The start-up investment is a consideration, and money must be spent upfront on production and marketing. So you must sell enough product to recoup your investment and also turn a profit.
"It's easy to produce really cheap video products and distribute them directly to the consumer via your website (if you have enough traffic) or through your mailing lists," says Kupferman, "but that's not what we're doing. With Yoga Journal's name on the product, we have to provide the same quality experience to our video viewers as we do in our magazine. That raises the bar in terms of what we spend."
The price point, of course, takes all the expenses into consideration. Yoga Journal's videos, for example, are priced at $14.95 each; the DVDs, $19.95 each; and the three-video home-practice system package, $26.95. Kupferman expects to sell 25,000 to 30,000 units per year of each title. "We hope to be paid back by the end of the first year and certainly by the end of the second," he says, "so each video must have a long shelf life. If we get an immediate hit, that's wonderful; but it usually takes awhile for a title to take off. It's important to be patient, to keep reworking the content, reissuing and repackaging the product, and maintaining market interest. You can't just make a video and then walk away from it."